The animated movie, Aladdin, is considered as one of the most popular cartoon movies that Disney produced. Premiered in 1992, the Disney classic is still able to capture audience hearts, both young and old, even to this day.
The movie centers on the main character Aladdin, a street rascal, who was asked to retrieve a magical lamp that has a genie on it. With the help of the genie, Aladdin turned his life around in order to try and woo the daughter of the Sultan, Princess Jasmine. The love story of Aladdin and Princess Jasmine is actually one of the main attractions for the movie.
People were drawn to the magical love of the two, especially during the iconic magic carpet ride around the world scene. This scene is also where they sang the famous song "A Whole New World." This made Aladdin and Jasmine a favorite cosplay idea for couples.
When it comes to dressing up as the two Disney characters, people will have several outfits to choose from. For Aladdin, there's his street rascal outfit or his prince outfit. For Jasmine, her regular outfit resembles that of Arabian Harem women and she wore different colors of it.
The Princess Jasmine Costume Guide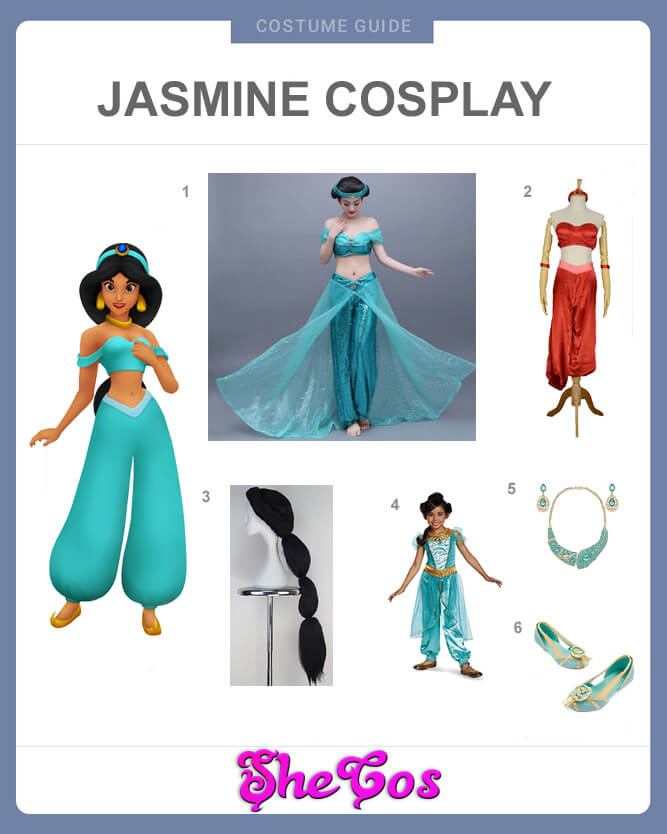 1. Jasmine Arabian Harem Costume         Product Page
2. Full Red Princess Jasmine Costume     Product Page
3. Jasmine Long Black Wig                         Check Price
4. Full Jasmine Costume Kids                    Check Price
5. Princess Necklace and Earrings             Check Price
6. Princess Shoes                                           Check Price
The Best Princess Jasmine Cosplay Ideas
 Princess Jasmine is the leading lady of the movie, who is the daughter of the Sultan of Agrabah. She lives in the palace with her father and a loyal but overprotective pet tiger named Rajah. Unlike Aladdin, Jasmine wore mostly the same outfit with just different colors and design.
This cosplay set will include two different colors and design of Jasmine's outfit. The first one is the one the character regularly wears, the sky blue cropped tube top that has small sleeves for the arms and matching pants. The outfit also comes with a transparent sky blue skirt that is open in the middle, a long black wig that is in ponytail design, sky blue shoes, and matching necklace and earrings.
The other outfit is similar to her regular outfit, except it is in color red. She wore during her captivity in the hands of the evil magician Jafar. You could also get the full children's Princess Jasmine costume from the list for your kids.
About Princess Jasmine Costume
Despite being a princess, Jasmine is actually an independent and strong woman that is not afraid to stand up for what she believes in. She is not your typical spoiled princess, as she also plays an active part in being a ruler alongside her father. But aside from her great personality and characteristics, Jasmine is also pretty and seductive. This is very evident in her appearance all throughout the Aladdin movie.
This doesn't mean that her appearance is all about being sexy and seductive. As you can see on the cosplay photos, her sexy outfit doesn't really diminish her appearance as a princess. In fact, the outfit is actually perfect for the character, a beautiful princess who's also independent and strong. The favorite outfit would definitely be her sky blue Arabian Harem. But don't count out the red version of the outfit, as the photos show that it will also be a good alternative.
Cosplayer: R&R Art Group, Joanna Lynn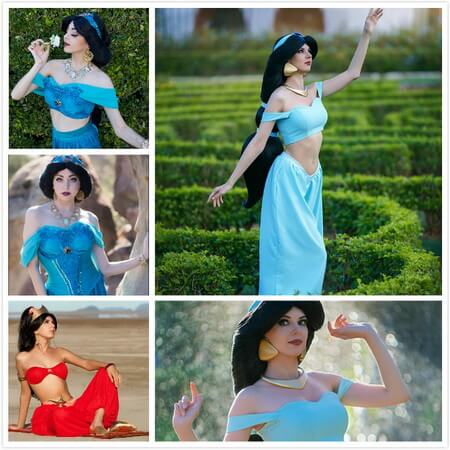 The Aladdin Costume Guide
1. Full Aladdin Costume                              Product Page
2. Prince Ali Full Costume                          Check Price
3. Street Rascal Hat                                      Check Price
4. Abu the Monkey Doll                               Check Price
5. Genie Lamp                                                Check Price
6. Magic Carpet Towel                                  Check Price
The Best Aladdin Cosplay Ideas
Aladdin is the main character of the Disney classic. He is a street rascal that lives in the city of Agrabah and has a monkey for a sidekick named Abu. When it comes to dressing up as Aladdin, there are two options. One option is to dress up as Aladdin the street rascal and the other option is to dress up as Prince Ali.
Fortunately, this cosplay set provides both options. The set comes with his street rascal outfit, which is a purple sleeveless vest, baggy white pants that have a single patch, and the red fez hat. This set also comes with a white long sleeves top in case you don't want to go naked under the vest. For the prince outfit, it comes with a white top and pants, a white turban, and a sleeveless vest with gold linings and purple cape. For the accessories, this cosplay set comes with an Abu doll, the genie lamp, and a magic carpet towel.
About Aladdin Costume
Aladdin is a charming and fun-loving character that has a positive outlook in life, despite his poor upbringing. He is able to enjoy the simple things in life, including his struggles, which captured the hearts of a lot of people. When he transformed into Prince Ali, though, Aladdin showcased negative characteristics, like lying and being boastful. When it comes to cosplaying Aladdin, it basically comes down to looking like the simple but happy-go-lucky Aladdin, or the lavish but sometimes overconfident Prince Ali.
Either appearance will actually look good, considering Aladdin still looks good even in his street rascal look. If you look at the cosplay photos, you can see that both outfits look good and both outfits can look good together with Princess Jasmine. If you are going as a couple, though, dressing up as Prince Aladdin would be recommended since Jasmine is a princess.
Cosplayer: Lele Draw Cosplay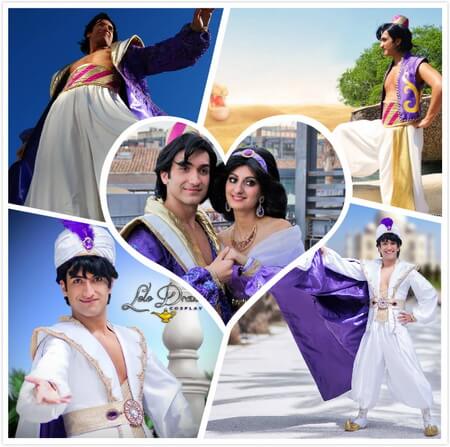 Disney Princess Jasmine Makeup Tutorial