Magenta is one of the characters of The Rocky Horror Show, a musical production that premiered in 1973. She is the maid of the castle and is also a Transylvanian. She is the sister of the butler Riff Raff, who is also said to be her lover and they have an abusive relationship.
Magenta doesn't talk a lot during the show, but she often appears, usually doing stuff that Dr. Frank-N-Furter asks her. She is also shown as someone a bit childish, making her first appearance while sliding down the railing of the stairs, and has bipolar emotions. She can cry one minute then laugh loudly on another. Magenta is also a crazy character that appears to have a weird sense of humor, laughing loudly as the guests ran away after seeing that the dinner they're supposed to eat is the dead corpse of Eddie. This article is a Magenta costume tutorial.
The Rocky Horror Picture Show | Magenta Costume Guide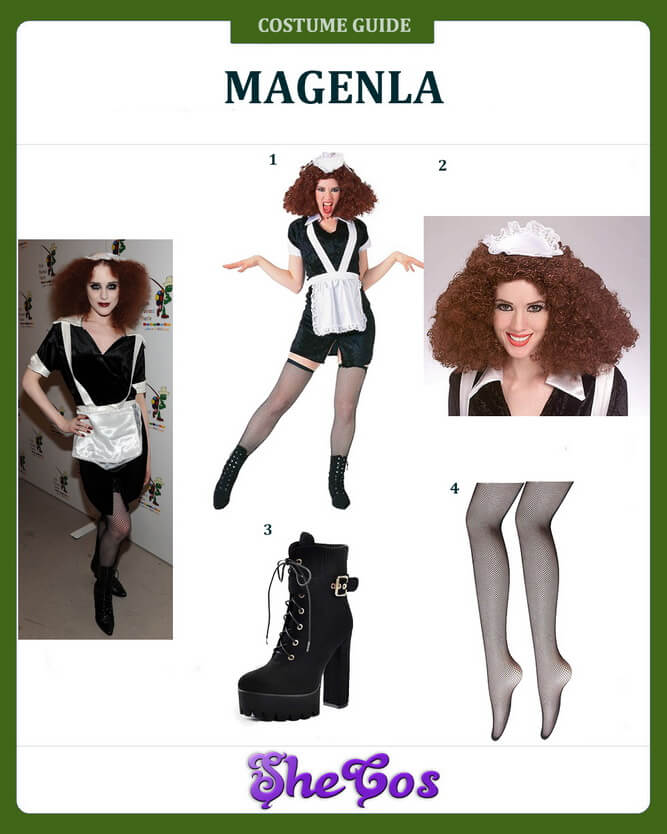 Parts you may need
1. Full Magenta Rocky Horror Costume   Check Price
2. Red Magenta Wig                                     Check Price
3. Black High-Heeled Boots                        Check Price
4. Tight Grey Stockings                                Check Price
The Best Magenta of The Rocky Horror Show Cosplay Ideas
As the maid of the castle, Magenta dresses the part since she is mostly seen in The Rocky Horror Show wearing the maid's outfit. Her appearance also matches her crazy and bipolar personality, looking stoic one moment then crazy the next.
This cosplay guide will feature Magenta's full costume. It consists of a black full maid's outfit, complete with a top that has a white collar and white cloth at the opening of the sleeves, and a bottom skirt. It also comes with a small white apron that is attached to the maid's outfit like a jumper. The cosplay set will also come with a white maid's hat, a pair of back high-heeled boots, and a pair of tight grey stockings. The cosplay set is completed with a red curly wig that is shoulder length to represent Magenta's crazy looking hairstyle.
About Magenta Costume
Magenta's character is not much of a talker, especially during the early parts of the show. But her presence is always there, following Dr. Frank-N-Furtur's orders or following her lover/brother around. She's also a bit childish and crazy, which is seen in her antics and actions.
But what Magenta wants is to go back home to their planet. She and her brother long for home, but they can't do anything since Dr. Frank is their leader. They finally took matters into their own hands, killing Frank so she and her brother can go back home. Despite her crazy and childish antics, Magenta is an attractive woman. It makes her a good cosplay option, especially when it comes to cosplaying characters from The Rocky Horror Show. If you look at the Magenta cosplay photos, you can see that she is a good costume option that people can wear during Halloween or costume parties.
Cosplayer: Redmoontiger
The Magenta Rocky Horror Makeup Tutorial