Kronk is one of the main characters of the animated movie The Emperor's New Groove. He is the secondary antagonist of the film and primarily serves as Yzma's henchman. A lot of fans liked the animated movie, and it is primarily because of the combination of Yzma and Kronk. The two villains are always full of comedic and hilarious scenes due to Kronk's haplessness and moronic responses to Yzma.
Despite working for Yzma, Kronk is a nice guy. He is genuinely a good guy but is very loyal to Yzma, helping the old lady when her age makes it hard for her to do certain things. Kronk also showed that he is good at pointing out flaws to Yzma's plans and remembering them well, even if he is not very bright himself. It makes Kronk a good cosplay option for people looking to dress up as characters from the Emperor's New Groove. This is a Kronk costume guide.
The Emperor's New Groove Kronk Costume Tutorial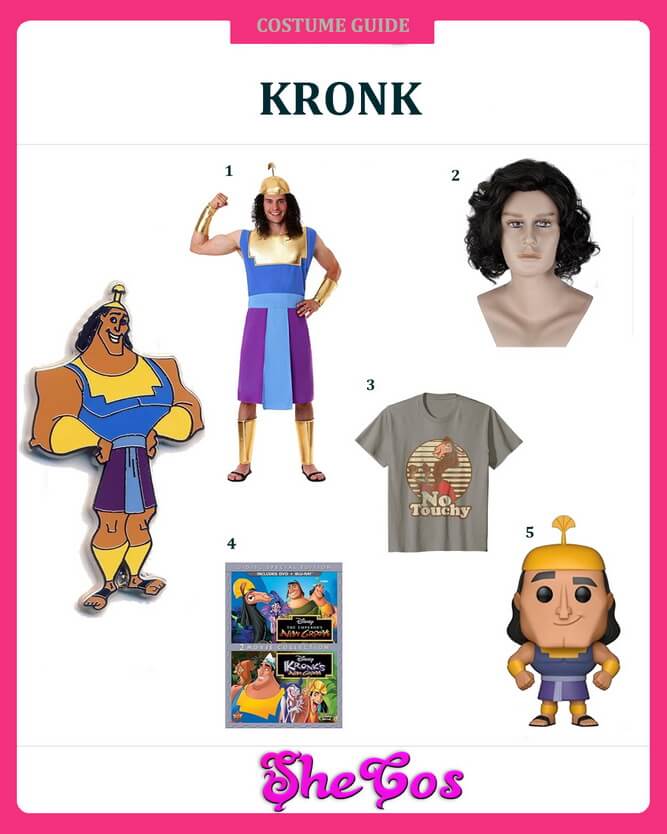 1. Full Kronk Costume                                 Check Price
2. Black Kronk Wig                                       Check Price
3. Emperor's New Groove T-Shirt              Check Price
4. Emperor's New Groove DVD                  Check Price
5. Kronk Pop Figure                                      Check Price
The Best Kronk of the Emperor's New Groove Cosplay Ideas
When it comes to appearances, Kronk wore different outfits throughout the movie, depending on the scenes that he is in. But he does have a signature outfit that he regularly wears during the film and that people will instantly recognize.
This cosplay guide will feature Kronk's signature look. It consists of a blue sleeveless shirt with a gold armor-like design around the chest, collar, and upper back area of the shirt. It also comes with a purple knee-length men skirt and a long blue sash wrapped on the waist and a portion of it hanging on the front. The costume set will also come with gold arm bands and leg bands, and a pair of slippers. It's completed with a black medium-length curly wig and gold cap with an antenna-like design on top. The set will also come with an Emperor's New Groove t-shirt and DVD, as well as a Kronk Pop figure.
About Kronk Costume
Kronk is one of the most well-known characters of the Emperor's New Groove because of his combination of personality, lack of smarts, one-liner banter, and the fact that he is a good guy serving the evil villain in the movie. These things make for a hilarious, memorable, and lovable character.
That is also why Kronk is one of the favorite options of people who are looking to cosplay characters from the Emperor's New Groove movie. And if you've seen the movie, you know Kronk is not only all personality. The character's appearance provides a bit of fun and appeal as well. If you look at the Kronk cosplay photos, you can see that his costume is a bit hilarious. It's a great idea to get the Yzma and Kronk costume with your friend. It can make you stand out in costume parties and comic conventions, should you choose to dress up as this character.