Kuzco is one of the main characters of the animated movie The Emperor's New Groove. He is the emperor of the Inca Empire and the protagonist of the story. But his personality and traits are not what you usually see in a hero. Kuzco is someone who doesn't care how his words or actions would affect others. He is also a person who cares more about how a physically attractive a person is and how popular they are.
That is something throughout the movie, and it's really what the protagonist would have to overcome himself. He finally changed his ways, but it was due to the actions of the villains Yzma and Kronk. But this different take on the hero of the movie is one of the things that a lot of people liked about The Emperor's New Groove. This article is a Kuzco costume guide.
The Emperor's New Groove - Kuzco Costume Tutorial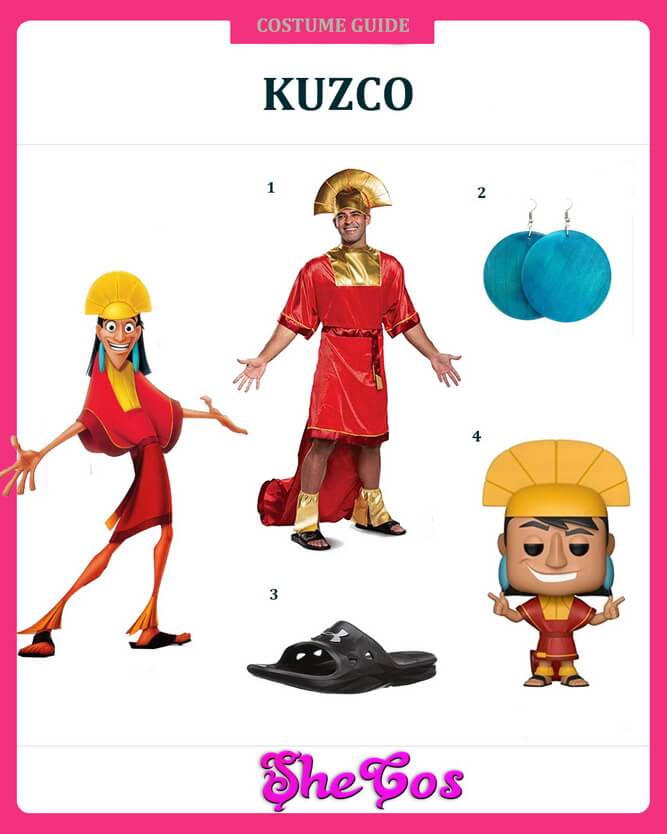 Parts you may need
1. Full Kuzco Costume                                 Check Price
2. Full Kuzco Costume                                 Check Price
3. Black Slippers                                            Check Price
4. Kuzco Pop Figure                                      Check Price
The Best Kuzco of The Emperor's New Groove Cosplay Ideas
Since Kuzco cares more about physical appearance, this preference is shown in how he dresses. The character is always wearing nice clothes, which is also because he is the emperor.
This cosplay guide will feature Kuzco's official emperor outfit. The outfit consists of a red royal robe that has dark red and gold outlines. The robe also has a dark red sash-like belt that is wrapped on the waist and a gold square design located near the chest, all the way to the collar and upper back. The Kuzco cosplay set will also come with a pair of black slippers a pair of blue large circle earrings, and a gold fan-shaped crown that Kuzco wears with pride. The cosplay collection will also come with a Kuzco pop figure that you can display on your desk.
About Kuzco Costume
Kuzco's sarcastic personality and his preference to focus more on physical appearance are due to the character growing up in luxury and popularity. As the heir to the throne, Kuzco had access to almost any luxury that he wanted. That's why he always preferred anything that is physically attractive and popular and puts down those that aren't. It made him a character that not everyone liked, but they still had to follow him because he is the emperor.
All of his preferences changed when Yzma and Kronk turned him into a Llama. This situation made him realize that there's more than physical looks and popularity. Though he didn't have a good personality at the start, people still like this character because it is a different hero compared to the usual hero that Disney has in their animated movies. If you look at the Kuzco cosplay photos, you can also see that his appearance does reflect his preference for popularity and physical attractiveness. Dressing up as the character will make anyone stand out.