Beetlejuice is a comedy and horror fantasy movie that premiered in 1988 and became a cult classic and fan favorite. The film centered on Adam and Barbara Maitland, who died in a car crash but was required to live in their house for 125 years. But the Deetz family already owned their house, so they needed to scare them away. The couple eventually became friends with the Lydia Deetz, the daughter of the Deetz couple.
Lydia Deetz is one of the main characters of the series. She is the goth daughter of Charles Deetz from his first wife. Lydia is also an aspiring photographer who also likes to write and has a fascination with anything that is related to the paranormal and supernatural. She can see Adam and Barbara and be befriended them in the movie.
As one of the main characters of the movie, Lydia is an option for females looking for a costume for Halloween or a horror-themed costume party. This article will be a Lydia Deetz costume guide.
Lydia Beetlejuice Wedding Dress Cosplay Guide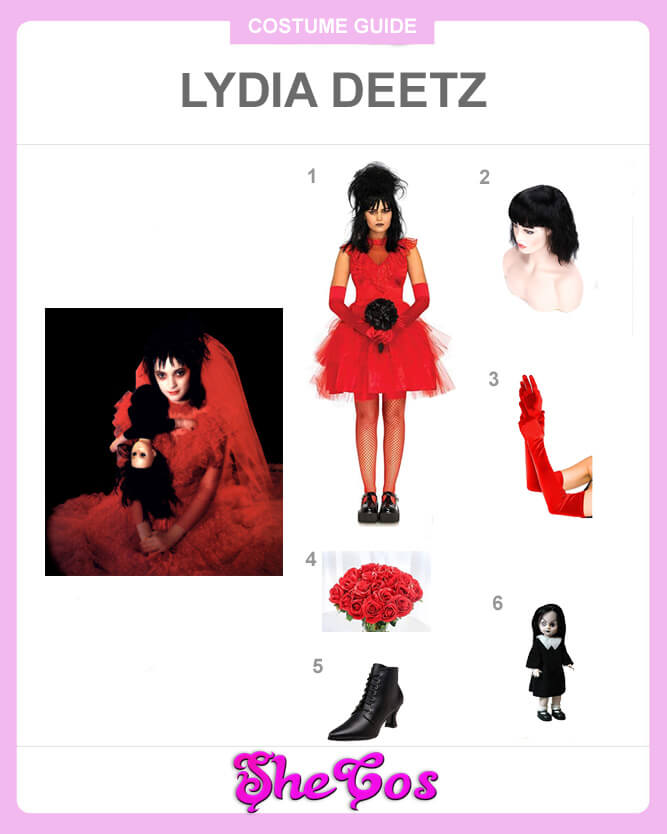 1. Red Lydia Deetz Wedding Dress            Check Price
2. Lydia Beetlejuice Wig                               Check Price
3. Red Gloves                                                  Check Price
4. Fake Bridal Wedding Bouquet                Check Price
5. Black Boots                                                 Check Price
6. Living Dead Doll                                       Check Price
The Best Lydia Deetz of Beetlejuice Red Wedding Dress Cosplay Ideas
Lydia Deetz is one of the main characters of the movie Beetlejuice and is also the main protagonist. She likes to write and aspires of becoming a photographer. She was supposed to be the bride of Betelgeuse, as payment for bringing back the Maitlands after they were exorcized. When it comes to dressing up as this character, people have two options. One of the options is the red wedding dress costume that the character was wearing during her supposed wedding to the movie's antagonist.
The Lydia Beetlejuice costume set includes the complete Red Wedding Dress. It contains a red wedding sleeveless dress, red gloves, and black heeled boots. The cosplay set also comes with a fake bridal wedding bouquet a black wig that represents Lydia's hairstyle for the wedding, and a living dead doll that she was also carrying as part of the costume. She also wears pale makeup on her face with peach eye shadow.
Beetlejuice Lydia Deetz Black Dress Cosplay Guide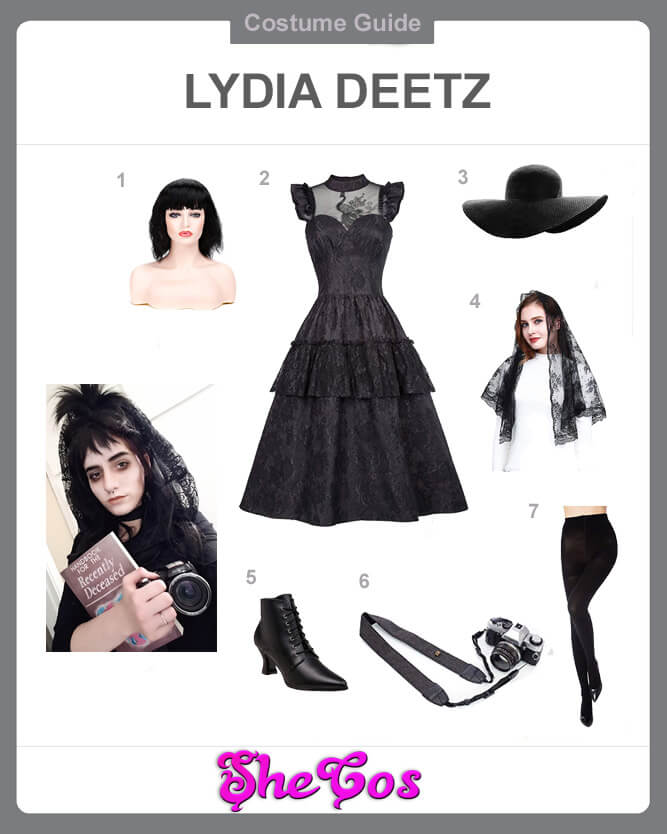 1. Black Lydia Deetz Wig                            Check Price
2. Full Black Lydia Costume                      Check Price
3. Lydia Deetz Hat                                       Check Price
4. Black Veil                                                  Check Price
5. Lydia Deetz Shoes                                   Check Price
6. Camera Prop                                            Check Price
7. Top Panty Tights                                     Check Price
The Best Lydia Deetz of Beetlejuice Black Dress Cosplay Ideas
Lydia Deetz likes to wear a lot of black clothing. She is seen wearing a variety of different black outfits throughout the movie, together with her pale-face makeup and peach eye shadow. The eye shadow is usually seen around her eyelids, under her eyebrows.
This Lydia Deetz cosplay set will include one of the outfits she was seen wearing in the movie. It is a long black dress with see-through fabric from her collar all the way to the chest area. The suit also has a sleeveless-like design and comes with a black hat that the character wears when goes outside. The hat comes with a black veil, which Lydia used to protect herself from the sun. The cosplay set contains black heeled boots and a camera prop, representing Lydia's passion. It also has top panty tights you can wear underneath the dress.
About Lydia Deetz Costume
As a goth girl, Lydia Deetz is a serious person. But underneath all of this seriousness is a kind girl who always feels isolated. She is also seen as the one with the most common sense among her family members, as her parents are often seen only thinking about their selfish pursuits. Her loneliness prompted her to befriend the Maitland couple, who also became an active parent to her.
When it comes to dressing up as Lydia Deetz, you have plenty of options. You can wear one of the many black outfits she wore throughout the movie or the red wedding dress she wore when she was marrying Betelgeuse. If you look at the Lydia Deetz cosplay photos, you can see that either look will look good. The red wedding dress would work well, though, if your partner also wears a Betelgeuse costume. It's a great idea to get both Beetlejuice and Lydia costume for couple cosplay.
Cosplayer: Ryoko-demon, Shirak-cosplay, Mana_hime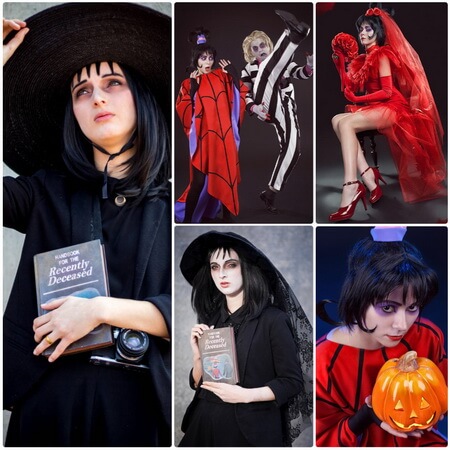 Beetlejuice Lydia Deetz Cosplay Makeup Tutorial