When you think of the Sailor Moon series, you usually think of the five Inner Sailor Warriors, namely Sailor Moon, Sailor Mercury, Sailor Venus, Sailor Mars, and Sailor Jupiter. But there are more sailor soldiers in the entire series, and one of them is the sailor soldier called Sailor Pluto.
Sailor Pluto is one of the Soldiers of the Outer System that were designated to protect the solar system from outer threats. She is one of the unique characters in the series because her duty involves being stationed at the Door of Space-Time and forbidding anyone to pass through it without permission. She also has a close relationship with Chibiusa Tsukino and a great deal of respect for the Neo-Queen Serenity.
Sailor Pluto is one of the cool characters in the series because of her powers and appearance. It makes her a favorite option for ladies to dress up in for costume parties or comic conventions. Here it is a Sailor Pluto cosplay guide.
Sailor Moon: Sailor Pluto Cosplay Tutorial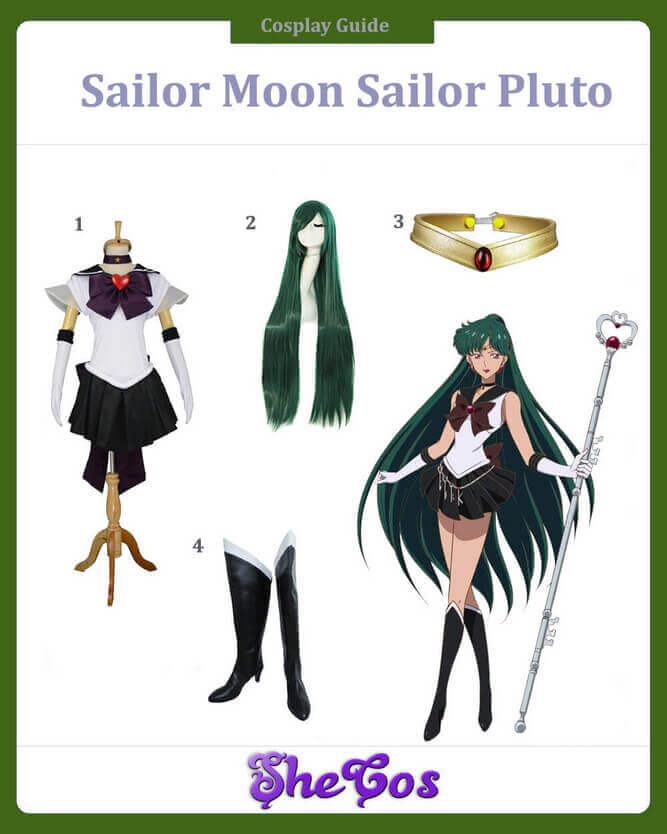 1. Adult Sailor Pluto Costume                    Product Page
2. Sailor Pluto Wig                                        Check Price
3. Gold Headband                                         Check Price
4. Sailor Pluto Boots                                     Check Price
5. Sailor Pluto Figure                                    Check Price
6. Sailor Pluto Keys                                       Check Price
The Best Sailor Pluto of Sailor Moon Cosplay Ideas
Sailor Pluto is one of the new characters in the second arc of the Sailor Moon series, which fans also called the Black Moon Arc. She must guard the Door of Space-Time and her powers come from the time, space darkness, and the underworld. She temporarily left her post to live as a human being with the identity Setsuna Meioh, who is a university student studying physics.
The Sailor Pluto cosplay set will come with the full costume, which includes her white sleeveless sailor school uniform with black collars and black mini skirt. The Pluto costume also comes with a big black bow with a heart-shaped button at the front and another one at the back of her dress. The outfit includes a black choker, elbow-length white gloves with black bands at the elbows, knee-length black boots, and a dark green wig for her hairstyle. The cosplay also comes with a Sailor Pluto figure and waist keys.
About Sailor Pluto Costume
Sailor Pluto didn't have a civilian identity, considering that her role requires her to be at the Door of Space-Time and guard it. How she was able to leave her post differs between the manga and the anime. In the manga, the Neo-Queen Serenity reincarnated her in the present-day after she sacrificed herself, while in the anime there wasn't any explanation of how she became human and had a civilian identity.
Nevertheless, when people think of cosplaying this character, they don't think of Setsuna Meioh, they think of Sailor Pluto. Sailor Pluto's good relationship with Chibiusa endears her to fans. And her appearance and power, which comes from time, space, darkness, and the underworld, make her a cool character. Looking at the Sailor Pluto cosplay photos, you can see how Sailor Pluto's appearance not only makes the wearer look cool but also makes her alluring and sexy.
Cosplayer: Giorgiacosplay, Nayigo Cosplay
Sailor Moon - Sailor Pluto Cosplay Makeup Guide