The Sailor Moon anime and manga series of the 90s was a popular series due to the different attractive young ladies known as Sailor Warriors to protect the Earth from evil. One such Sailor Warrior is called Sailor Uranus. This article will be a Sailor Uranus cosplay guide.
Sailor Uranus is one of the Outer Soldiers of the Solar System that protects the solar system from external threats. Her civilian identity is Haruka Tenoh, who is a teenage Japanese school girl. She is the tallest among the sailor soldiers, standing at 6-feet in height. She's a bit of a tomboyish and likes to tease pretty girls in the series, including the main character Usagi Tsukino.
Sailor Uranus fights alongside her partner and lover Sailor Neptune. Uranus is another good option for ladies who are looking to cosplay the sailor soldiers in the Sailor Moon Series.
Sailor Moon Sailor Uranus Cosplay Guide
Parts you may need:
1. Full Sailor Uranus Costume                   Product Page
2. Sailor Uranus Boots with Heels            Check Price
3. Sailor Uranus Wig                                    Check Price
4. Headwear Headband                               Check Price
5. Sailor Uranus Figure                               Check Price
The Best Sailor Uranus of Sailor Moon Cosplay Guide
Sailor Uranus is introduced in the Sailor Moon during the third story arc of the series. She came together with Sailor Neptune. Her powers come with the wind, sky, and precognition. Uranus also has the strength that is associated with sword combat, making this character a skilled swordsman. She is a tomboyish character, not only because of her actions of teasing pretty girls but also because of her personality.
The Sailor Uranus cosplay set comes with her full costume. It includes the white sleeveless sailor school uniform with navy blue collars, a navy blue choker, and a navy blue mini skirt. Her outfit also comes with a yellow bow at the front and a navy blue bow at the back of the mini skirt. The full collection includes the navy blue boots, a headwear headband, as well as a Sailor Uranus figure.
About Sailor Uranus Costume
Sailor Uranus is also known as the Solider of Flight and Soldier of Sky, who can run like the wind and be able to forecast bad things from the sky. She is one of the more aggressive and daring sailor soldiers in the series. Her civilian persona even embodies this fearless attitude, as she is a racecar driver, despite being just 16-years-old. Uranus is also a strong-willed, capable, and intelligent individual. Her weapon is the Space Sword, which is one of the three Talismans in the series.
Despite being a tomboy, Sailor Uranus still looks attractive, which is typical of a Sailor Warrior. Looking at the Sailor Uranus cosplay photos, you can see that her tomboy nature doesn't hide the fact that she is still an attractive lady. Dressing up as Sailor Uranus is an excellent choice for ladies, especially if they also have a female partner who can go as Sailor Neptune.
Cosplayer: JhonKunagm Cosplay, ArciteValeheart, Mamoru-kun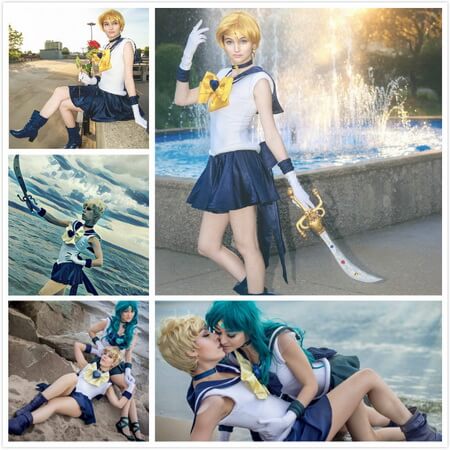 Sailor Moon - Sailor Uranus Cosplay Makeup Tutorial