Margaret Elizabeth Carter, or more commonly known as Peggy Carter, is one of the characters of the Marvel Cinematic Universe. She is one of the founders of S.H.I.E.L.D. and a prominent MI5 agent, who was loaned to the Strategic Scientific Research during World War 2. One of her successful missions in Germany enabled the creation of the Super Soldier Serum, which gave Steve Rogers his superhuman abilities.
Though Peggy Carter plays mostly as a supporting character in the MCU, her connection and relationship to Steve Rogers have fans of the franchise intrigued with the character. This article is a Peggy Carter costume guide.
Marvel Peggy Carter Costume Tutorial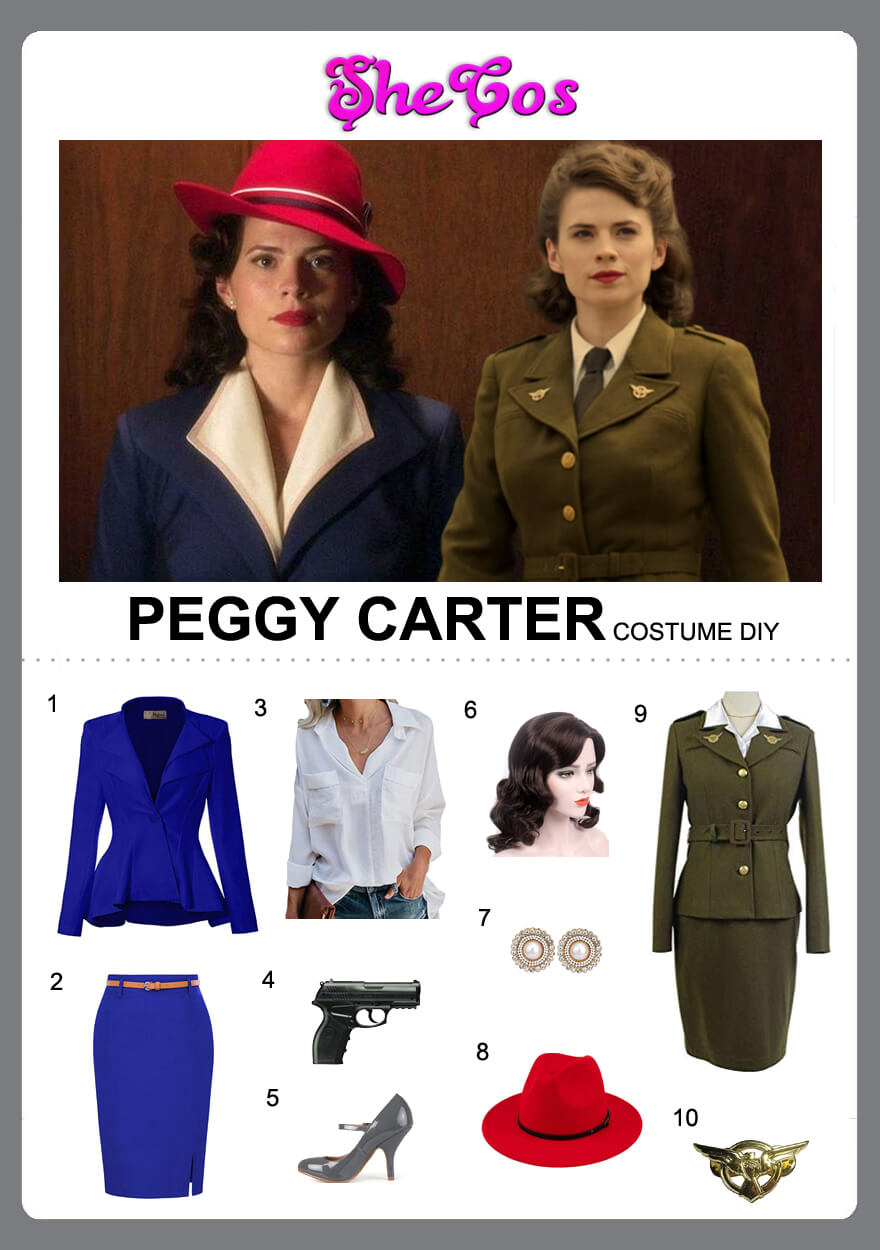 1. Blue Peggy Carter Suit                           Check Price
2. Blue Skirt                                                 Check Price
3. Peggy Carter Shirt                                  Check Price
4. Gun Prop                                                  Check Price
5. Gray Peggy Carter Shoes                       Check Price
6. Peggy Carter Hair                                   Check Price
7. Earrings                                                    Check Price
8. Peggy Carter Red Hat                            Check Price
9. Peggy Carter Military Uniform            Check Price
10. Military Pin                                           Check Price
The Best Peggy Carter from Marvel Cinematic Universe Cosplay Ideas
Peggy Carter has worn various outfits throughout her appearance in the Marvel Cinematic Universe.  She does wear one usual outfit, which is her military uniform. This guide will feature Peggy Carter's usual military uniform and a casual outfit she wears.
Her military uniform consists of a white long-sleeved polo with a green skirt and a matching green blazer on top. The set will also come with an army pin on the collar of the green blazer. For Peggy Carter's casual outfit, the suit will come with a blue blazer and a matching blue skirt to complete her casual outfit. The cosplay set will also come with a pair of earrings and a pair of gray high-heeled shoes. Completing Peggy Carter's costume is a long black wig in the character's hairstyle and a red hat that she usually wears.
About Peggy Carter Costume
Peggy Carter is one of the support characters in the Marvel Cinematic Universe. But she is the love interest of Captain America, which makes a lot of people intrigued by the role. Peggy also doesn't possess any superpowers or high-tech gadgets or machines. But she can hold her own in a fight due to her military background, making others think twice about engaging with her. Peggy Carter was previously a part of MI5 before she was loaned and became an advisor of the Strategic Scientific Reserve. There, she went on a mission to free the scientist Abraham Erskine, the scientist who created the Super Soldier Serum.
But what fans remember most about her is that she is the love interest of Captain America, and they never got the chance to be together since the superhero became trapped in Ice after he crashed the plane that is carrying the Tesseract in the ocean. Though she is just a support character, there are still people who are fond of her due to her badass attitude, making her a good cosplay option. If you look at the Peggy Carter cosplay photos, you can see that she is a great costume idea for ladies attending a comic convention.
The Peggy Carter Cosplay Makeup