Lagertha is one of the main characters of the Vikings series. She is the second Queen of Kattegat and the first ex-wife of Ragnar Lothbrok. She is also a very skilled shield-maiden and is a heroic figure that represents real Viking shield-maidens. A lot of fans of the series consider her as the strongest character in Vikings. That's primarily due to her combat abilities and the political power and influence she wields.,
But Lagertha wasn't always had the natural ability to fight. Her skills as a combatant and shield-maiden were the result of hard work and determination. Her determination and drive to become strong, as well as to rule, is what fans loved about this character. It is also why Lagertha is one of the first choices for ladies who are looking to cosplay Vikings character. This article is a Lagertha costume tutorial.
The Vikings Lagertha Costume Guide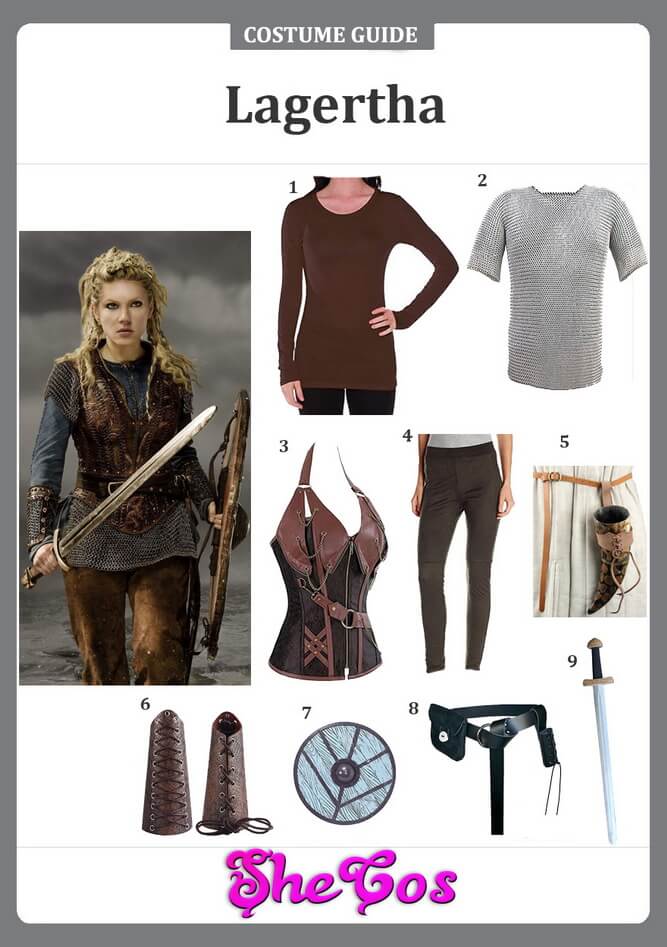 1. Lagertha T-Shirt                                        Check Price
2. Lagertha Armor Shirt                               Check Price
3. Dark Brown Overbust                              Check Price
4. Dark Brown Pants                                     Check Price
5. Horn-like Drinking Cup                           Check Price
6. Brown Bracer Armor                                Check Price
7. Viking Lagertha Shield                             Check Price
8. Black Leather Belt                                    Check Price
9. Viking Sword                                             Check Price
The Best Lagertha of Vikings Costume Ideas
Lagertha has worn a lot of different outfits throughout the Vikings series. It means there are a lot of different outfit options when it comes to cosplaying the character. However, her most iconic outfit is likely her battle outfit since she is the strongest character in the series.
This cosplay guide will feature Lagertha's battle outfit. It consists of a brown long sleeve shirt with a grey chain armor on top of it and a dark brown leather overbust. The cosplay set will also come with dark brown pants, a pair of brown bracer armor to cover her arms, and a black leather belt that can hold the sword and other items of the character. The collection also includes Lagertha's accessories, like her Viking shield, Viking sword, and a beer drinking cup that is shaped like a horn.
About Lagertha Costume
As a Viking, Lagertha is not your typical Queen and wife who's the only role is to support the King and the husband. She is a skilled combatant who is not afraid to fight and kill her enemies when she needs to. But Lagertha is not only all fight and beauty, as she also possesses knowledge and wisdom, allowing her to gain rule her people rightly. Considering the things that have happened to her throughout the series, she became endeared to fans of Vikings and was the most influential character.
This popularity and endearment to Lagertha made her a popular choice for ladies looking to dress up as characters of Vikings. Despite wearing different outfits throughout the series, Lagertha's battle outfit is what stands out the most as her iconic appearance. If you look at the Lagertha cosplay photos, you can see that the character's battle outfit is a great cosplay choice for costume parties, photo shoots, or comic conventions.
The Vikings Lagertha Cosplay Makeup Tutorial