Ragnar Sigurdsson, or more commonly known as Ragnar Lothbrok, is the main protagonist of the Vikings series. He is the ex-husband of Lagertha, the brother of Rollo, and the father of Bjorn, Gyda, Ubbe, Hvitserk, Ivar, and Sigurd. Undoubtedly, Ragnar is the most popular character of the series. And his adventures and journey to become king is the main reason why people watch this series.
They enjoyed following his adventures as well as his journey from a regular farmer to King of Kattegat. He is also a powerful character because of his combination of combat abilities, political influence, and popularity with the people. At this point, only his ex-wife, Lagertha, surpasses him in terms of overall power in Vikings. That's also why Ragnar is the first option for people looking to cosplay Vikings characters. This article is a Ragnar Lothbrok costume tutorial.
The Vikings Ragnar Lothbrok Costume Guide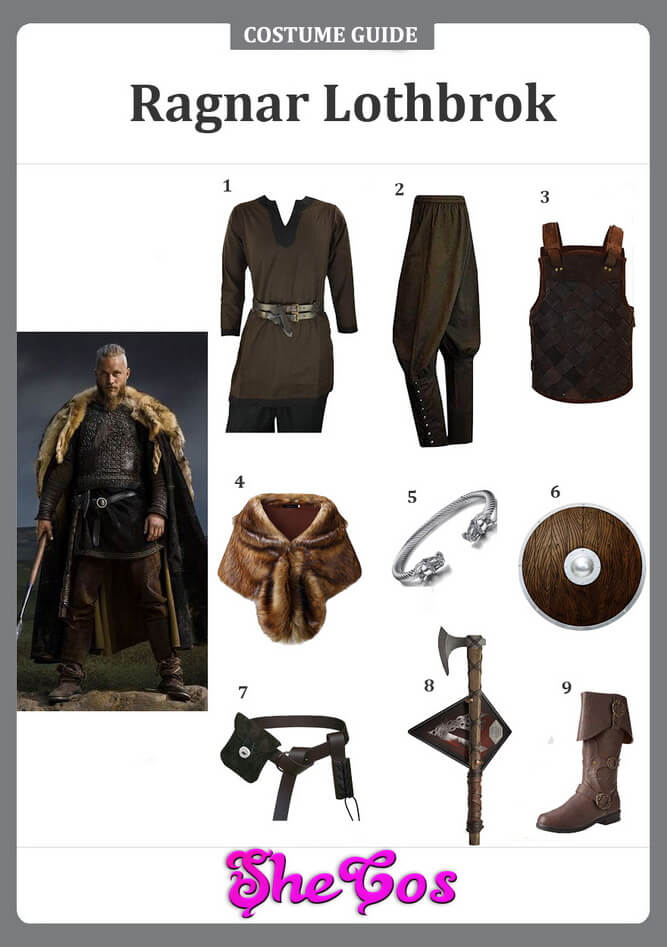 1. Ragnar Costume Shirt                              Check Price
2. Dark Brown Pants                                     Check Price
3. Ragnar Lothbrok Armor Vest                 Check Price
4. Fur Shoulder Cape                                    Check Price
5. Silver Bracelet                                           Check Price
6. Viking Shield                                             Check Price
7. Black Leather Belt                                     Check Price
8. Ragnar Lothbrok Axe                               Check Price
9. Ragnar Lothbrok Boots                            Check Price
The Best Ragnar Lothbrok of Vikings Costume Ideas
Like a lot of the other characters in Vikings, Ragnar Lothbrok has worn different outfits throughout the series. His appearance would greatly depend on the scenes he is in and what will happen there. However, his most iconic outfit is likely his Vikings battle outfit. It's the outfit that is most associated with this compelling character.
This cosplay guide will feature Ragnar Lothbrok's Vikings battle outfit. It consists of a dark brown Vikings top with matching dark brown pants. It will also come with a dark brown armor vest that Ragnar always wears in battle and his signature fur shoulder cape. The set will also have a Viking shield, a Viking axe, and a black leather belt where the axe is attached. The cosplay set is completed with a silver bracelet that Ragnar wears and a pair of dark brown Viking boots.
About Ragnar Lothbrak Costume
Ragnar Lothbrak is the most popular character in the Vikings series. He is probably still above Legartha in terms of popularity and is the main reason people started tuning in to this series. They're always curious about what he will do next and what kind of adventure he will go to next. They were also interested in his ascension from a regular farmer to the king. His journey and adventure weren't easy, as it was always met with opposition and obstacles.
But with his combination of strength, battle skills, and wits, Ragnar overcame all of it until he finally became king. As the main protagonist and most famous character, Ragnar is always the first choice when it comes to cosplaying Vikings characters. If you look at the cosplay photos, you can see that cosplaying as Ragnar is the right choice. The role is a great cosplay option for comic conventions, costume parties, and photo shoots.
The Vikings Ragnar Lothbrok Cosplay Makeup Tutorial