Louise Belcher is one of the main characters of the animated series Bob's Burgers. She is nine-years-old, the youngest of the Belcher family, and she is a fourth grader at Wagstaff School. She also works at Bob's Burger restaurant like the rest of the family. Louise is a bright but naughty kid who also has a weird sense of humor and likes to get into conflicts. This personality of hers always puts her family in tricky situations. But it is also this unique personality that gets them out of it.
But it is this personality that also makes her the best character in the series. Fans of Bob's Burgers like Louise so much. And the fact that she still does the right thing in the end, despite her rebellious and selfish nature. It also makes her one of the favorite options when it comes to cosplaying Bob's Burgers characters. This article is a Louise Belcher costume tutorial.
Bob's Burgers | Louise Belcher Costume Guide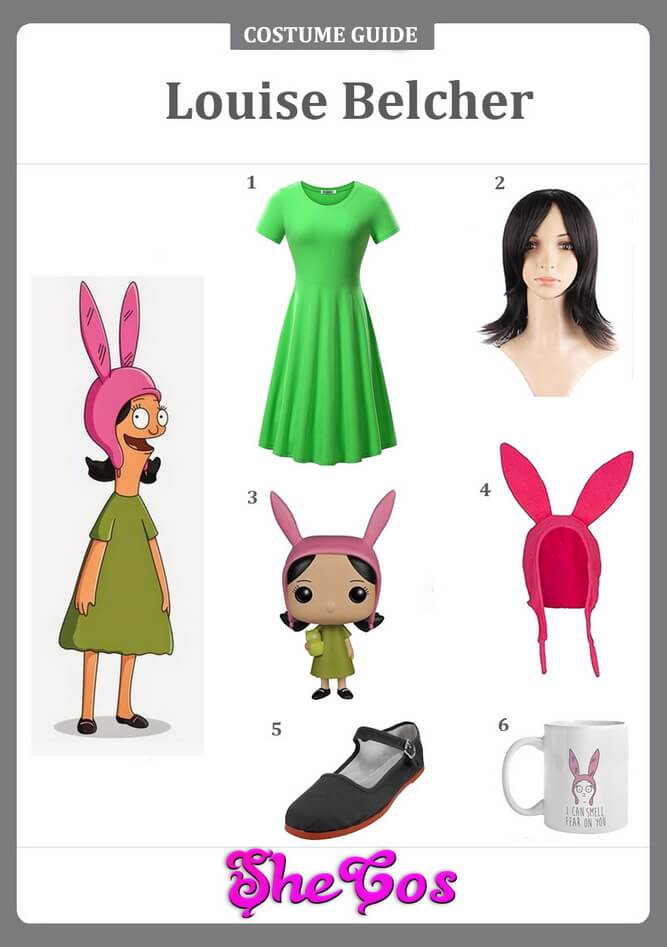 Parts you may need
1. Green Louise Belcher Dress                    Check Price
2. Black Shoulder-length Wig                     Check Price
3. Louise Belcher Pop Figure                      Check Price
4. Pink Belcher Hat with Bunny Ears        Check Price
5. Louise Belcher Shoes                               Check Price
6. Louise Belcher Mug                                  Check Price
The Best Louise Belcher of Bob's Burgers Costume Ideas
When you think of Louise Belcher, the first thing that you would likely remember about her is her trademark pink hat with rabbit ears. It is an accessory that the character always wears, and she usually goes crazy if someone tries to mess with her hat.
This cosplay guide will feature Louise Belcher's complete outfit. It consists of a green dress that is knee-length long and a pair of black Mary Jane shoes. The cosplay set will also come with a black shoulder-length wig that is styled in the character's hairstyle and iconic headwear that Louise always wears, the pink hat with rabbit ears. The cosplay set will also come with a Louise Belcher pop figure that you can display on your desk or a shelf and a mug with the character's face and her usual "I can smell fear on you" quote.
About Louise Belcher Costume
A lot of fans consider Louise Belcher as the best character in the animated series Bob's Burgers. That is primarily due to her rebellious and mischievous personality. There's never a dull moment whenever Louise is on the scene. She'll either have a witty remark that makes the scene funny or she'll do something that can cause trouble for everyone, which is even more ridiculous.
But one thing that will stand out with Louise Belcher is her iconic pink rabbit ears hat. She likes to wear this hat, and she even goes crazy if people make fun of it. That is why this accessory is the most critical part of the character's costume. If you look at the Louise Belcher cosplay photos, you can see that the pink hat with rabbit ears will make any wearer stand out, whether it's a costume party or comic convention.
The Bob's Burgers Louise Belcher Cosplay Makeup Tutorial