Bill Cipher is one of the main characters of the animated series Gravity Falls. He is a triangular dream demon and the antagonist of the series. As a dream demon, Bill lives in the Nightmare Realm and can only talk to people through the dream world. It was when he succeeded from escaping the Nightmare Realm to the real world did he start to wreak havoc in Gravity Falls.
Bill's personality also matches his villainous status as he is insane, blasphemous, sociopathic, and is amused when things cause distress to people. He is selfish and will do what he wants regardless of their consequences. But he is also cunning, smart, and powerful, which makes him a hard enemy to deal with. This article is a Bill Cipher cosplay guide.
The Gravity Falls Bill Cipher Cosplay Tutorial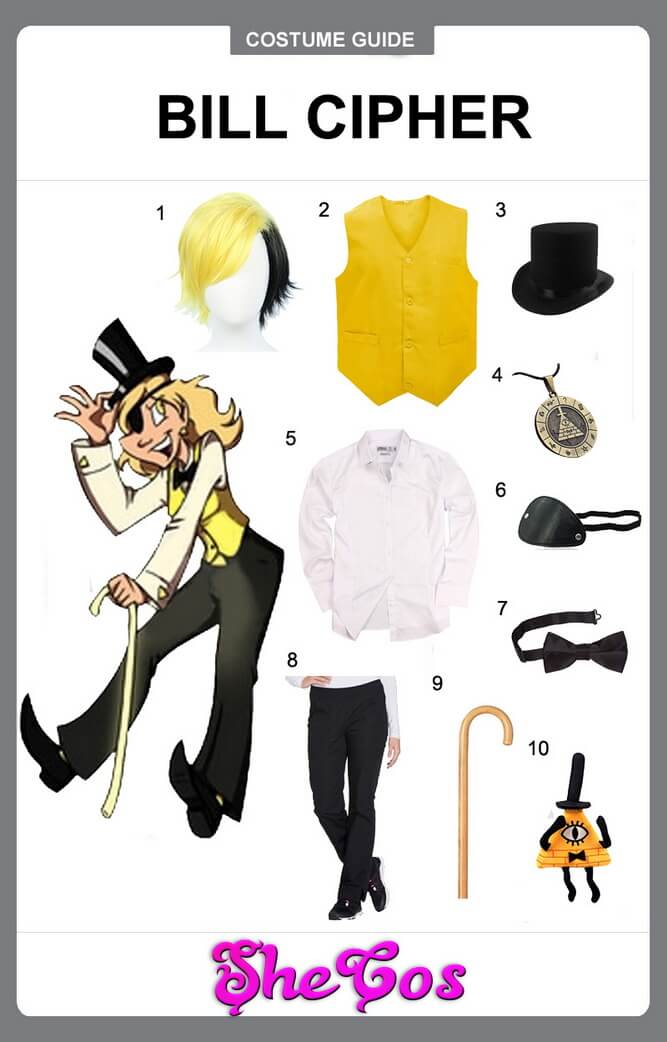 1. Bill Cipher Wig                                          Check Price
2. Yellow Bill Cipher Vest                            Check Price
3. Black Bill Cipher Hat                               Check Price
4. Bill Cipher Necklace                                 Check Price
5. Bill Cipher Shirt                                        Check Price
6. Black Bill Cipher Eye Patch                    Check Price
7. Black Bow Tie                                             Check Price
8. Black Pants                                                 Check Price
9. Walking Cane                                             Check Price
10. Black Bill Cipher Eye Patch                  Check Price
The Best Bill Cipher of Gravity Falls Cosplay Ideas
Bill Cipher is a yellow triangle creature that has one eye in the middle. His appearance bears a resemblance to the Eye of Providence and Unfinished Egyptian Pyramid found on the U.S. Great Seal. The beauty of dressing up as Bill Cipher is that he offers the most flexibility in terms of appearance. This guide will feature one possible appearance of the dream demon.
The cosplay outfit will consist of a white long-sleeved polo with a yellow vest on top and black pants. The cosplay set will also come with a black bow and a black top hat, which both are part of the demon's regular attire. A short blonde wig with black hair on the side, a black eye patch to cover one eye and mimic the demon's lone eye, and a walking cane complete the outfit. Included in the cosplay set is a necklace with the Eye of Providence with unfinished Pyramid symbol and a Bill Cipher doll.
About Bill Cipher Costume
Bill Cipher is the main villain of Gravity Falls, but he is also one of its famous characters. A lot of people like his funny, laid back, witty, and don't-care attitude.  But what makes him unique is the fact that he is a potent being who can do almost anything but still chose not to. No one can stop him if he wants to, especially after escaping to the real world.
That is why a lot of people are fond of this character and is an awesome cosplay option for fans of the series. The beauty of Bill Cipher is anybody can dress up as him. If you look at the cosplay photos, you can see that people are dressing up in their interpretation of the character. He is an excellent option for attending costume parties or comic conventions.
The Bill Cipher Cosplay Makeup