Samhain, or more commonly known as Sam, is the main character in the horror movie Trick 'r Treat. He is the spirit of Halloween night, which makes sure that everyone follows the rules and spirit of Halloween. Every year he visits different towns to make sure that everyone is upholding the spirit and punishing those who ignore or defy tradition. But the scary part is that Sam penalizes violators in a sadistic and painful way that is designed specifically for his targets.
He uses a special weapon made of candy to punish violators. If he doesn't have any weapons, he bites or claws his victims. Though Sam is a cruel villain, he's still a good cosplay option, especially for Halloween. This article is a Sam cosplay guide.
The Trick 'r Treat Sam Cosplay Tutorial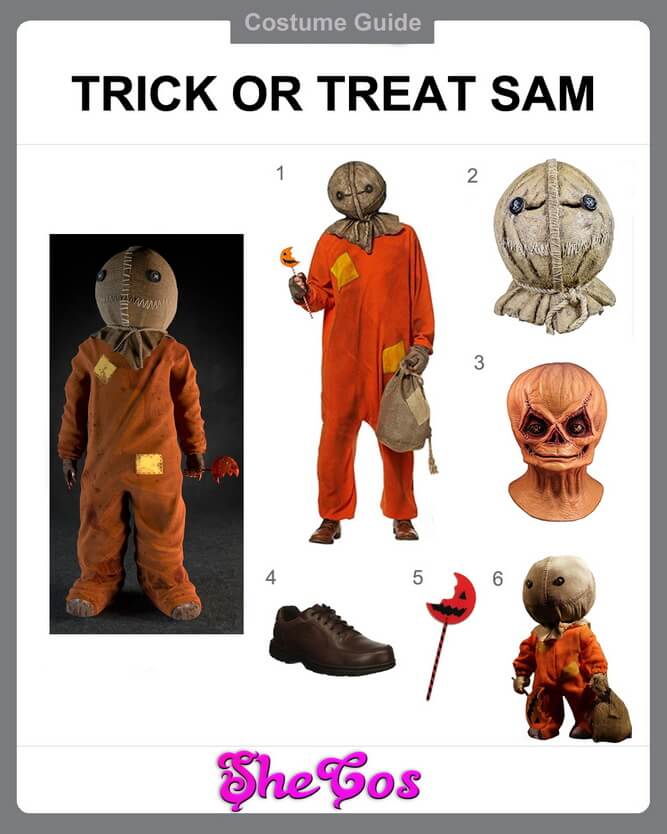 1. Full Sam Trick 'r Treat Costume          Check Price
2. Trick 'r Treat Sam Mask                         Check Price
3. Unmasked Sam Full Head Mask          Check Price
4. Brown Shoes                                             Check Price
5. Bitten Jack-o-Lantern Lollipop Prop  Check Price
6. Trick 'r Treat Sam Figure                       Check Price
The Best Sam from Trick 'r Treat Cosplay Ideas
If you look at Sam, you wouldn't think he is a demon since his appearance is simple. He seems just like any other regular trick or treating kid that is hoping to take home some candies. But underneath the mask lies a demonic and scary figure that will torture and punish violators of the Halloween spirit. This guide will feature Sam's overall appearance, including his wicked face.
The character's costume consists of an orange footy pajama with two yellow patches found on the upper right of the body and on around the left waist. The cosplay set will also come with a pair of brown fingerless gloves and a pair of brown shoes. A full head mask of Sam's real face, which is a demonic head that has a black angular eye socket and a triangular hole for a nose, is also included in the cosplay set. To complete the entire appearance, a burlap mask and a bitten jack-o-lantern lollipop prop are included. A The collection will also come with a Sam Trick 'r Treat figure.
About Sam Trick 'r Treat Costume
Sam's appearance fits him very much since he acts and behaves like a child, doing mischievous things. He also likes sweets, particularly chocolate. But his seemingly innocent and childlike appearance and attitude will suddenly change once he encounters a person who is violating the spirit of Halloween. He unleashes the demon inside him to dish out punishment to violators. The demonic character only has four rules that everyone needs to follow during Halloween, always give candy to trick-or-treaters, always wear a costume, don't extinguish the fire on jack-o-lantern before midnight, and respect the dead.
The character's appearance and behavior make him an excellent cosplay choice, especially for people who are looking for a scary character to dress up as during Halloween. If you look at the Sam cosplay photos, you can see that his innocent outer appearance and demonic inner appearance makes for a great Halloween costume and a costume to wear during comic conventions.
The Sam Trick 'r Treat Cosplay Makeup