Pugsley Addams is one of the main characters in The Addams Family series. He is the oldest child of Morticia and Gomez Addams. Pugsley is an unusual kid, who likes playing with dangerous objects and weapons like knives, grenades, axe, and so on. He usually plays these dangerous weapons with his sister, Wednesday Addams.
Pugsley Addams is the brains among the three siblings since he is good at inventing things and doing science experiments. Though Pugsley is the least favorite character among The Addams family, he still has a place in the fans' hearts, due to his penchant for dangerous weapons, stealing road signs, and owning unusual pets like an octopus, a crocodile, and many more. This article is going to be a Pugsley Addams costume guide.
The Addams Family - Pugsley Addams Costume Tutorial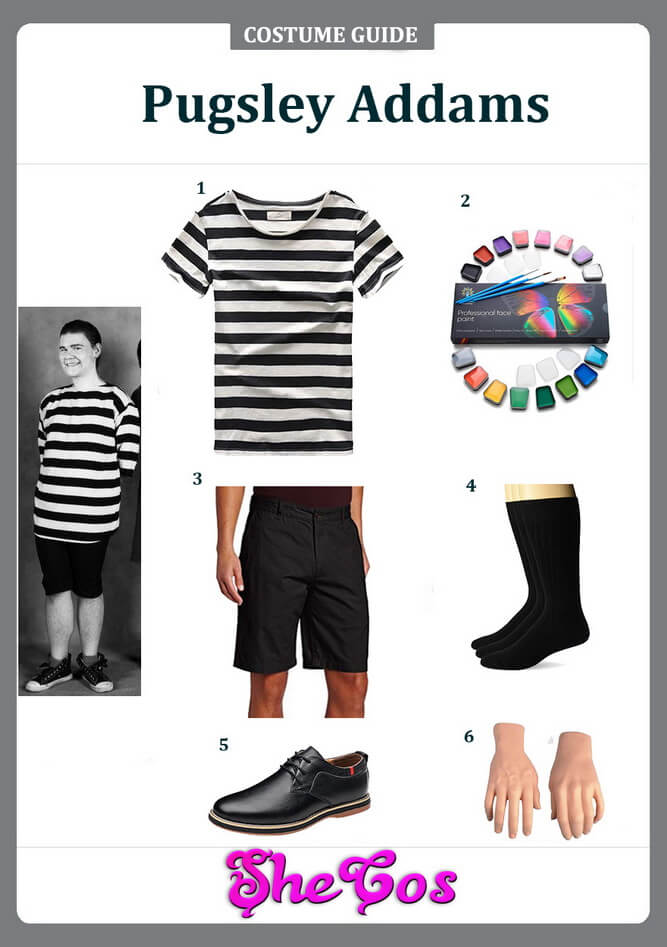 Parts you may need
1. Pugsley Addams Shirt                              Check Price
2. Pugsley Addams Makeup Set                 Check Price
3. Black Shorts                                               Check Price
4. Black Shoes                                                Check Price
5. Shin-length Black Socks                          Check Price
6. A Pair of Hands Prop                                Check Price
The Best Pugsley Addams of The Addams Family Costume Ideas
Pugsley Addams is one of the main characters of The Addams Family series. He is the oldest among the three children of Morticia and Gomez Addams. Pugsley is a smart kid, who is good at inventing and creating stuff. He has a penchant for playing with dangerous weapons and objects and is always in a game of who can prank who better with his sister Wednesday Addams.
This Pugsley costume guide will showcase his usual outfit, which consists of a white t-shirt with black stripes and black shorts. The cosplay set will also come with black shin-length socks and black shoes to complete Pugsley Addams' outfit. But to complete the cosplay look of the character, a painting set for his face and body and a pair of hands prop that Pugsley used in one of his pranks or inventions will also come with the cosplay set.
About Pugsley Addams Costume
Pugsley Addams is probably the least favorite character in The Addams Family series. But this doesn't mean he is a bad character, or he doesn't have fans of his own. There are still a lot of people who like Pugsley Addams because of his combination of smarts, personality, and strangeness. People also like that fact that Pugsley never seems always to get the best of his sister Wednesday, even though he is deemed as smarter.
His being the least favorite is due more to the strong personality that Wednesday possess than what Pugsley does. He is actually more of a sidekick to Wednesday, always there to help her out, but also there to pester and annoy her. That's why if you look at the cosplay photos, dressing up as Pugsley Addams would work well if you have someone who can dress up as Wednesday Addams. The siblings provide a winning combination and are a duo that you should not mess with or else you suffer the consequences.