Gomez Addams is one of the main characters of The Addams Family series, which centers on the everyday life and adventures of the Addamses. Gomez Addams is the patriarch of the family and is described as someone who is a naive, childish, extremely optimistic, and has a short attention span. He usually does things on a whim, including investing money on a business or an asset.
Despite not studying or developing a strategy for investing, he almost always wins due to extreme luck. Gomez Addams is shown to be very wealthy, owning several businesses around the world. But what's makes people remember Gomez Addams is how madly in love he is with his wife, Morticia. He is usually driven wild whenever Morticia speaks French and kisses her arms hilariously, saying "Tish that's French". This article is a Gomez Addams costume guide.
The Addams Family - Gomez Addams Costume Tutorial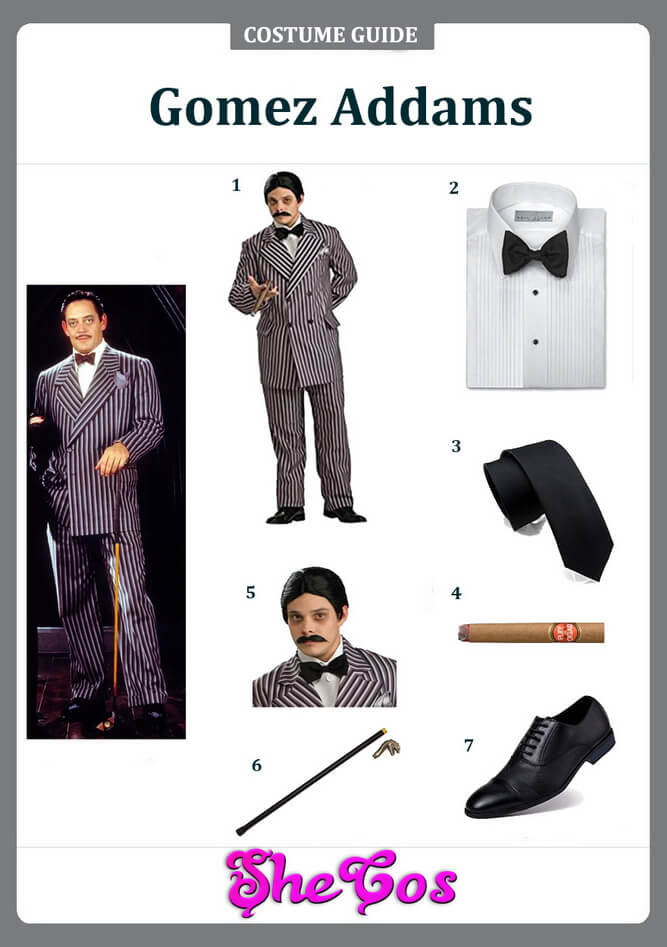 Parts you may need
1. Gomez Addams Suit                                Check Price
2. White Long Sleeves Polo                        Check Price
3. Black Necktie                                            Check Price
4. Cigar                                                           Check Price
5. Gomez Addams Wig                                Check Price
6. Cane                                                            Check Price
7. Black Leather Shoes                                 Check Price
The best Gomez Addams of The Addams Family Costume Ideas
Gomez Addams is the head of the family, who is known to be naïve and childish. Gomez is also someone who is madly in love with his wife, Morticia. He usually goes into a wild fit of passion and showers his wife's arms with kisses whenever she says something in French. His personality and unusual but funny trait make him one of the best characters in the series.
This cosplay guide will feature Gomez Addams' usual outfit. It consists of a pinstripe suit (usually black) with matching pants and black necktie (in the films they use a bow). Underneath the suit is a white long-sleeved polo. The cosplay set will come with a short slicked black wig for the character's hairstyle. Gomez Addams' outfit also includes a pair of black leather shoes. To complete the cosplay of this character, a cane a cigar prop comes with the cosplay set.
About Gomez Addams Costume
Gomez Addams is the 5th best character in the Addams Family series. He is the head of the Addams Family, but he is not your typical head of the family who is strict, serious, and responsible. He is very childish, immature, and doesn't seem to be serious about anything at all. But Gomez Addams' personality is just one minor aspect of him that people like.
It's his passionate and insane love for his wife, Morticia, and how he hilariously show this is what made people like the character. One of his most iconic line in the series is "Tish, that's French", which he says to his wife every time she says something in French or something that sounds close to it, then kisses her arm. This is Gomez Addams, along with his wife Morticia, is a good cosplay option. If you look at the Gomez Addams cosplay photos, you can see how people are pulling off their version of the head of the Addams Family.
Gomez Addams Cosplay Makeup Tutorial