Squirrel Girl is one of the superheroes in the Marvel Universe. Her real name is Doreen Green. Doreen was born with squirrel-like abilities due to a modification in her genes. It allowed her to possess proportional skills of a squirrel that are scaled up to human size. It also gives her superhuman strength, superhuman leaping, superhuman jaw strength, night vision, climbing, and a prehensile tail.
She is also capable of communicating with squirrels, has a retractable knuckle spike, and a regenerative healing factor. Doreen didn't think of becoming a hero at first. But her squirrel friend, Monkey Joe, convinced her to use her superpower abilities to help people. That made her dream about becoming a superhero and created the name The Unbeatable Squirrel Girl. The name suits her because she is one of the most powerful superheroes in the Marvel Universe. She has defeated a lot of powerful villains on her own, which makes her a fan favorite. This article is a Squirrel Girl cosplay guide.
Marvel Universe: Squirrel Girl Cosplay Tutorial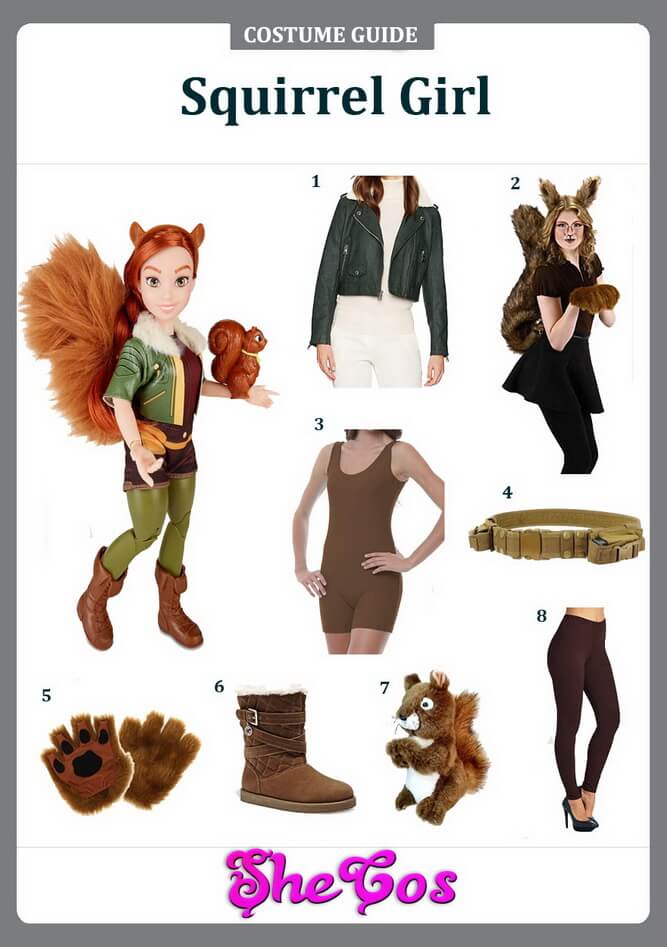 1. Green Squirrel Girl Jacket                      Check Price
2. Squirrel Girl Tail                                      Check Price
3. Squirrel Girl T-Shirt                                Check Price
4. Utility Belt                                                 Check Price
5. Squirrel Fingerless Gloves                      Check Price
6. Brown Boots                                              Check Price
7. Squirrel Stuffed Toy                                 Check Price
8. Brown Leggings                                        Check Price
The Best Squirrel Girl of the Marvel Universe Cosplay Ideas
Doreen Green, also known as Squirrel Girl, is a superhero in the Marvel Universe. She possesses squirrel-like abilities, which gives her superhuman strength, superhuman jaw, superhuman leaping, and an ability to communicate with squirrels. She is one of the famous characters of Marvel because she is somewhat unbeatable. The enemies she already took down include Thanos, Galactus, Doctor Doom, and more. It makes her a favorite choice among women who wants to cosplay Marvel characters.
This cosplay tutorial will feature Squirrel Girl's appearance. The costume includes a brown one-piece boy leg with brown leggings and a yellow utility belt. The set will come with a green leather jacket with faux fur collar. The cosplay set also consists of a pair of brown boots and a pair of squirrel fingerless gloves. The collection will also come with a squirrel stuffed toy prop.
About Squirrel Girl Costume
The Unbeatable Squirrel Girl was initially created as a joke to make fun of the depressing comics that were coming out in the early 90s. She was given powers that were deemed useless like being able to communicate with squirrels. Squirrel Girl does have superhuman strength, jaw, and leaping ability, but that doesn't make her stand out. Her useless powers, though, were effective in defeating several powerful villains. Doctor Doom was the first villain to taste the wrath of thousands of squirrels nibbling at him all at the same time.
What started to be a joke became one of the most powerful superheroes in the Marvel Universe, and almost everyone at Marvel, as well as a lot of fans, are actually on board with this development. That's why Squirrel Girl is a popular choice for ladies to dress up as. And if you look at the Squirrel Girl cosplay photos, you can see that dressing up as this superhero is pretty cool.
Cosplayer: Cagedbatcosplay, Lauveya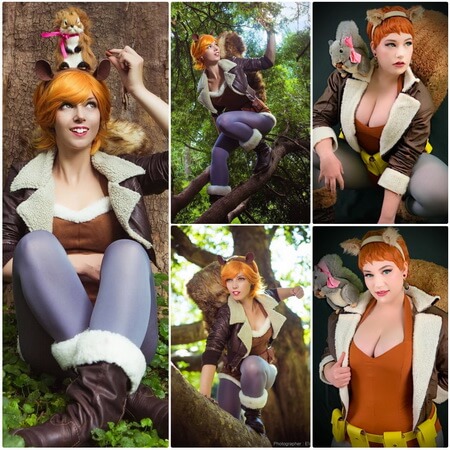 Marvel Universe Squirrel Girl Cosplay Makeup Tutorial