Dexter Morgan is the protagonist of the crime drama series Dexter. The TV series centers on the main character, who is a forensic technician that specializes in analyzing blood spatter patterns. He works for the Miami Metro Police Department. Unknown to many, though, Dexter Morgan lives a double life. He is the Bay Harbor Butcher, a serial killer that murders criminals who escape the justice system.
Dexter earned the nickname because a lot of his victims were found in Bay Harbor and they were all dismembered. He is very detailed and meticulous when he kills his victims, allowing him to escape police and the justice system. It also helps that he works with the police department, which allowed him to tamper and alter evidence to his advantage. The Dexter TV series is one of the popular series to come out on TV, despite the underwhelming latter seasons. It makes Dexter Morgan a favorite character to dress up as. This article is a Dexter Morgan cosplay guide.
Dexter TV series: Dexter Morgan Costume Tutorial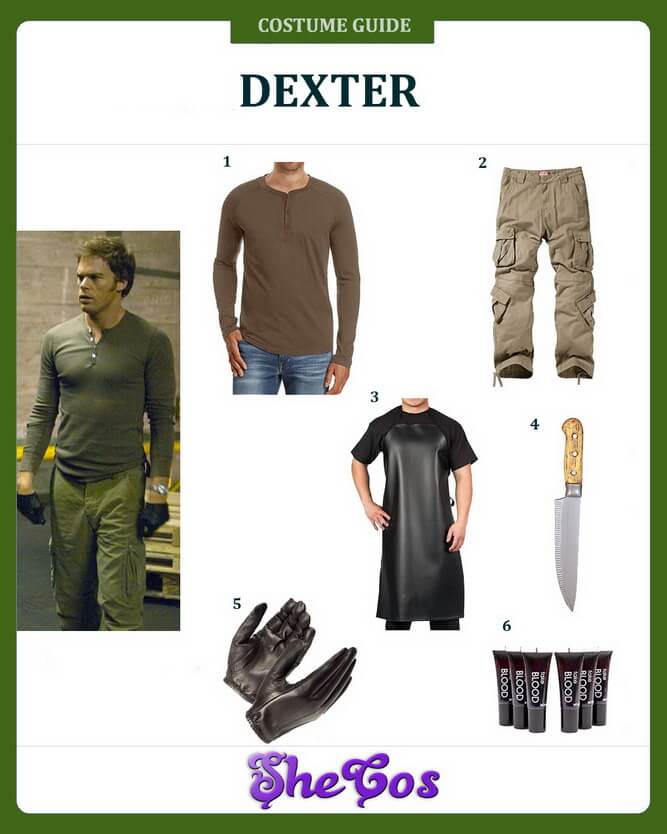 1. Dexter Shirt                                                Check Price
2. Dexter Cargo Pants                                  Check Price
3. Black Dexter Apron                                  Check Price
4. Knife Prop                                                  Check Price
5. Dexter Gloves                                            Check Price
6. Fake Blood for Makeup                           Check Price
The Best Dexter Morgan of the TV Dexter Costume Ideas
Dexter Morgan is the protagonist of the Dexter TV series. He works with the police as a forensic technician. He is secretly also a serial killer, murdering criminals who can escape the justice system. The unusual double-life that Dexter Morgan is living makes him a fan favorite, as well as making the TV series hot.
The cosplay guide will feature the usual outfit that Dexter wears when he is performing his murder. It consists of a long-sleeves green t-shirt with light brown cargo pants. The costume will also come with a full-body black apron that Dexter wears when he is dismembering his victims. The collection will also come with a knife prop and a pair of black gloves. To complete the look, the blood prop will also be included to apply the blood on the costume.
About Dexter Morgan Costume
Dexter Morgan is a bit of a control freak and well organized in all aspects of his life. He likes to keep everything in order, including his killing spree and plans everything out. That is why it is almost impossible to catch him since everything is well-planned out. He is also good at lying, which makes it hard to trust his words. His thoughts are more likely to speak the truth than his words.
Though Dexter is the main character, he is also more of an antihero since people can consider him as a villain as well. That is the main reason why he is famous and why the series was so successful. It is also the reason why Dexter Morgan is a popular cosplay option for both men and women for Halloween, costume parties, photo shoots, or conventions. Looking at the Dexter cosplay photos, you can see that his look will go well, regardless if a man or woman portrays the character.