Agent 47, or more commonly known as The Hitman, is the protagonist of the Hitman franchise. It began as a video game that was adapted into a film in 2007. Agent 47 is a highly skilled assassin that is equal to none when it comes to techniques and abilities. It makes him the greatest assassin ever, not to mention being the most discreet as well.
But what makes him highly skilled wasn't just due to training and development but to his creation. Agent 47 is a clone, and his mind and body were genetically engineered to make him the best assassin there is. It makes the Hitman franchise very popular and Agent 47 one of the most recognizable video game characters. It also makes Hitman a popular cosplay choice among gamers and fans of the franchise. This article is a Hitman costume tutorial.
The Hitman franchise: Agent 47 of Cosplay Guide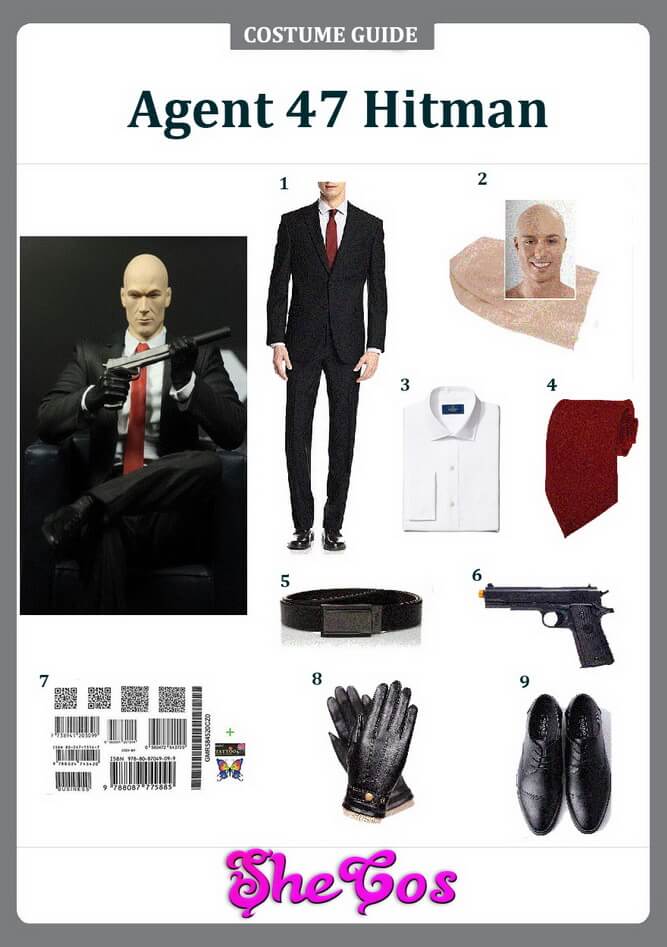 1. Full Agent 47 Hitman Costume             Check Price
2. Bald Cap                                                     Check Price
3. White Long Sleeves Polo                         Check Price
4. Hitman Red Tie                                         Check Price
5. Black Leather Belt with Buckle              Check Price
6. Hand Gun Prop                                         Check Price
7. Hitman Barcode Tattoo                           Check Price
8. Black Gloves                                              Check Price
9. Black Leather Shoes                                Check Price
The Best Agent 47 of the Hitman franchise Cosplay Ideas
Agent 47 is the main character in the Hitman franchise. He is the one they refer to as The Hitman and is the greatest and most discreet assassin. His excellent abilities, though, are a result of being a clone, where his mind and body are genetically engineered to make better than everyone else. Considered as one of the popular video game franchises, Agent 47 is very well-known to gamers, making him a good cosplay option as well.
For the Agent 47 Hitman cosplay set, we will feature his full outfit. It consists of a black suit with white long sleeves polo underneath and a red tie. Since Agent 47 is bald, the set will also come with a bald cap and a barcode tattoo that you can put at the back of your bald cap. The cosplay set is completed with a pair of black gloves and black leather shoes, and a black leather belt with a buckle. You'll also get a handgun prop.
About Agent 47 Costume
Agent 47 is not your typical human being, as he is genetically engineered to be stronger and faster, in both mind and body. He was enhanced to create the perfect assassin, and they succeeded, as no assassin is better than Agent 47. It made him popular amongst gamers and casual fans of the franchise. That is also why he is one of the people's favorite choice to cosplay as during costume parties and comic conventions.
Not only is it relatively easy to achieve his look, considering he doesn't wear any special outfit, but his appearance is also actually badass. If you look at the Agent 47 Hitman cosplay photos, you can see how cool and badass the character look like. And this is not only true for men, as the highly skilled assassin still looks badass even if women dress up like him.