League Of Legends is one of the popular video games in the last decade. Developed in 2009, this online multiplayer game became the most played game in 2012. By 2014, League of Legends has already reached 67 million players and counting.
You will basically be playing the role of summoner and control a champion to battle other players' champions or computer-controlled champions. The goal is to destroy the enemy's main structure called the Nexus. There more than 100 heroes to choose from, each with their own unique set of skills and abilities. One of the popular heroes in League of Legends is a champion called Jinx.
Jinx is a criminal in the game. She is impulsive and manic and is good at wreaking havoc, regardless of the consequence. Jinx is adept at using weapons and is a ranged champion. Here it will be a Jinx cosplay guide.
League of Legends (LOL) Jinx Cosplay Guide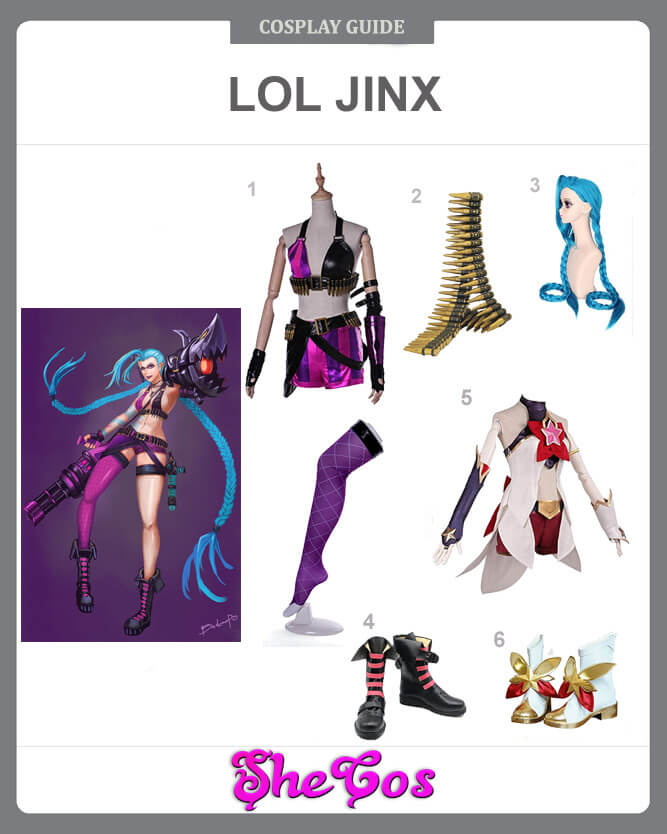 1. Full Original Jinx Costume                     Check Price
2. Jinx Bullet Belt                                          Check Price
3. Jinx Wig                                                      Check Price
4. Black Jinx Boots                                        Check Price
5. Full Star Guardian Jinx Cosplay             Check Price
6. White Star Guardian Boots                     Check Price
The Best Jinx of League of Legends Cosplay Ideas
Jinx is not part of the original champions, but she is also not new since she was released in 2013. It means that she has been in the game for more than five years and has already accumulated various skins or costumes.
This Jinx cosplay set comes with two of Jinx's skins, her Original outfit, and her Star Guardian outfit. Her original suit consists of a bikini top with colors pink and black on each boob and pink shorts with purple stripes. There's also a purple stocking on her right leg and black boots with pink lace. The outfit also includes a long blue wig for her hairstyle and bullet belt worn at her mid-section and waist. The Star Guardian outfit consists of a white halter top that is black at the neck area and extends to her thighs and bares her mid-section.  It also comes with a big red star at the chest and a maroon shorts with a belt, as well as the white Star Guardian boots.
About LOL Jinx Costume
Jinx is one of the favorite champions that people use, cracking the top 10 in terms of popularity. The critical reason is that she is also the hero with the highest win rate, as she is part of the top 4. Her combination of skills and abilities allows players to win a lot of matches when they use this champion. Her personality and appearance, though, are also a significant contributor to her popularity.
Though Jinx has an insane personality, you can't hide the fact that she also looks good, even if her appearance shows her craziness. Her look resembles the DC character Harley Quinn a bit. If you look at the Jinx cosplay photos, you can see how good dressing up like Jinx would be. Her combination of looks, sexiness, attitude, and battle prowess makes her an alluring champion to dress up as.
Cosplayer: Oh_pauline, MariEvans
League Of Legends JINX Cosplay Makeup Tutorial