Khal Drogo is one of the characters from the HBO hit series Game of Thrones. He was a chieftain of the Dothraki Khalasar, called as The Great Khal, which also means the great warlord. His name is from the last living dragon in existence, Drogon. Drogo's clan is known for its fierce and skilled warriors and their nomadic personality, traveling from one place to another.
Khal Drogo was married to Daenerys Targaryen, as an agreement for him to send Dothraki troops to the Viserys to help them make a play for the Iron Throne. This article is a Khal Drogo costume guide.
Game of Thrones Khal Drogo Costume Tutorial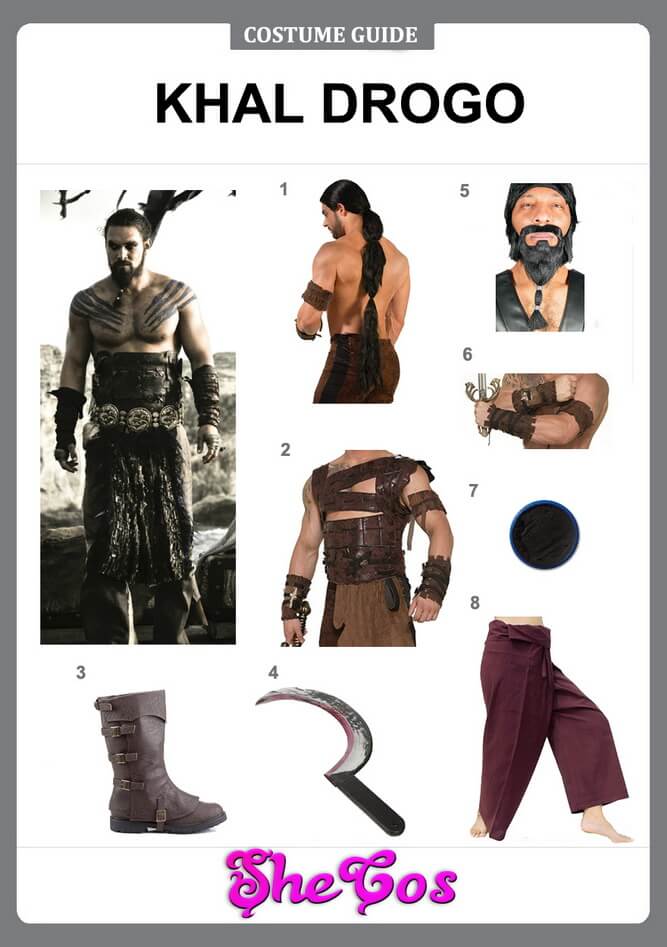 1. Black Khal Drogo Wig                             Check Price
2. Brown Leather Armor Vest                    Check Price
3. Brown Khal Drogo Boots                        Check Price
4. Arakh Weapon Prop                                 Check Price
5. Khal Drogo Beard                                     Check Price
6. Brown Wrist Bands                                  Check Price
7. Black Dirt Makeup                                    Check Price
8. Maroon Loose Pants                                 Check Price
The Best Khal Drogo of Game of Thrones Cosplay Ideas
Khal Drogo is the leader of the fiercest tribes in Game of Thrones. Unlike a lot of the characters in the hit series, Khal doesn't wear too many different outfits throughout his appearance. This cosplay guide will feature the costume the character usually wears in his appearance in Game of Thrones.
It consists of a brown leather armor vest that looks like it a loose maroon from several brown belts and a maroon baggy pants. The Khal Drogo cosplay set will also come with a pair of brown boots and a pair of brown leather wristbands. A black dirt makeup is also included for Khal Drogo's body tattoo and the black tattoo around his eyes. The collection will also come with a long black wig that is tied to represent the character's hair and a black beard and mustache prop for Khal Drogo's facial hair. The cosplay also includes a prop of Khal Drogo's Arakh weapon.
About Khal Drogo Costume
Khal Drogo was one of the famous characters in Game of Thrones, mainly due to his relationship with Daenerys Targaryen. A lot of fans of the series were intrigued and fond of the wonderful couple who grew closer together as the series progresses. Khal Drogo is a savage and fierce warrior who doesn't show any remorse for his opponents. But Daenerys was able to bring out the softness and kindness of the character, which makes their relationship even more intriguing.
The character's popularity didn't increase, though since he died after ten episodes. Despite the brief appearances, Khal Drogo is one of the favorite cosplay options of people looking to dress up as Game of Thrones characters. His savage personality is an excellent match for his equally savage and badass look. If you look at the cosplay photos, you can see that guys who dress like Khal Drogo looks badass and savage. The character's appearance is a great cosplay option for attending comic conventions or costume parties.
The Khal Drogo Cosplay Makeup