Sombra is one of the hero characters in the first-person shooter game Overwatch. She is a hacker character that uses stealth and damaging attacks, making her a great hero to choose for infiltrations or sneak attacks. Her hacking abilities can disrupt enemies, but she can't use her ability while taking damage. Sombra also has the camouflage and translocate ability, making it hard for enemies to corner her.
Her most devastating attack is EMP, which can take out multiple enemies at once. Sombra's abilities make her a great offensive hero, and she is one of the favorite choices of gamers. She is also a good cosplay option since the character looks great. This article is a Sombra cosplay guide.
The Overwatch Sombra Cosplay Tutorial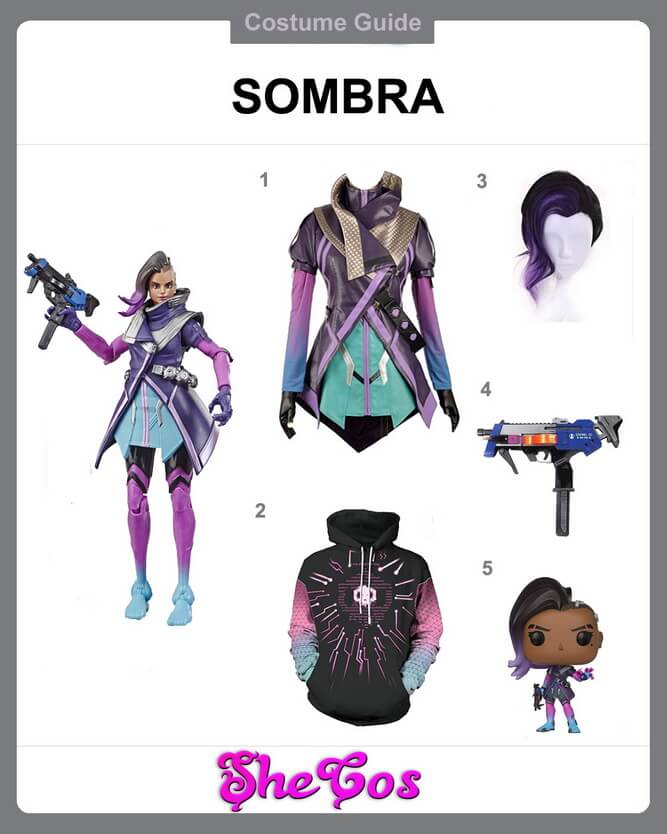 Parts you may need
1. Sombra Costume                                      Check Price
2. Sombra-inspired Hoodie                        Check Price
3. Sombra Wig                                               Check Price
4. Sombra Gun Prop                                     Check Price
5. Sombra Pop Figure                                   Check Price
The Best Sombra from Overwatch Cosplay Ideas
Like a lot of the Overwatch heroes, Sombra has different outfits available. The character has a total of 17 skins to choose from, giving cosplayers a lot of different options on dressing up as this hero hacker. But for this guide, we'll feature Sombra's Classic look.
The character wears a predominantly purple with sky blue towards the waistline. On top of it is a dark purple coat-like outfit that has a high collar. The cosplay set also includes black pants and a pair of knee-length purple boots with the feet area colored sky blue. The cosplay set also comes with a medium-length black wig with purple highlights and is styled in the character's hairstyle. Sombra's outfit is completed with a gun prop that the character uses in the game. Included in the set is a Sombra-inspired hoodie jacket sweater and a Sombra Pop Figure.
About Sombra Costume
Sombra is a notorious hacker who uses her skills to try and control people and organizations that are in power. But the name Sombra is an alias that she used since her original name, Olivia Colomar, was compromised. During her hacking activities, she was unprepared when she stumbled upon a global conspiracy that noticed her. She had to delete all traces of her identity and go into hiding.
When she reappeared, she already took the alias Sombra. Sombra is a great character for infiltrating missions since she possesses stealth and a teleportation ability. She is also a great character to use as an initial attacker due to her hacking ability that debuff an enemy target. Her ultimate skill, EMP, is a great ability to get rid of all buffs and shields that target enemies have activated. But Sombra is not just a good Overwatch character to use in the game, and she is also a good cosplay option. Her unique and cool appearance make any ladies who dress up like her look badass. If you look at the Sombra cosplay photos, you can see that her look is an excellent option if you are attending costume parties or comic and gaming conventions.
The Overwatch Sombra Cosplay Makeup