Samara Morgan is one of the main characters of the hit horror-movie The Ring. She is the antagonists of the movie, possessing supernatural powers to burn gruesome images in the heads of people and animals. She lived a tragic life because of her supernatural powers, which she cannot control. Upon her tragic death, she became a vengeful spirit who takes the lives of people who watches the video that she created using her powers.
People who watch the video will die after seven days unless they make a copy of the video and pass on the curse to someone else. This article is a Samara Morgan The Ring costume guide.
The Ring Samara Morgan Cosplay Tutorial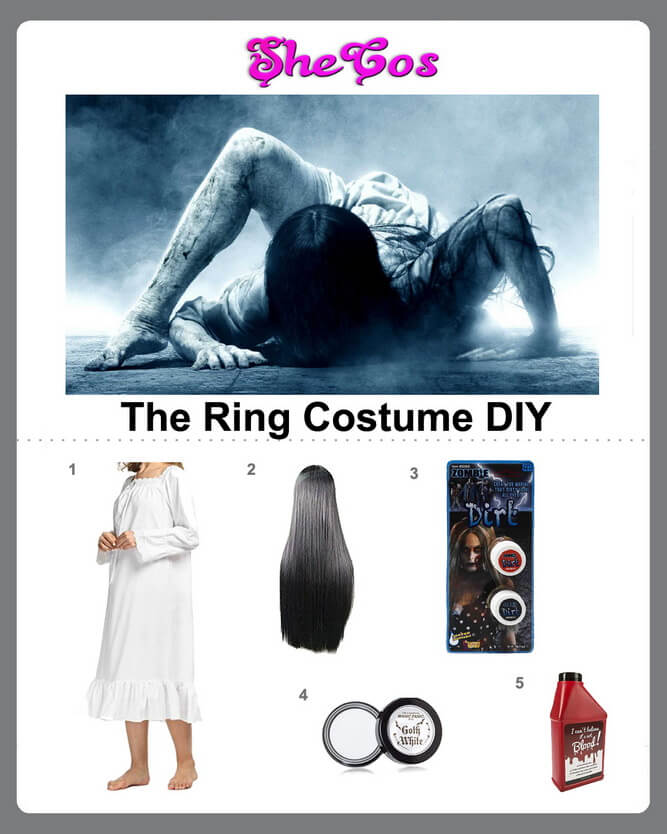 Parts you may need
1. Samara The Ring Dress                           Check Price
2. Samara The Ring Wig                              Check Price
3. Zombie Dirt Makeup Pots                       Check Price
4. Powder Foundation                                  Check Price
5. Fake Blood                                                  Check Price
The Best Samara Morgan from The Ring Costume Ideas
Samara Morgan is a beautiful young girl with long hair but was reserved due to her supernatural abilities. When she died, she assumed a cursed form, which is the exact opposite of her beautiful appearance when she was alive. This cosplay guide will feature the cursed form of Samara Morgan.
The cosplay consists of a long white dress and a long straight black wig in a way that covers the character's deformed face. Making the hair wet also adds to the scary effect of Samara's appearance. Included in the cosplay set is a powder foundation to represent the gray-colored face and skin that the cursed Samara has. A Zombie Dirt Makeup pot is also in the cosplay set as an added prop for Samara's scary look. To complete the cosplay set, fake blood is also included to add a further prop to the character's costume and appearance.
About Samara Morgan The Ring Costume
Samara Morgan's original mother was named Evelyn Osorio, who hair in a basement of a sexually perverted priest. When Evelyn was raped, she became pregnant with Samara. No one knows where Samara got her supernatural powers since she was born with it. But it was speculated that she was the incarnation of a demonic spirit who lives in the water.
Due to her supernatural abilities, her life was cursed right from the start as her mother tried to drown her. A group of nuns intervened just in time and put Samara up for adoption. Anna and Richard Morgan adopted her and wanted to give her a good life. But her supernatural abilities to burn gruesome images in people's mind made sure that her life will never be healthy. Anna Morgan reached a point where she eventually suffocated Samara and threw her down a well where she died. As vengeance to her tragic life, she created a video to curse and kill people who watch it after seven days. Samara's appearance is simple but scary, making her one of the ideal costumes during Halloween. If you look at the cosplay photos, you can see that the character's overall appearance is scary, making her a great cosplay idea for attending Halloween parties or comic conventions.
Samara The Ring Cosplay Makeup