Stephen Vincent Strange, or more commonly known as Dr. Strange, is one of the superheroes in the Marvel Cinematic Universe. He is also known as the Sorcerer Supreme and a master of the Mystic Arts, protecting the Earth from any inter-dimensional threats.
Before he became a superhero, Dr. Strange was a brilliant but arrogant neurosurgeon. But an accident prevented him from performing a surgery properly, so he sought for ways to cure his physical ailment. It led him to discover the Mystic Arts and became a sorcerer. Dr. Strange is also one of the most powerful and popular characters in the Marvel Cinematic Universe. This article is a Dr. Strange costume guide.
The Marvel Cinematic Universe Dr. Strange Cosplay Tutorial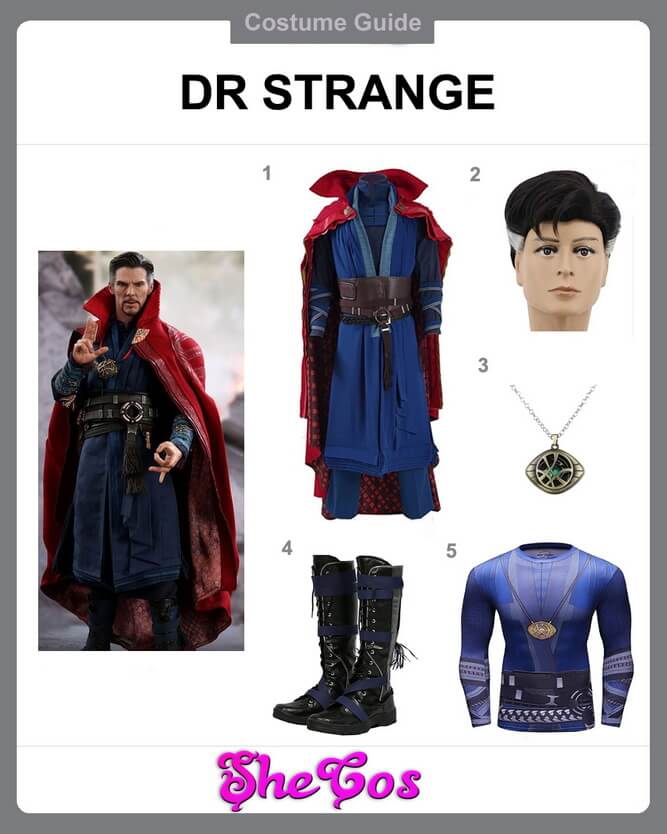 Parts you may need
1. Full Dr. Strange Costume                       Check Price
2. Dr. Strange Wig                                       Check Price
3. Doctor Strange Necklace                        Check Price
4. Black Boots with Dark Blue Straps       Check Price
5. Doctor Strange Shirt                                Check Price
The Best Dr. Strange of the Marvel Cinematic Universe Cosplay Ideas
As one of the hot characters in the Marvel Cinematic Universe, Dr. Strange is a favorite cosplay choice of people looking to dress up as Marvel characters. The good thing about Dr. Strange is that he is not known to wear a lot of different outfits. This guide will feature Dr. Strange's costume.
It consists of a dark blue long sleeves turtleneck top with matching pants and a long blue vest that also covers the leg area. The set also comes with a wide brown leather belt and a pair of blue armbands as well as a red cape and a couple of black boots with dark blue straps. The overall appearance is completed with a short black wig that has white hair on the sides for the character's hairstyle and an Eye of Agamotto necklace prop. The collection also includes a Dr. Strange costume-inspired body-fit long sleeves shirt.
About Dr. Strange Costume
Dr. Strange is one of the most powerful characters in the Marvel Cinematic Universe, and this was evident in several latest movies that Marvel came out with. The Sorcerer Supreme showed what he was capable of doing and held his own against Thanos and his minions. He is also in possession of the Time Stone, an infinity stone that allowed him to have control over time. The Dr. Strange movie has shown that the character is very adept at using the infinity stone to his advantage, defeating a powerful foe because of it.
But Dr. Strange is not just powerful, but he is also smart and brilliant. It is evident when he was still a surgeon and during his training to become a sorcerer. The character showed his ability to learn and master things quickly. That is why a lot of people like the character and why he makes a good cosplay option. If you look at the Dr. Strange cosplay photos, you can see that he is an excellent choice if you plan to attend comic conventions, costume parties, or do cosplay photoshoots.
The Marvel Doctor Strange Cosplay Makeup Tutorial