Brunnhilde, or more commonly known as Valkyrie, is one of the superhero characters of the Marvel Cinematic Universe. She made her first appearance in the movie Thor Ragnarok as a bounty hunter on a planet called Sakaar. Brunnhilde was part of an elite Asgardian warrior group called the Valkyrie. She exiled herself to Sakaar after the Goddess of Death Hela defeated the Valkyries when they attacked her.
Valkyrie is the only remaining survivor of the group and was content with living in Sakaar before she met Thor. The Prince of Asgard's conviction and personality won her over, and she was convinced to help him defeat Hela and protect the remaining Asgardians. This article is a Valkyrie cosplay guide.
The Best Valkyrie of Thor Ragnarok Cosplay Tutorial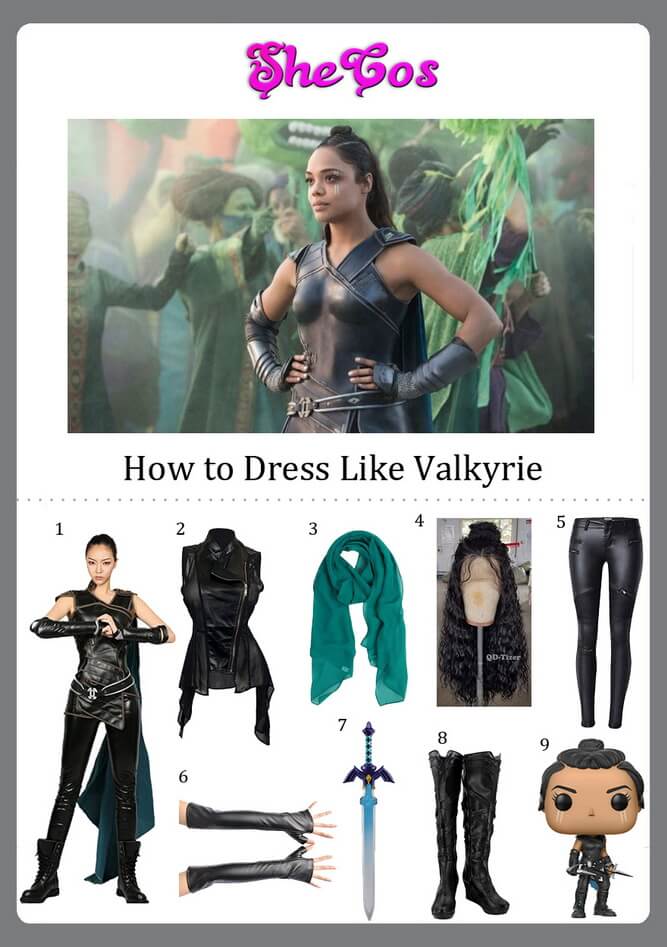 1. Full Valkyrie Costume                            Check Price
2. Black Vest Jacket                                    Check Price
3. Green Scarf                                               Check Price
4. Valkyrie Wig                                             Check Price
5. Black Faux Leather Pants                      Check Price
6. Black Fingerless Gloves                         Check Price
7. Valkyrie Sword Prop                               Check Price
8. Black Valkyrie Boots                               Check Price
9. Valkyrie Pop Figure                                Check Price
The Best Valkyrie of Thor Ragnarok Cosplay Ideas
Valkyrie has worn various outfits throughout her appearance in the entire Marvel Cinematic Universe, including the uniforms of the Valkyries, which is a favorite. But the ones that fans mostly remember is the outfit she mostly wore in Thor Ragnarok. This cosplay guide will feature the outfit that Valkyrie wore throughout the movie.
It consists of a black vest armor jacket with black faux leather pants and a green cloak that she wears like a cape. The cosplay set will also come with a pair of black fingerless gloves that extends up to the elbow and a couple of black boots. The costume collection is completed with a long black wig in the character's hairstyle and a Valkyrie sword prop. The cosplay set will also include a pop figure of Valkyrie that you can display on your desk or shelf.
About Valkyrie Costume
Brunnhilde was a proud member of the elite warrior group, the Valkyries. But their devastating defeat in Hela's hands, as well as the death of her entire group has affected her deeply, which is why she never returned to Asgard. She exiled herself on a planet, where she became a bounty hunter and brought warriors to the Grandmaster for his gladiator fights.
The fact that she was able to trap Thor and restrain him showed that the character is a fierce warrior who also has the smarts and wits to go with her muscle and brawns. Her role in Thor Ragnarok and how she showed that she could stand toe to toe with characters like Thor and Loki made her a fan favorite.  That's also why Valkyrie is one of the preferred choices when it comes to cosplaying characters from the movie Thor Ragnarok. If you look at the Valkyrie cosplay photos, you can see that she is a good cosplay option for costume parties or comic cons. Her appearance portrays a strong warrior that you wouldn't want to mess with or meet in battle.
The Marvel Valkyrie Cosplay Makeup Tutorial