Douglas Powers, or more commonly known as Dr. Evil, is the main villain in the Austin Powers franchise. He is the arch-nemesis and brother of the hero, Austin Powers. Dr. Evil was lost as a baby when the car he was in exploded while their father went out to urinate. He somehow survived the explosion and a bakery owner, together with his prostitute found him and adopted him. They're the ones who also gave him the surname Evil.
He entered the British Intelligence Academy before the age of 18 because he wants to become the International Man of Mystery. It is in this academy where he met Austin Powers and the man who will become the Number 2 in his organization. When he didn't become the International Man of Mystery, he dropped from the academy and went to Evil Medical School and got a Ph.D. Even if he is the villain, fans of the franchise consider Dr. Evil as the best character. It also makes him a popular cosplay option. This article is a Dr. Evil cosplay guide.
Austin Powers Dr. Evil Cosplay Guide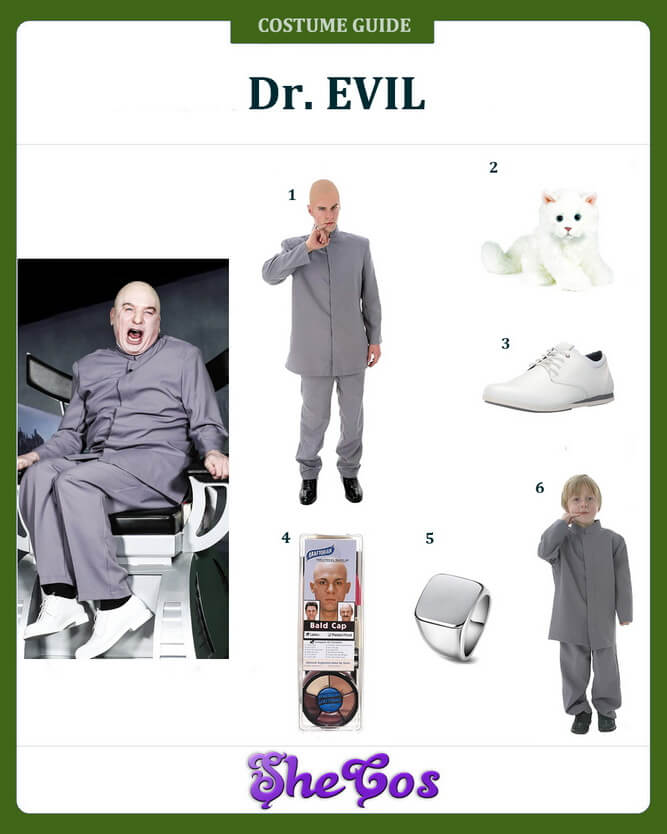 1. Full Dr. Evil Costume                               Check Price
2. Dr. Evil Cat Prop                                       Check Price
3. White Shoes                                               Check Price
4. Bald Cap                                                      Check Price
5. Dr. Evil Ring                                               Check Price
6. Dr. Evil Child Costume                            Check Price
The Best Dr. Evil of Austin Powers Cosplay Ideas
Dr. Evil is an evil genius that has invented many devices that he plans on using either for global domination or destruction. He also spends a lot of villain time trying to capture or kill Austin Powers. His unique combination of intellect, absentmindedness, and childish behaviors makes him one of the funniest villains. That's why a lot of people are fond of him.
This cosplay guide will feature Dr. Evil's full costume. It consists of a grey long-sleeves uniform with matching grey pants. The set will come with a pair of white shoes and a bald cap since Dr. Evil doesn't have any hair. The cosplay set is completed with a ring that he wears on his pinky finger and a prop of his cat Mr. Bigglesworth before he became hairless. The collection will also come with a Dr. Evil costume for children.
About Dr. Evil Costume
Dr. Evil is the main villain of the Austin Powers franchise. He is a genius, but he also has a knack to be absentminded at convenient times. It usually allows the Austin Powers to survive his evil masterplans and get defeated in the process. His is also shown to be childish and immature at times, getting into childish arguments or not listening to his subordinates or son, even if they made valid points.
Dr. Evil also doesn't like to do manual labor, preferring someone else (his deaf and blind henchmen) to do it for him. The combination of all of these makes him a hilarious villain that is easy to like. That's also why a lot of people like him over the protagonist Austin Powers. It also makes Dr. Evil a popular cosplay option. And if you look at the Dr. Evil cosplay photos, you can see that both men and women like to dress up as the evil genius.