Princess Kitana is one of the characters of the Mortal Kombat franchise. She debuted in Mortal Kombat II. In the story, she started as an enemy, being of Shao Khan's loyal stepdaughter. She eventually betrayed him and joined the Liu Kang and his due the guilt of what they were doing. She also discovered that Shao Khan was the one who killed her father, King Jerod.
As a princess, Kitana is a powerful political figure. But she is also no slouch as a fighter, as she has shown time and time again that can mix it up with the best of them. A lot of people rank her as one of the top 15 most powerful characters in Mortal Kombat. This article is a Kitana costume guide.
Mortal Kombat Kitana Costume Guide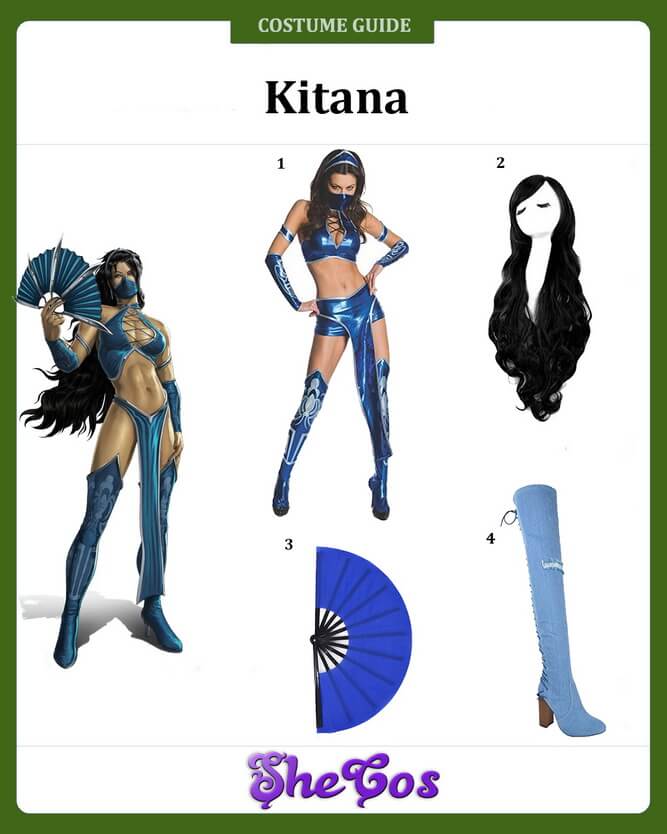 Part you may need
1. Full Kitana Costume                                Check Price
2. Long Black Wig                                        Check Price
3. Cerulean-colored Fan                             Check Price
4. Thigh-length Kitana Boots                    Check Price
The Best Kitana of Mortal Kombat Costume Ideas
Kitana is one of the characters of the Mortal Kombat franchise. She is also one of the most powerful characters in this fighting game. This, together with her beauty, makes her one of the favorite characters of the franchise. It also makes her one of the popular cosplay options for ladies who are looking to cosplay Mortal Kombat characters.
This guide will feature Kitana's Mortal Kombat 11 full costume. It consists of a cerulean-colored crop halter top that reveals the cleavage and matching short leotard shorts. It also comes with a matching sash with a loincloth in the middle. The set will come with cerulean-colored elbow-length gauntlets with matching bicep bands and a tiara. The collection also includes a cerulean-colored mask, a pair of thigh-length heeled-boots, a long black wig for Kitana's hairstyle, and a fan for the character's weapon.
About Kitana Costume
Kitana is one of the well-known characters in the Mortal Kombat franchise. A lot of this is due to the prominent role she played in the franchise's story and being one of the old characters of the game. Her fighting ability and beautiful appearance is also a likely reason why a lot of people can easily recognize this character. In the story, she is already 10,000 years old, but her appearance is that of a 20 something lady.
Kitana is also one of the compelling characters in Mortal Kombat, not only because of her political stature but also because of her fighting ability. That is why Kitana is a popular choice for a lot of ladies to dress up in during comic conventions or costume parties. If you look at the Kitana cosplay photos, you can see how beautiful and alluring this character is, especially if the costume is worn with her mask on. It shows a mysterious but attractive looking lady that you shouldn't miss.
Mortal Kombat Kitana Cosplay Makeup Tutorial