Spawn is the main character and the protagonist of the comic series with the same name. His real name Al Francis Simmons, a skilled Lieutenant General of the U.S. Marine Corps, that was murdered on a mission as a member of the top-secret covert ops division known as U.S. Security Group. Because of his life as an assassin, Al was sent to hell where he made a deal to become a Hellspawn so he can see his wife one last time.
As the Hellspawn, Al possesses seemingly unlimited power that he uses to take down street gangs and criminal organizations, anti-hero style. Spawn is an iconic comic book character that is popular to a lot of people. That is why he is also a good cosplay option for people looking to dress up as a cool character. This article is a Spawn costume guide.
The Spawn Costume Tutorial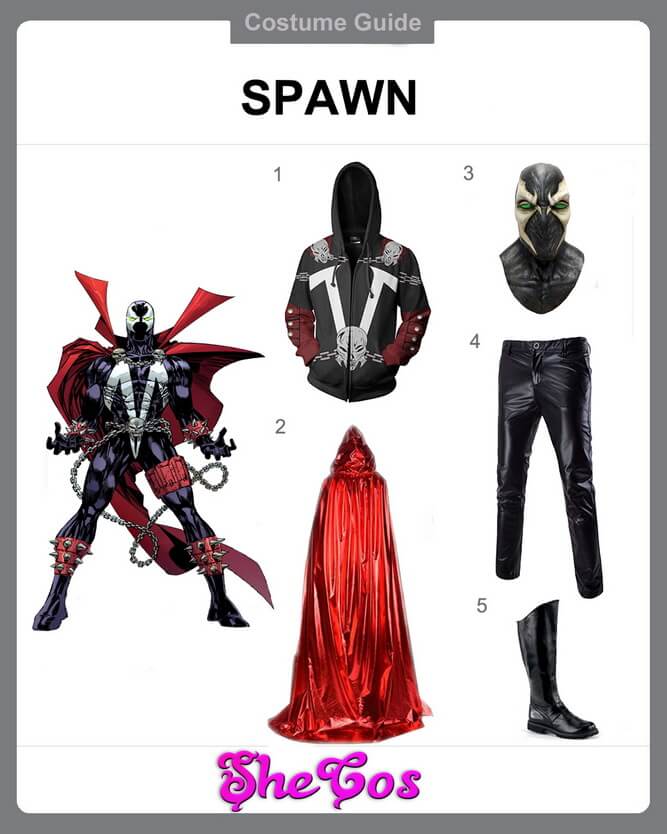 Parts you may need
1. Spawn Costume inspired Hoodie           Check Price
2. Red Spawn Cape                                       Check Price
3. Spawn Mask                                               Check Price
4. Black Pants                                                 Check Price
5. Black Boots                                                 Check Price
The Best Spawn Cosplay Ideas
Spawn is a fan-favorite because of how cool and badass the character looks. A lot of people are gushing over the character's overall appearance. Combine this with his cool powers, and you'll have a secret who can catch a lot of attention. This guide will feature Spawn's appearance.
It consists of a black hoodie jacket that is designed in Spawn's iconic outfit, which includes a white M-like design on the center, skulls on each side of the collar with a chain connecting them. The hoodie also has a chain belt with a skull buckle design and red bracers design on both sleeves. The cosplay set will also come with tight black pants and a pair of black boots. The cosplay set is completed with a red cloak to represent the red cape that Spawn uses and a mask for the character's iconic face.
About Spawn Costume
Spawn's backstory is tragic, considering that he was murdered, and he had to make a deal so that he can see his wife one last time. His adventures as the Hellspawn didn't come easy as well. Though the character made a deal with Hell, he didn't intend to serve evil. But as a Hellspawn, the character doesn't have Heaven's support as well. It puts him in a precarious middle position where he is not allied with either, but both view him as an enemy.
His salvation came from the Purgatory, who didn't partake in the war of Heaven and Hell but is already tired of the destruction that the war inflicted on the world. This tragic backstory of Spawn and the harsh adventures he had to deal with at the beginning made a lot of people sympathize with the character. His story and experiences, along with his cool and badass appearance make him a favorite cosplay option. If you look at the Spawn cosplay photos, you can see that dressing up as him will make anyone stand out in a crowd.
The Spawn Cosplay Makeup Tutorial