Kill la Kill is a Japanese anime TV series that aired in 2013. It focuses on the story Ryuko Matoi, a nomadic high school girl who transferred to Honnouji Academy and is on a quest to seek the one who killed her father. This quest, however results in a violent clash with Satsuki Kiryuin, the president of the student council with an iron will.
Ryuko, though, is not alone as she is befriended by a hyperactive and goof student named Mako Mankanshoku. As students of Honnouji Academy, the girls wear what they call Kill la Kill Goku Uniforms. These uniforms allow the two characters to gain superhuman abilities because of its Life Fiber materials. The main character, Ryuko, wields a scissor-shaped long sword that can cut through Goku Uniforms.
The three girls are considered as the main characters of the said anime series, which also makes them the popular choice for people who wants to cosplay characters from Kill La Kill. The three main characters wore various Goku Uniforms throughout the series, but there is a certain uniform that is well recognized for each main character of the series. This recognizable uniform is what people usually go to when they are cosplaying one of the three characters. Let's show you how to get your Kill la Kill cosplay in easy ways.
Kill la Kill Ryuko Matoi Cosplay Tutorial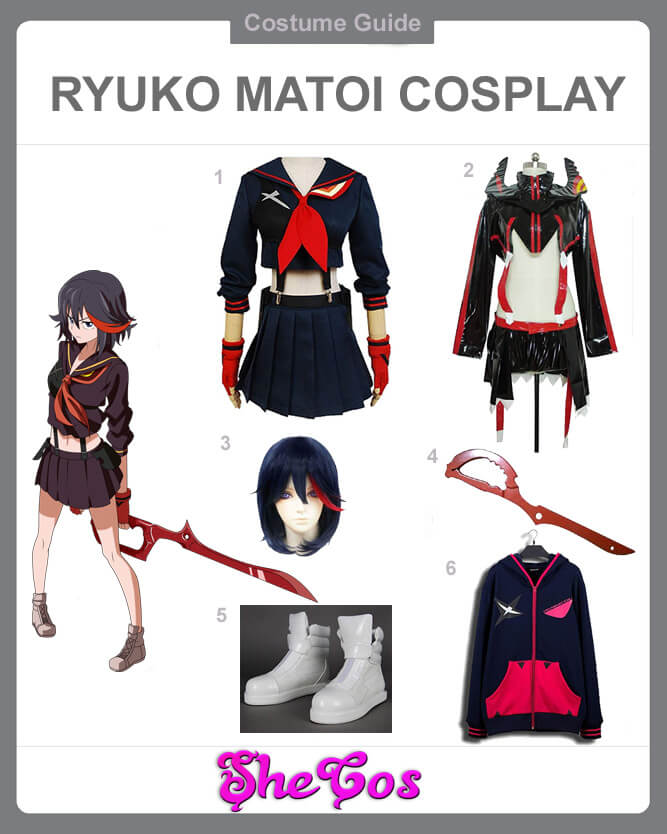 1. Full Ryuko Senketsu Costume               Check Price
2. Uniform After Synchronization            Check Price
3. Short Black Wig with Red Highlights  Check Price
4. Ryuko Scissor Blade                                Check Price
5. White Shoes                                              Check Price
6. Senketsu Hoodie Jacket                          Check Price
The Best KLK Ryuko Matoi Costume Ideas
Ryuko Matoi is the main protagonist of the Kill la Kill series. She is a fierce and stubborn character who has no fear. She didn't hesitate to disrespectfully address the student council president Satsuki Kiryuin when she asked a question. Ryuko also didn't flinch even when she is already being overpowered by a student in a fight. This makes her the most popular choice when it comes to cosplaying Kill la Kill characters.
This cosplay set comes with Ryuko's full costume, as well as the Synchronized version of the uniform. The Senketsu uniform is a navy blue sailor uniform that has a crop top and short skirt. The top also has a sailor style collar with a multicolored scarf that is also Senketsu eye. It also comes with red gloves, a short black wig with red highlights and white shoes. The other costume is Senketsu's synchronized form, which is a black skimpy suit that has red stripes and horn-like collars. For the weapon, this set includes the red scissor blade. This set also comes with a Senketsu hoodie as a daily jacket.
About Ryuko Matoi Costume
Ryuko Matoi has a somewhat sad past, believing that her mother died while giving birth and having a strained relationship with her father. She didn't live with her father because he wanted to concentrate on his studies. The scissor blade she is wielding is actually the weapon used to kill her father. She uses it in hopes of tracking down the killer, who is also wielding the other half of the blade.
This troubled past led to her becoming fierce and stubborn when she entered Honnouji Academy. Dressing up as Ryuko gives you two choices. One is her Senketsu sailor uniform, which is the regular uniform she wears daily. The other option is the more sexy and revealing Synchronized Senketsu uniform she wears in battle. Looking at the cosplay photos, you can see that either costume will look good and sexy. The Synchronized Senketsu, though, does shoe the fiercer and sexier side of Ryuko.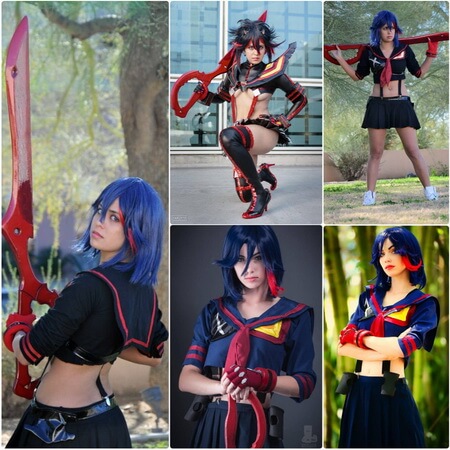 Kill la Kill Satsuki Kiryuin Cosplay Tutorial
1. Full Satsuki Kiryuin Costume               Check Price
2. Knee-length White Boots                      Check Price
3. Satsuki Kiryuin Wig                               Check Price
4. Secret Sword Bakuzan with Sheath    Check Price
5. Satsuki Junketsu Figure                        Check Price
The Best Satsuki Kiryuin of Kill la Kill Costume Ideas
Satsuki Kiryuin is an intelligent, patient, and an iron-fisted character who rules over Honnouji Academy because of her status as president of the student council and her mother who is also a director of the academy. She was the main antagonist during the first parts of the anime series but soon became the second protagonist after her mother became the main antagonist.
When it comes to dressing up as Satsuki, this cosplay set comes with her full costume. It includes the Junketsu uniform, which is a white dress with long sleeves that have blue lines at the wrist, yellow epaulets, and yellow cords on the side. The collar also has blue outlines and multicolored scarfs that acts as Junketsu's eyes. The outfit is completed with a long black wig, knee-length boots with blue lines and the secret sword Bakuzan with sheath. You could also get the Satsuki figure wearing the Synchronized Junketsu outfit from the guide.
About Satsuki Kiryuin Costume
Satsuki was actually the first failed test subject of being fused with Life Fibers. At the age of 5, she was also being secretly taught by her father, Soichiro Kiryuin, the secrets of the Life Fibers and about her mother. Her personality and intellect made it easier for her to gain followers and rise quickly into power. Though she was acting as the main antagonist at the beginning of the Kill la Kill animated series, she became an ally to Ryuko after finding out they were sisters and her mother was the real villain.
Like Ryuko, Satsuki has worn various Goku Uniforms in the series, but her main one was the Kamui Junketsu, which is a bloodthirsty uniform that she was able to control. Satsuki's outfit is also less revealing than what Ryuko is wearing. But if you look at the cosplay photos, you can see that the outfit doesn't need to be revealing to get people's attention.
Cosplayers: Doyoulikecosplay, RUMI cosplayer, Khainsaw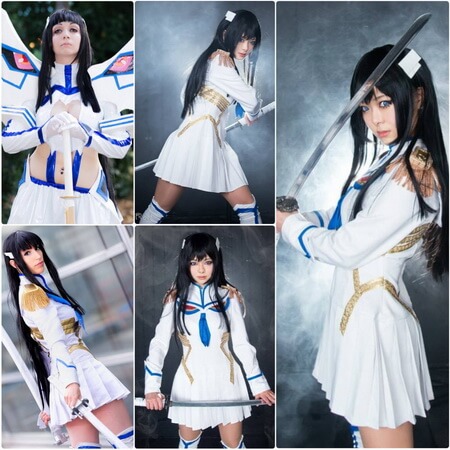 Kill la Kill Mako Mankanshoku Cosplay Tutorial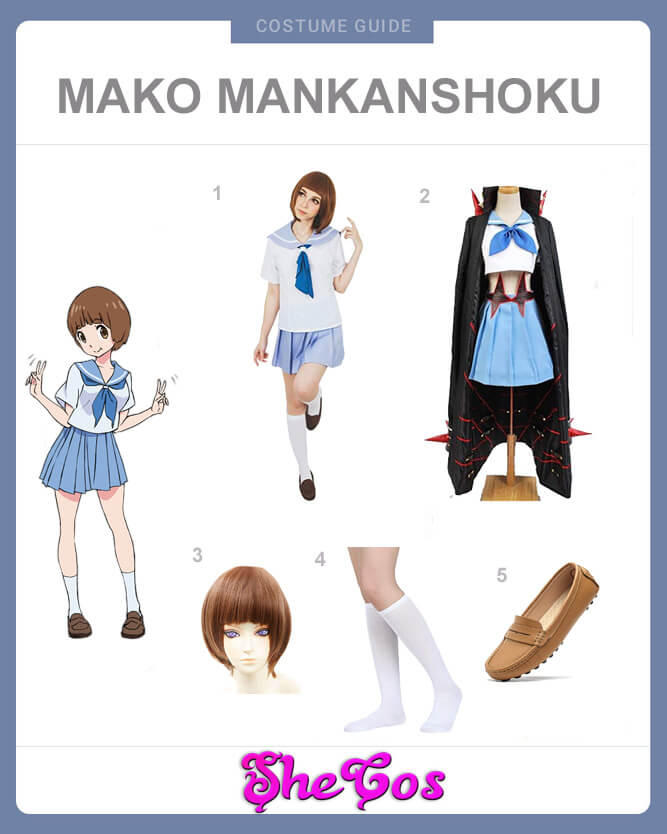 1. Full Mako Uniform                                   Check Price
2. Mako Mankanshoku Goku Uniform     Check Price
3. Mako Wig                                                   Check Price
4. White knee-length Socks                        Check Price
5. Brown Shoes                                              Check Price
The Best Mako Mankanshoku of Kill la Kill Costume Ideas
Mako Mankanshoku is the hyperactive, carefree and loving best friend of Ryuko Matoi. She is like the comic relief of the Kill la Kill series because of how she quickly clings to people she befriends. She is also hilariously lazy in class, quickly falling asleep as it begins, which is a great contrast to her hyperactive personality. Despite her funny side, Mako is also fearless and is rarely intimidated, even in dangerous situations.
For this cosplay set, you will get Mako's full costume. Her usual costume is the Honnouji Academy's no-star uniform, which is a white short-sleeve top with a blue scarf and a light blue skirt. To complete the appearance, you will also get the white knee-length socks and brown shoes. This set will also come with Mako's 2-star Goku Uniform, which is a more sexy variation of her uniform and a long black leather jacket with red spikes on the shoulders and wrists. The set also comes with a short light brown wig.
About Mako Mankanshoku Costume
Mako lives in the slums of Honnou City with her family. She was also the first friend of Ryuko Matoi when she transferred to Honnouji Academy. This friendship, though, led to her being targeted by Satsuki Kiryuin's team and almost deep-friend in scorching oil before being rescued by Ryuko.
Unlike Ryuko and Satsuki, Mako's appearance is more normal, as she is seen wearing mostly her no-star school uniform. This means that she isn't always wearing her Goku Uniform, which provides superhuman abilities. But this doesn't mean she looks less cool when it comes to cosplaying options. If you look at the photos, she still looks awesome despite looking like a regular student with her outfit. And if you still prefer looking like a battle-ready student, Mako also has a Goku Uniform, which will make you more of a tough-looking character.
Cosplayers: MonsterBrand, NiKcKu
How to Make Kill La Kill Scissor Blade