Marty McFly is one of the main characters of the Back to the Future movie series. He is one of the protagonists, together with his best friend Dr. Emmett Brown. He is a regular high school student at Hill Valley High School, but his encounter with Dr. Brown and the time machine he invented changed his life. He became the second time traveler, behind Einstein, and the first human to travel through time and the first one to travel back to the past.
But the time-traveling adventures of Marty McFly and Dr. Emmet Brown didn't stop there as the duo kept on traveling to the past and the future for various adventures. This article is a Marty McFly costume guide.
The Back to the Future Marty McFly Costume Tutorial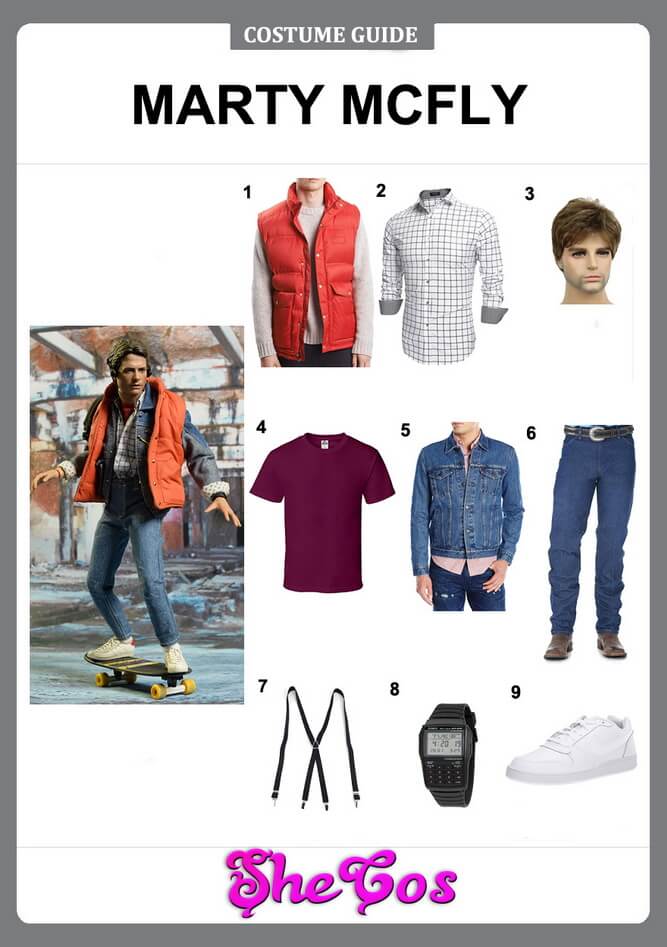 1. Marty McFly Vest                                    Check Price
2. White Marty McFly Shirt                      Check Price
3. Brown Marty McFly Wig                       Check Price
4. Purple T-Shirt                                         Check Price
5. Marty McFly Jean Jacket                      Check Price
6. Jeans                                                         Check Price
7. Black Elastic Solid Suspenders            Check Price
8. Black Watch                                             Check Price
9. White Rubber Shoes                               Check Price
The Best Marty McFly from Back to the Future Cosplay Ideas
Marty McFly has worn different outfits throughout his appearance in the Back to the Future movies. He has worn futuristic clothes, western outfits, and many more, depending on the scene that he is in. But what people remember most is the outfit that he wore when he first traveled back in time. This guide will feature Marty McFly's outfit worn during his very first time-travel.
It consists of a purple shirt underneath a white long-sleeve polo that has blue checkered lines. The cosplay set also comes with a denim jacket that Marty McFly wears over his outfit. Completing the character's top is an orange bomber vest that he is known for wearing. The outfit also comes with jeans and black elastic solid suspenders that he also wears over his outfit instead of wearing jackets. Completing the cosplay set is a pair of white rubber shoes, a black watch, and a short brown wig for the character's hairstyle.
About Marty McFly Costume
Marty McFly is a kind, loyal, and moral teenager, who is easy going most of the time. In the first movie, he was also shown to have an attitude problem towards disregarding adults. But that all changed as the film moved forward, and he saw how his father was during high school. Marty had also shown that he likes to do the right thing, which is evident when he tried to tell Dr. Brown how his future will turn out.
As one of the main characters of the movie, Marty McFly is also one of the favorite choices of people looking to dress up as Back to the Future characters. His combination of good personality and unique fashion sense makes him an excellent cosplay option. If you look at the cosplay photos, you can see that Marty's look is something that will make any wearer stand out and unique. It's a great outfit for costume parties or comic conventions.