Marshall Lee, who is also known as the Vampire King, is the male version of the Vampire Queen Marceline. He first made an appearance in Adventure Time's ninth episode entitled Fionna and Cake, a fanfiction that the Ice King made where every character of the series underwent a gender swap. Since he is just the boy version of Marceline, he has similar powers and interests to the Vampire Queen.
In terms of personality, he is a rougher version of Marceline. He likes to do some violent roughhousing that endangers his friends. He also likes to play the guitar but plays electric guitar instead of an electric bass. The character played a more prominent role in the eleventh episode, entitled Bad Little Boy. It is the episode where Marceline is the one narrating the story this time instead of the Ice King. As the boy version of Marceline, Marshall Lee also has his fair share of fans. This article is a Marshall Lee cosplay guide.
Adventure Time - Marshall Lee Cosplay Tutorial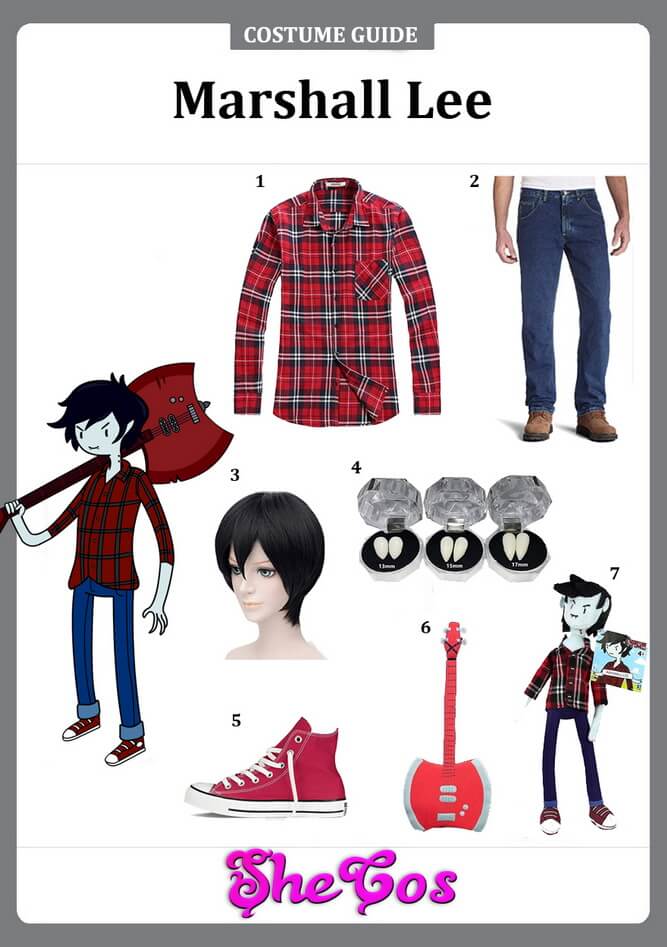 Parts you may need
1. Marshall Lee Shirt                                    Check Price
2. Blue Jeans                                                   Check Price
3. Marshall Lee Wig                                      Check Price
4. Vampire Fangs                                           Check Price
5. Brownish Red and White Sneakers       Check Price
6. Marshall Lee's Guitar                               Check Price
7. Marshall Lee Plush Doll                           Check Price
The Best Marshall Lee of Adventure Time Cosplay Ideas
As the guy version of Marceline, Marshall Lee's appearance and outfit are similar to that of the Vampire Queen. He also has a vampire bite on his neck and his skin is light grey. But unlike Marceline, this character didn't have a lot of outfits in the episodes that he appeared in the series. He is mostly seen wearing only one outfit in his appearances, just like a lot of the original characters of Adventure Time.
This cosplay guide will feature the outfit that Marshal Lee wore. It consists of a red checkered long-sleeves polo with blue jeans, and a pair of brownish red and white sneakers. The collection will also come with a short black wig for Marshall Lee's hairstyle and a couple of vampire fangs since the character is a vampire. The cosplay set is completed with an electric guitar prop. There set will also have a Marshall Lee plush doll.
About Marshall Lee Costume
If fans of Adventure Time ever wondered what Marceline would look like as a guy, the series provided an answer to their curiosity in the form of Marshall Lee. He is the guy version of the Vampire Queen, sporting the same appearance and outfit, but as a guy. The attitude and personality are also a bit similar, but with Marshall Lee more violent and evil. He does show remorse quicker than Marceline, which is something the Vampire Queen is trying to work on.
The beauty of Marshall Lee is that it provided fans of Marceline, especially the guys, a version that they can copy if they're looking to dress up as the Vampire Queen. If you look at the Marshall Lee cosplay photos, you can see that this male version of Marceline is equally as good looking and appealing as the female vampire.
Adventure Time: Marshall Lee Cosplay Makeup Tutorial