Princess Bonnibel Bubblegum, or more commonly known as Princess Bubblegum, PB, or Peebles, is one of the main characters of the Adventure Time animated series. She is the ruler of the Candy Kingdom and the current incarnation of the Candy Elemental.  As an elemental, she is a powerful character herself.
But her strength goes beyond her elemental powers, as she also possesses exceptional knowledge. She is called the greatest mad scientist in the Land of Ooo and with the ability to control people. Though she was late in discovering and mastering her elemental powers, she used scientific concepts to help her manage it properly. As one of the leading characters of Adventure Time, Princess Bubblegum is a favorite cosplay option. This article is a Princess Bubblegum cosplay tutorial.
Adventure Time - Princess Bubble Costume Guide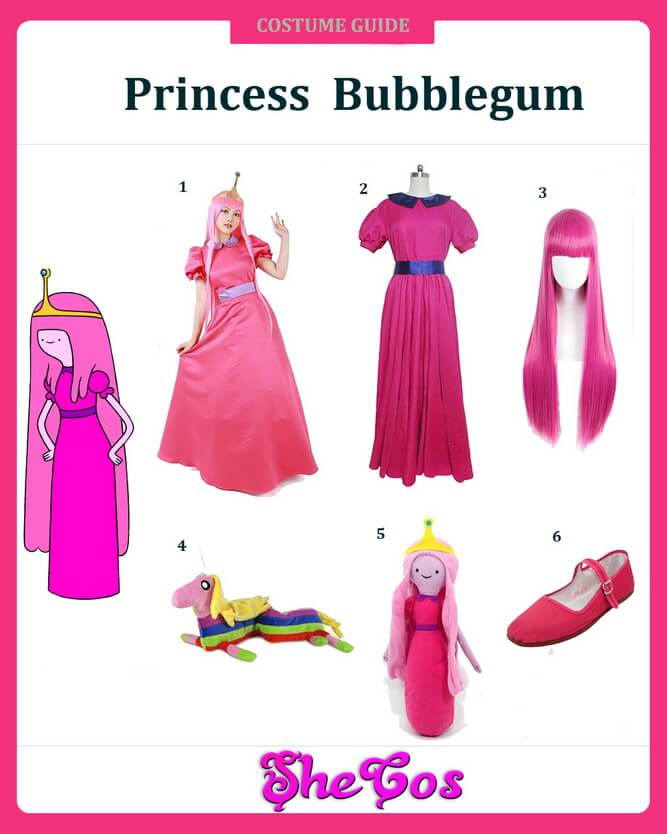 1. Full Princess Bubblegum Costume       Check Price
2. Long Pink Bubblegum Dress                  Check Price
3. Princess Bubblegum Wig                        Check Price
4. Lady Raincorn Plush Doll                       Check Price
5. Princess Bubblegum Plush Doll            Check Price
6. Pink Shoes                                                 Check Price
The Best Princess Bubble of Adventure Time Cosplay Ideas
Princess Bubblegum came from a large blob-like hive that is made of pink gum, called the Mother Gum. That is where her light-pink skin and long pink hair came from. As the princess incarnation of the Candy Elemental, her outfit and appearance also reflect those distinctions. This guide will feature Princess Bubblegum's full gear.
It consists of a long pink dress with puffy sleeves and purple trim at the collar and waist. The set will also come with a long magenta-pink bubble gum wig to reflect the character's hair. The Princess Bubblegum cosplay set will also come with a gold unicorn-like crown and a pair of pinks shoes to complete the character's outfit. The collection also includes a plush doll of Princess Bubblegum and Lady Raincorn. Lady Raincorn is the character's Korean-speaking best friend, companion, and noble steed.
About Princess Bubblegum Costume
Princess Bubblegum is one of the 15 most powerful characters in Adventure Time.  She is portrayed as someone who is a kind-hearted, well-mannered, and overall good person, typical of a heroin princess. However, the character has also shown that she is temperamental at times and someone who is also capable of malicious intent. But what stands out the most about this Candy Elemental Princess is her high intellect.
She is very good at inventing things, even showing that she is capable of reviving dead candy people. But she is not only about her intellect, as she is also an attractive and sweet-looking character in Adventure Time. The combination of her personality, intelligence, and appearance are what makes ladies consider her as a cosplay option. And if you take a look at the Princess Bubblegum cosplay photos, you can see that dressing up as her is a good idea. Her all-pink appearance will make any lady stand out, regardless if she is going to a costume party or a comic convention.
Adventure Time: Princess Bubble Cosplay Makeup Tutorial