Static Shock is an animated series, based on DC Comic's superhero called Static. The superhero's civilian identity is high school student Virgil Ovid Hawkins. He gained his electromagnetic powers after he was exposed to a mutagen gas during a gang war. After getting the power and learning to control it, he became a costumed crusader that calls himself Static. Here it will be a Static Shock costume guide.
Premiered in 2000, Static Shock was well-received by fans and critics because of a lot of positive factors going for it. Unfortunately, it was abruptly canceled in 2004, after 4 seasons and a total of 52 episodes. The cancelation was due to toys about static not selling well. Though Static Shock has been canceled, the character's popularity didn't diminish. A lot of people still clamor for the superhero to return. Now Static's appearance is not that hard to achieve, but it does look unique.
The Best Static of Static Shock Costume Guide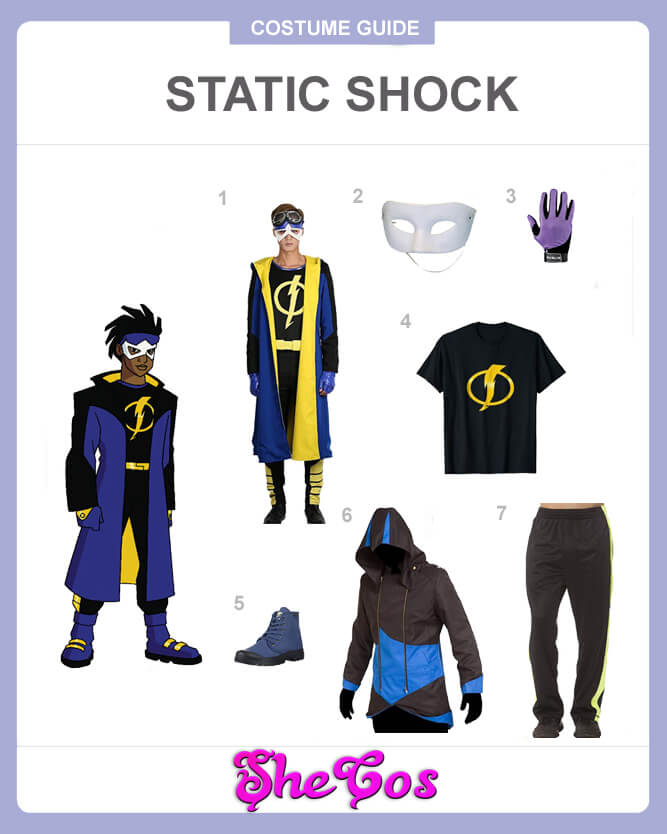 1. Full Static Shock Costume                     Check Price
2. Static Shock Mask                                   Check Price
3. Blue Golves                                               Check Price
4. Static Shock T-Shirt with Logo             Check Price
5. Blue High-cut Shoes                                Check Price
6. Static Shock Hoodie                                Check Price
7. Black Track Pants                                     Check Price
The Best Static Shock - Static Cosplay Ideas
Static is a superhero that has electromagnetic powers. The Static Shock anime series was popular, not only because he was one of the first African-American superhero lead at that time, but the stories itself are very relatable. That is why a lot of people consider Static as an option to dress up in when it comes to Halloween costume parties or comic conventions.
This Static Shock cosplay set will be featuring the full costume. It consists of a black shirt with a yellow lightning bolt inside a circle symbol in the middle. The Shock costume also comes with black pants with yellow square designs near the ankle and a yellow belt. The set will also include the blue hoodie loose trench coat that Static wears, blue gloves, blue shoes, and the superhero's white mask that covers his eyes and forehead. The set also comes with a black jacket with blue design and black track pants.
About Static Shock Costume
Static Shock's civilian identity is Virgil Hawkins, who is an African-American high school student. When the Static Shock animated series premiered in 2000, a lot of people instantly loved it. They liked the fact that he was African-American. They loved his personality, characteristics. And, they also loved the fact that he has cool powers and a kick-ass appearance.
That is why people clamor for the superhero to return. And this is also why Static Shock is always an option for people who are looking for a character to dress up in. If you look at the Static Shock cosplay photos, you can see that this superhero is not only popular with the men, but also with the ladies. Several ladies also dress up as their version of the electric hero. And if you're going for a photo shoot, the costume would look way more relaxed if you add in some electrical effects as well.
Cosplayer: Akakioga, Swaggycosplayer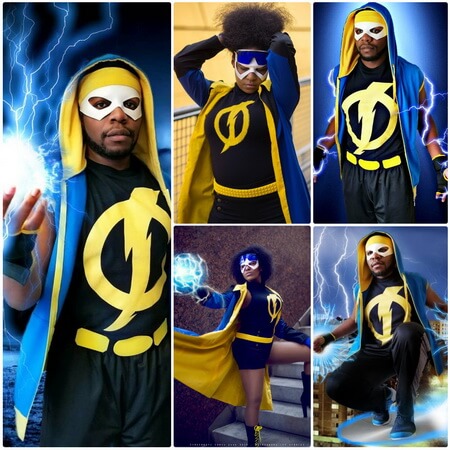 The History Of Static Shock