Sybill Patricia Trelawney, or more commonly known as Professor Trelawney, is one of the supporting characters in the Harry Potter series. She is a Seer and the professor of Divination at Hogwarts School Witchcraft and Wizardry. She is also the Seer who made the prophecy about the one who can defeat and vanquish Lord Voldemort.
She's a half-blood witch and the great-great-granddaughter of the celebrated Seer, Cassandra Trelawney. She is known among her students as the Seer who liked to predict their deaths, which scared some students, while also amusing others. This article is a Professor Trelawney costume guide.
The Harry Potter Series Professor Trelawney Costume Tutorial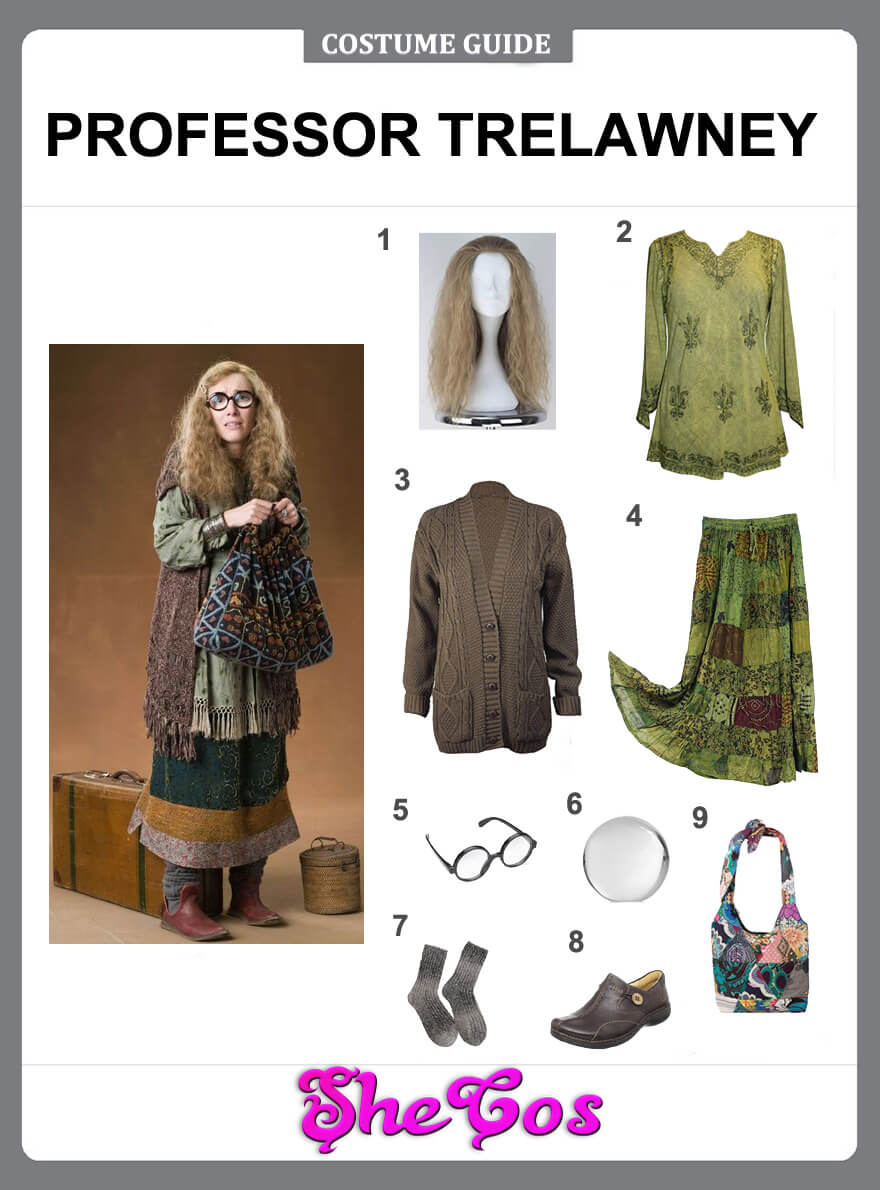 1. Brown Professor Trelawney Wig           Check Price
2. Green Tunic                                               Check Price
3. Professor Trelawney Sweater                Check Price
4. Green Skirt                                                Check Price
5. Professor Trelawney Glasses                 Check Price
6. Crystal Ball                                                Check Price
7. Gray Socks                                                 Check Price
8. Black Shoes                                               Check Price
9. Cloth Bag                                                   Check Price
The Best Professor Trelawney from the Harry Potter Cosplay Ideas
Professor Trelawney is not known for keeping a beautiful and graceful appearance. She is known more for wearing a shabby dress and sporting a messy look. She's wearing almost the same outfit throughout the movie series. This guide will feature the costume that the character usually wears.
It consists of a green tunic for her top and a green skirt that has checkered-like gypsy designs on them. The Professor Trelawney costume set will also come with a dark brown sweater, a long light brown curly wig along with a pair of gray socks and black shoes. Completing Professor Trelawney's look is black-rimmed round glasses that she is known to wear. The cosplay set will also include a crystal ball accessory and a bag that's made of cloth and has abstract designs.
About Professor Trelawney Costume
Though she may not look like it, Professor Trelawney is a powerful Seer that can see into the future. Aside from correctly predicting the prophecy of a person having the power to defeat Lord Voldemort, she also correctly predicted that Peter Pettigrew would escape and that Lord Voldemort will return. But not everyone accepted her predictions, and some even ridiculed her.
Professor Trelawney also helped out during the War at Hogwarts, dropping her crystal balls on the Deathly Eater's heads and helping tend the wounded. She also tended the dead along with a student. Despite her unkempt appearance and seemingly crazy personality, the character still had fans. It makes her a good option for people looking to dress up as unusual Harry Potter characters. If you take a look at the Professor Trelawney cosplay photos, you can see that her strange appearance will make any lady who dresses like her stand out. Her presence is a great costume option if you are going to a costume party or attending comic and movie conventions.