Minerva McGonagall, or more commonly known as Professor McGonagall, is one of the main supporting characters of the Harry Potter series. She is a half-blood witch and a registered Animagus, meaning she can turn into an animal. McGonagall is also one of the oldest professors in the Hogwarts School of Witchcraft and Wizardry. Before working at Hogwarts, she worked at the Department of Magical Law Enforcement at the Ministry of Magic for two years.
At Hogwarts, Professor McGonagall has held different titles in various instances in the series. Her titles include Head of Gryffindor House, Head of Transfiguration, Deputy Headmistress, and Headmistress. She stayed as Headmistress until the school year 2020 to 2021. Though it wasn't shown in the movies and books, Professor McGonagall is one of the powerful characters in the Harry Potter series. It only adds to the many reasons why fans of the series love this character. This is a Professor McGonagall costume guide.
The Harry Potter Series Professor McGonagall Costume Tutorial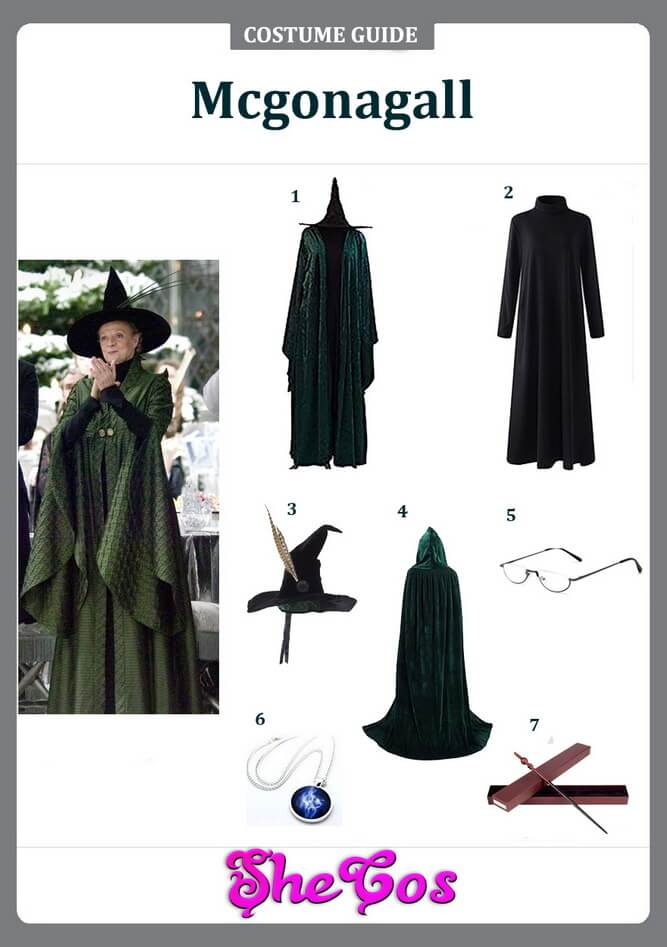 Parts you may need
1. Full Professor McGonagall Costume     Check Price
2. Long Black Dress                                       Check Price
3. McGonagall Hat                                        Check Price
4. McGonagall Cloak                                     Check Price
5. McGonagall Cloak                                     Check Price
6. Patronus Necklace                                    Check Price
7. Wizard Wand                                              Check Price
The Best Professor McGonagall of the Harry Potter Cosplay Ideas
Professor McGonagall is one of the most loves characters in the Harry Potter series. That's due to her compassion, caring, and no-nonsense attitude. She may look strict, but she knows when to show support and consideration for her students. She is also known for her pointy hat and eyeglasses, as well as elegant and mature appearance.
This Professor McGonagall costume guide will feature her full costume. It consists of full-body long-sleeved black dress with a green long full-body robe on top of it. The cosplay set will also come with a pointed hat and an eyeglass, both of which are a staple McGonagall accessory. The collection will also include a Patronus necklace and Professor McGonagall's wand. The cosplay list will consist of a long green cloak with a hood to provide a different option when it comes to the robe that the character wears.
About Professor McGonagall Costume
When it comes to Harry Potter characters, a lot of people focus more on the main characters of the series and rightfully so. But this doesn't mean that the supporting characters don't have anything to offer. Professor McGonagall is a clear example that, even if you are only a support character, you can still provide a lot of things to the story.
Her subtle winks, when her students are in trouble at school and she helps them out, and her rock-solid support to the main characters is what endeared people to her. That's also why Professor McGonagall is also one of the favorite options when it comes to dressing up as Harry Potter characters. If you look at the Professor McGonagall cosplay photos, you can see that the character's appearance still has its appeal and flair. She is best worn for costume parties, photo shoots, or comic conventions.