Sebastian Michaelis is the protagonist of the anime and manga series Black Butler (Kuroshitsuji). He is a demon butler of the Phantomhive Household. He appears courteous, dedicated, and will always follow the orders of his master, Ciel Phantomhive. But all of this is just a front, as Sebastian is sadistic, cruel, and callous.
Sebastian Michaelis usually puts his master in dangerous but not life-threatening situations for his amusement, and he is vicious in attacking others upon his master's request. Despite this, he is the favourite character in the series. This is a Sebastian Michaelis cosplay guide.
The Black Butler Sebastian Michaelis Cosplay Tutorial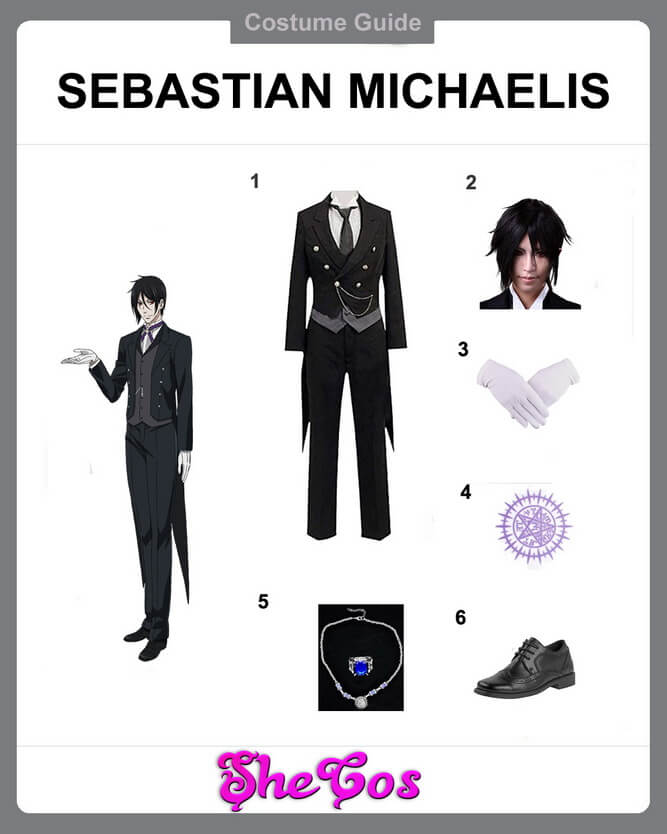 1. Full Sebastian Michaels Costume         Check Price
2. Black Sebastian Michaels Wig               Check Price
3. White Gloves                                             Check Price
4. Sebastian Michaels Tattoo                     Check Price
5. Black Butler Ring and Necklace            Check Price
6. Black Sebastian Michaels Shoes            Check Price
The Best Sebastian Michaelis from the Black Butler (Kuroshitsuji) Cosplay Ideas
Though Sebastian Michaelis is a demon, he doesn't look like one. He is a tall and handsome adult, something that is not usually associated with the word demon. The character wears different outfits throughout his appearance, but he is mostly wearing the butler outfit. This guide will feature the butler outfit that Sebastian Michaels usually wears.
It consists of a white long-sleeved polo with a black necktie. Some versions have the character wearing a blue ribbon instead. The Sebastian Michaelis cosplay set will also come with a grey vest and a six-buttoned double-breasted black tailcoat with matching black pants. Included in the cosplay set are a pair of black leather shoes, a pair of white gloves, and a tattoo of the Faustian contract on his shirt cuffs and tie. Completing the cosplay set is the black butler ring and necklace and a short black wig in Sebastian's hairstyle.
About Sebastian Michaelis Costume
Sebastian Michaelis is a dedicated and faithful butler, making sure to follow every order of his master and ensuring the Phantomhive household is running smoothly and without any problems. He also seems courteous, addressing Ciel Phantomhive with "Yes, My Lord" whenever a request is made. But all of this is just for show, as Sebastian is callous, cruel, and is mostly unconcerned about his master. The only time he shows real concern is if his master is in a situation that he is unsure if he can save him from.
Despite all of this lousy personality, Sebastian is the most popular character of the series. His handsome appearance and don't care but calm attitude is a big hit for a lot of fans of the series. They view him as a cool character who doesn't let things faze him. That's why he's a favourite cosplay option for fans of the series. If you look at the Sebastian Michaelis cosplay photos, you can see he's an excellent choice for attending costume parties or going to anime conventions.
The Sebastian Michaelis Cosplay Makeup