Jon Snow, whose real name is Aegon Targaryen, is one of the main characters in Game of Thrones. His mother is Lyanna Stark, and his father is Rhaegar Targaryen, but he was introduced as the bastard son of Lord Eddard Stark, Lyanna's brother, to protect him. Some people want to eliminate the House of Targaryen following the rebellion of Robert. Jon's true identity was hidden, even from himself.
As one of the main characters of the hit series, Jon is also one of the favorite characters, due to his actions, personality, and backstory. This article is a Jon Snow costume guide.
Game of Thrones | Jon Snow Costume Tutorial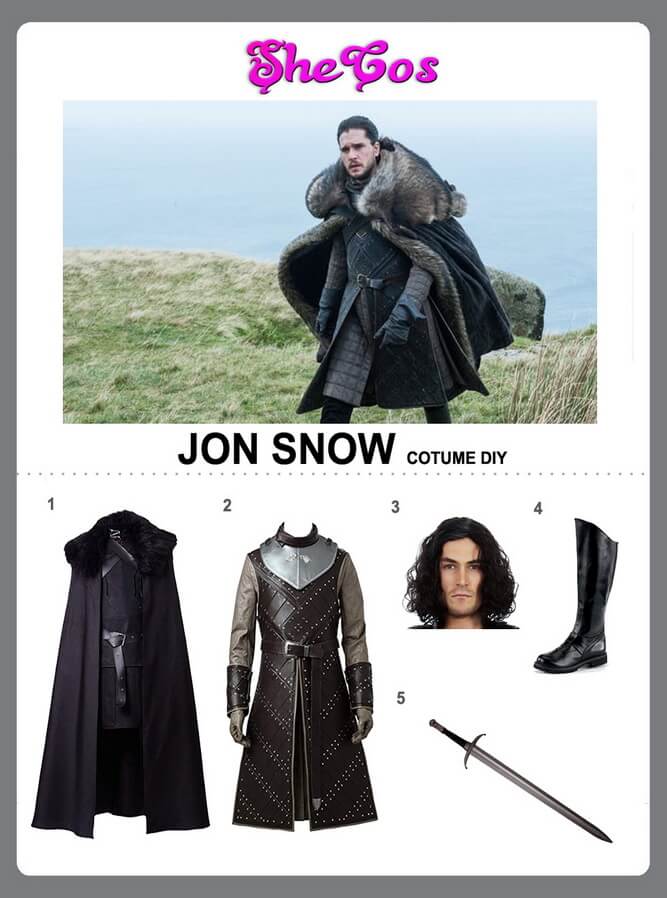 1. Full Jon Snow Costume                          Check Price
2. Season 7 Jon Snow Costume                 Check Price
3. Black Jon Snow Wig                                Check Price
4. Jon Snow Boots                                        Check Price
5. Sword Prop                                                Check Price
The Best Jon Snow from Game of Thrones Costume Ideas
Jon Snow has worn a lot of different outfits throughout his appearance in Game of Thrones. The outfit that he wears varies on the setting and the climate that the series is currently in. It gives fans who want to dress up as the character more choices for his outfit. This guide will feature two outfits that Jon Snow wore.
The first one is his most well-known outfit, which the character wore more often than the others. It consists of a black leather top with matching the black leather skirt and black pants underneath. The Jon Snow costume also comes with a black belt, a black coat that has black fur on the shoulder area, and a pair of black gloves. The other outfit is the one that Jon Snow wore in season 7 of the hit fantasy drama series. The costume consists of a dark brown armor-like outfit with long gray sleeves, dark brown belt, and dark brown armbands. The full Jon Snowcosplay set will also come with a medium-length curly black wig for the character's hairstyle, a pair of black boots, and a prop of Jon Snow's sword.
About Jon Snow Costume
Jon Snow doesn't want the bastard status, so he joined the Night's Watch, where he became a Lord Commander. But his status as a Lord Commander didn't last since his subordinates murdered him for showing sympathy to the Free Folk. But Ser Davos Seaworth requested the Red Priestess resurrect Jon Snow. After the resurrection, Jon joined his half-sister Sansa Stark in building an army and defeating the House Bolton and retake Winterfell. After the battle, Jon was declared King of the North.
As one of the main characters, Jon Snow is also one of the fans' favorites. His sense of honor and morals, which he tries to always abide by, even in difficult situations, have fans rooting for him. That is also why fans of Game of Thrones have Jon Snow as one of the favorite cosplay options. If you look at the Jon Snow cosplay photos, you can see that his appearance is a great costume idea for people attending costume parties or going to comic and movie conventions.
The Jon Snow Cosplay Makeup