Morton Salt Girl is the famous logo of the Morton Salt company. She came to be in the year 1914 and is one of the most well-known symbols in the United States of America. The owners of the company liked the appearance of the logo since it captured what they want to portray about their salt. The slogan for the logo took a few changes, but they finally settled on the well-known slogan "When It Rains, It Pours".
After her debut in 1914 at the front of the blue packaging that Morton Salt used before, Morton Salt Girl was regularly updated to keep her fashionable. Her last refresh was in 2014, in celebration of the logo's 100 years of existence. Since Morton Salt Girl is very popular, even to this day, she continues to be part of people's costume options. This article is a Morton Salt Girl costume guide.
The Morton Salt Girl Costume Tutorial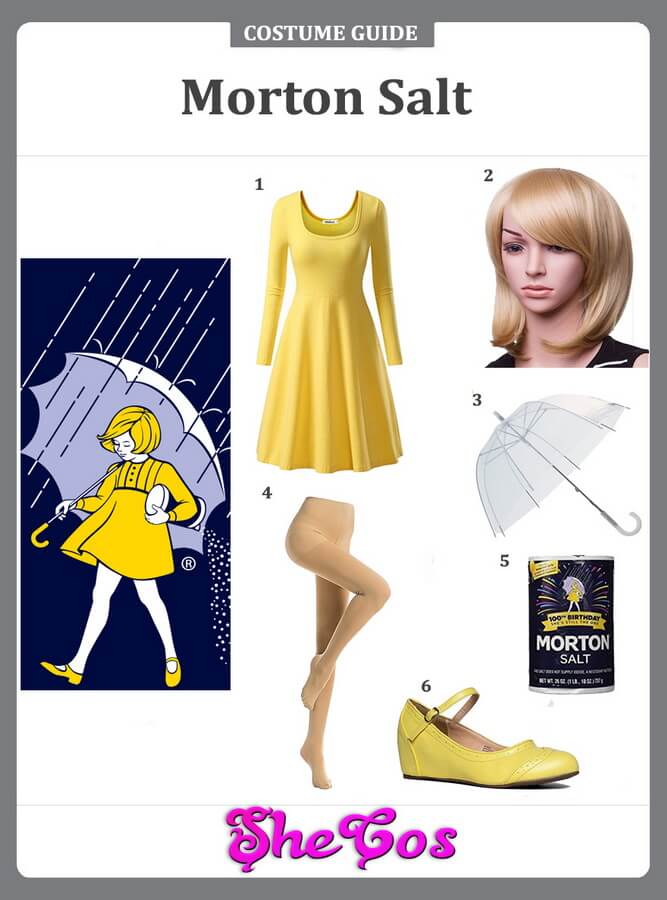 Parts you may need
1. Morton Salt Dress                                     Check Price
2. Shoulder-length Blonde Wig                  Check Price
3. Morton Salt Girl Umbrella                      Check Price
4. Skin-tone Stockings                                 Check Price
5. Morton Salt Can                                        Check Price
6. Morton Salt Girl Shoes                            Check Price
The Best Morton Salt Girl Costume Ideas
The Morton Salt Girl logo is already more than 105 years old. And in that span, she has undergone a lot of changes, especially with the style of her hair and with the dress that she wears. Her latest remake was in 2014. But, the color of her outfit and her overall appearance usually remains the same. This cosplay guide will feature Morton Salt Girl's appearance.
It consists of a yellow dress where the skirt length is just above the knee and skin-tone stockings. The outfit will also come with a shoulder-length blonde wig that is style in Morton Salt Girl's hairstyle. The costume includes a pair of yellow shoes and a sheer white umbrella that the icon carries in the logo. For the accessory, a Morton Salt can also is included since Morton Salt Girl was carrying a can in the logo.
About Morton Salt Girl Costume
When you think of cosplay or costume options, the first thing that would come to mind is anime, comics, or video game characters. Characters from movies and TV series are next in line and then famous persons. You'd never think that a brand logo is also a cosplay or costume option. But that's exactly what Morton Salt Girl is, a costume and cosplay option.
Since the iconic logo is well-known in the United States, a lot of people, both adults, and children consider Morton Salt Girl as a costume option. She's even used as mascots or floats in parades. That's how well-known she is. Though she is just a logo character, the salt girl is a right cosplay choice. If you look at the cosplay photos, you can see how good-looking Morton Salt Girl is. She showed that cosplaying is not only reserved for movies, comics, or TV series characters but also logo characters as well.