Mr. Clean is a mascot and brand name that the multinational consumer goods corporation, Proctor & Gamble, owns. It is a product that is used as an all-purpose cleaner and as a melamine foam cleaner. Mr. Clean is the 15th most popular brand and the 7th famous around the world. Despite initially created as a brand name and mascot, Mr. Clean has a story.
A farmer discovered Mr. Clean when he was just a cute and clean baby. The farmer saw that the baby was cleaning the front steps of his house, so he and his wife decided to adopt him. One of the most valuable things that Mr. Clean learned from his parents is to work hard. He passed this motto from his parents, "if something's worth doing, it's worth doing right", and used to become the most robust and most laborious working cleaner. A lot of people don't just look at Mr. Clean as a cleaning mascot but as an icon. It also makes him a popular choice to dress up as. This article is a Mr. Clean costume guide.
Mr. Clean Costume Tutorial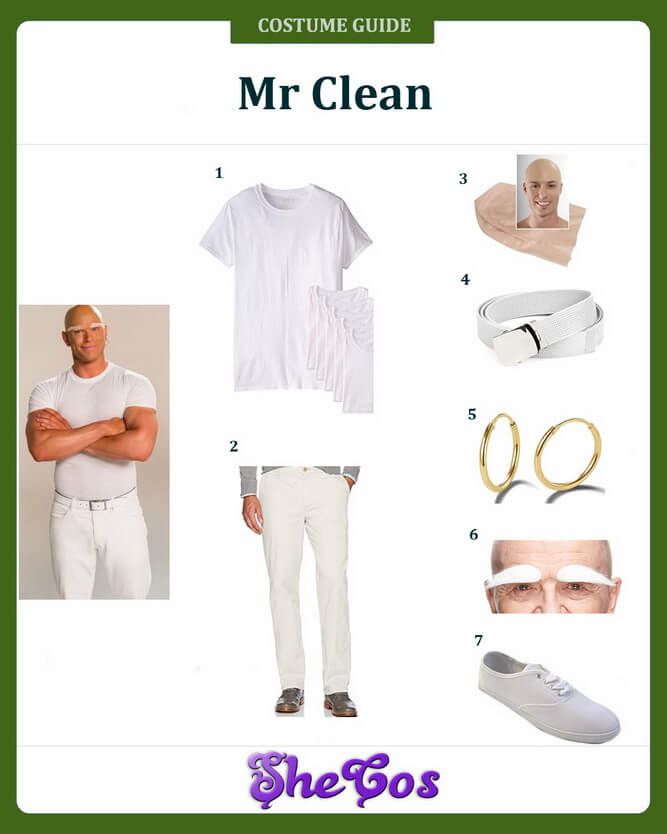 1. White Mr. Clean T-Shirt                          Check Price
2. White Pants                                               Check Price
3. Bald Cap                                                     Check Price
4. White Belt                                                  Check Price
5. Mr. Clean Earrings                                    Check Price
6. Mr. Clean Eyebrows                                  Check Price
7. White Shoes                                               Check Price
The Best Mr. Clean Costume Ideas
Despite being a cleaning product, the Mr. Clean brand became famous and well-known all over the world due to the iconic mascot. The icon's appearance became an option for people to dress up as during costume parties or photo shoots. Since he represents cleanliness, he has an all-white costume.
This guide will feature Mr. Clean's costume, which consists of an all-white appearance. It features a white T-shirt, white pants, a white belt, and a pair of white shoes. The cosplay set will also come with a bald cap since the character is bald. The cosplay set will also include a pair of gold earrings that Mr. Clean wears on his ears, and a couple of white eyebrows since the character's eyebrows are also white.
About Mr. Clean Costume
Mr. Clean is a brand and mascot that the multi-national company Proctor & Gamble use for one of their cleaning products with the same name. When you think of cosplaying characters for Halloween, comic conventions, costume parties, or photo shoots, you'd usually think of anime, comic books, or movie characters. You'd never think of a mascot or a brand. But Mr. Clean is different. He isn't just a mascot or a brand. He is an icon for cleanliness. The character is one of the reasons why the brand is very popular around the world.
When you see Mr. Clean, you already know he represents cleanliness. The company that owns him created a backstory for Mr. Clean since he is now well-known. And if you think people won't want to look like Mr. Clean, you better think again. If you look at the Mr. Clean cosplay photos, you can see that there are a lot of people who opted to dress up as the cleanest character out there. And they look good in it.
Photography: justin.cosplay