Tim, or more commonly known as Barnacle Boy, is one of the characters of the SpongeBob SquarePants TV series. He is the sidekick of the superhero Mermaid Man, and both of them star on a TV series entitled "The Adventures of Mermaid Man and Barnacle Boy." The two characters are well-known in Bikini Bottom since they are not only TV stars but also in several merchandises, including trading cards and kids' meals.
As a superhero, Barnacle Boy possesses almost the same powers as Mermaid Man except for the belt power. He does have a heat vision known as sulfur vision. By the time he made an appearance in the SpongeBob TV series, he is already old and retired as both a superhero and TV star. Despite being just a sidekick, he is one of the top 10 best characters in SpongeBob due to his similarities to Squidward. This article is a Barnacle Boy costume tutorial.
SpongeBob SquarePants: Barnacle Boy Costume Guide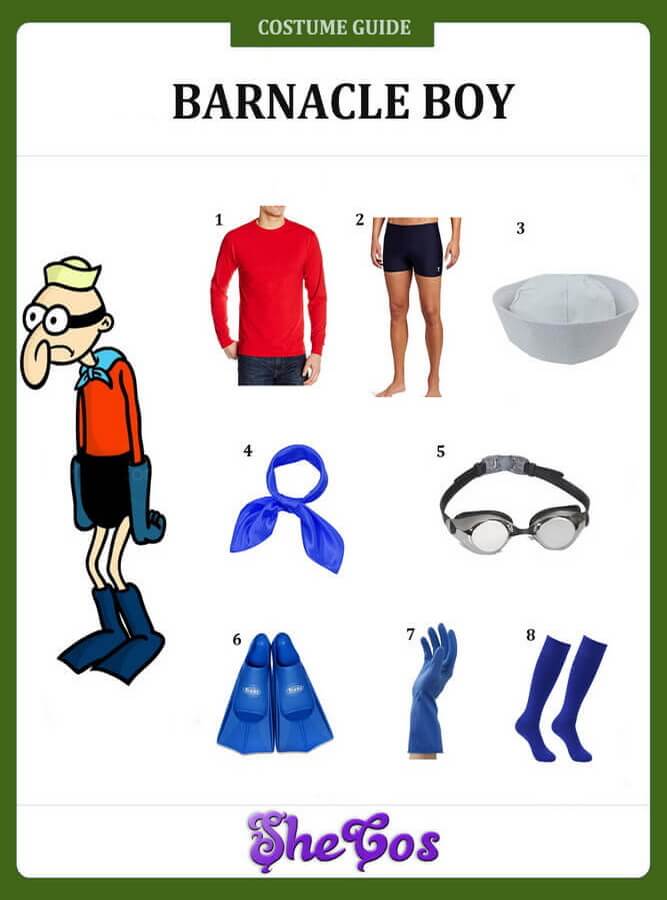 1. Red Long-Sleeves Shirt                           Check Price
2. Black Trunks                                             Check Price
3. Barnacle Boy Hat                                     Check Price
4. Blue Neckerchief                                      Check Price
5. Googles                                                       Check Price
6. Dark Blue Fins                                          Check Price
7. Dark Blue Gloves                                      Check Price
8. Dark Blue Socks                                       Check Price
The Best Barnacle Boy of SpongeBob SquarePants Costume Ideas
Barnacle Boy is one of the characters of the TV series SpongeBob SquarePants. He is not part of the main characters of the series, as he occasionally makes an appearance. He is the sidekick of Mermaid Man, and the two of them are a hilarious parody of DC Comic's Aquaman and Robin. As a parody of Robin, his appearance is a bit similar, in a funny way, to that of the DC character's appearance, especially since he is old now.
This Barnacle Boy cosplay guide will his superhero costume. It consists of a red long-sleeves shirt for his top and black trunks for his bottom. It also comes with a blue neckerchief, which acts as the character's cape, and googles, which he uses as a mask. The cosplay set is completed with dark blue gloves, dark blue fins, dark blue socks, and a white sailor hat.
About Barnacle Boy Costume
Like Mermaid Man, Barnacle Boy is already an old and retired superhero and TV star by the time SpongeBob and Patrick Star met him. The two characters, though, was able to convince Barnacle Boy to come out of retirement and became Mermaid Man's sidekick again to fight evil. Since he is already old, his powers are not working correctly anymore, and his appearance doesn't resemble that of a superhero anymore.
Despite being old and retired, Barnacle Boy became one of the best characters in the SpongeBob TV series, due to his similarities to Squidward. Both of them are a bit rude and cranky, and they are usually the more mature and adult character in the TV series. People's fondness of Barnacle Boy makes him an excellent option to dress up as, especially for ladies. If you look at the cosplay photos, you can see that Barnacle Boy's costume works well for ladies as well. It's definitely a great idea to get the mermaid man and barnacle boy costume with your friend for Halloween.