Eric Draven is one of the main characters and the protagonist of the superhero movie The Crow and its TV series adaptation, The Crow: Stairway To Heaven. Eric is a heavy metal guitarist of the band Hangman's Joke. He was supposed to marry his fiancée Shelly Webster on Halloween night. But a day before their wedding, which is also known as Devil's Night, T-Bird and his gang brutally murdered the couple.
But a crow resurrected Eric one year later, giving him powers to regenerate, the inability to feel pain, and supernatural endurance. He is also immune to sickness and decay and possesses superhuman agility. As a superhero, he uses the name The Crow. This article is a cosplay guide for The Crow.
The Crow Costume Tutorial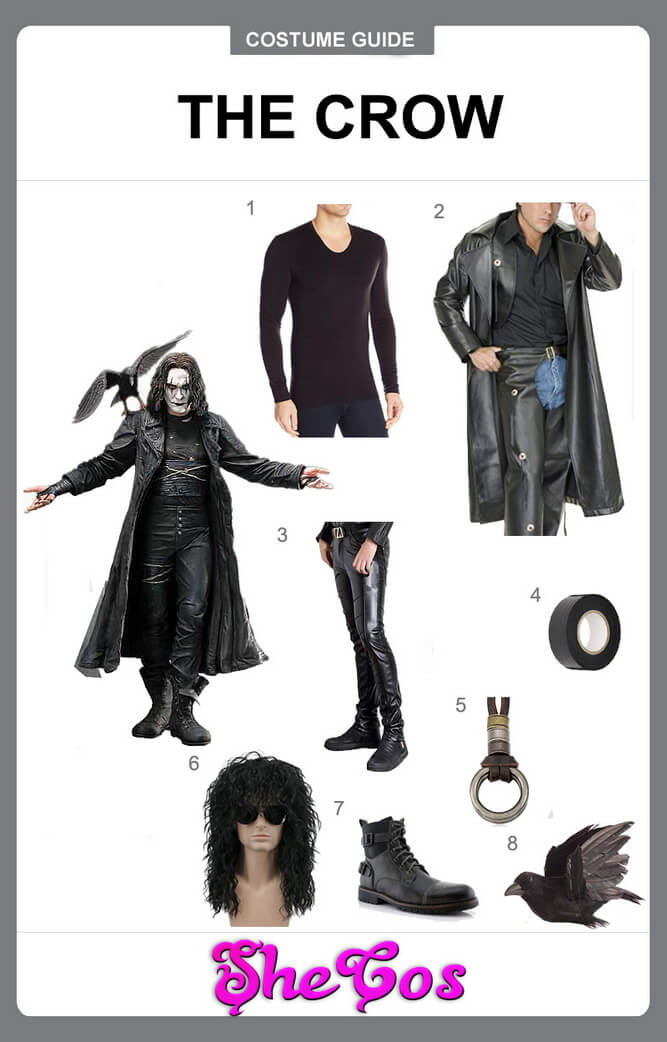 Parts you may need
1. The Crow Shirt                                         Check Price
2. Black The Crow Coat                              Check Price
3. Black Leather Pants                                Check Price
4. Black Tape                                                Check Price
5. Ring Necklace                                          Check Price
6. The Crow Wig                                          Check Price
7. The Crow Boots                                       Check Price
8. Crow Prop                                                Check Price
The Best The Crow Cosplay Ideas
The Crow is a cool looking superhero, who looks more like a rock star than an actual superhero with his all-black attire and white face mask. That is why a lot of people like the character, his cool appearance makes him a favorite cosplay option. This guide will feature The Crow's appearance.
It consists of a black long-sleeved shirt with black leather pants and a black long on top of it. The cosplay set will also come with a pair of black boots a medium length black curly wig for the character's hairstyle. Black tape is also included, which The Crow uses to cover a portion of his hands and his entire wrist to act as like a semi-glove. The Crow cosplay set is completed with a ring necklace and a crow prop to act as the bird that always accompanies the character.
About The Crow Costume
The Crow is a popular superhero to a lot of people, not only because of his fresh appearance but also because of his personality and tragic backstory. People felt sympathy towards the fate that the character and fiancée suffered that led to him becoming a superhero. He is also a nearly immortal character, with his only weakness is the crow that gave him powers. Once the crow is destroyed, all of his special abilities will disappear as well, making him vulnerable once again.
As a popular character, The Crow is a great cosplay option for people looking for cool-looking characters to dress up as. His all-black and rock-star looking appearance make him an excellent cosplay option for attending costume parties, or comic conventions. If you look at the Crow cosplay photos, you can see that his overall appearance will make anyone stand out in a crowd. He is also a great costume idea for Halloween since his appearance project that dark and grim vibe, which is perfect for the scary season.
The Crow Cosplay Makeup Tutorial