Cindy Aurum is one of the non-playable characters in the role-playing game Final Fantasy XV. She is the head mechanic of the Hammerhead Garage that repairs the player's car, as well as the Regalia. She is also capable of customizing and upgrading the Regalia.
Cindy is the granddaughter of Cid Sophiar, a recurring name in the Final Fantasy series. She lost her parents at a young age and her grandfather Cid raised her and taught her everything she knew about being a mechanic. She is one of the best mechanics, able to turn even the worst conditioned automobile into a well-functioning machine. This article is a Cindy Aurum cosplay guide.
Final Fantasy XV Cindy Aurum Cosplay Tutorial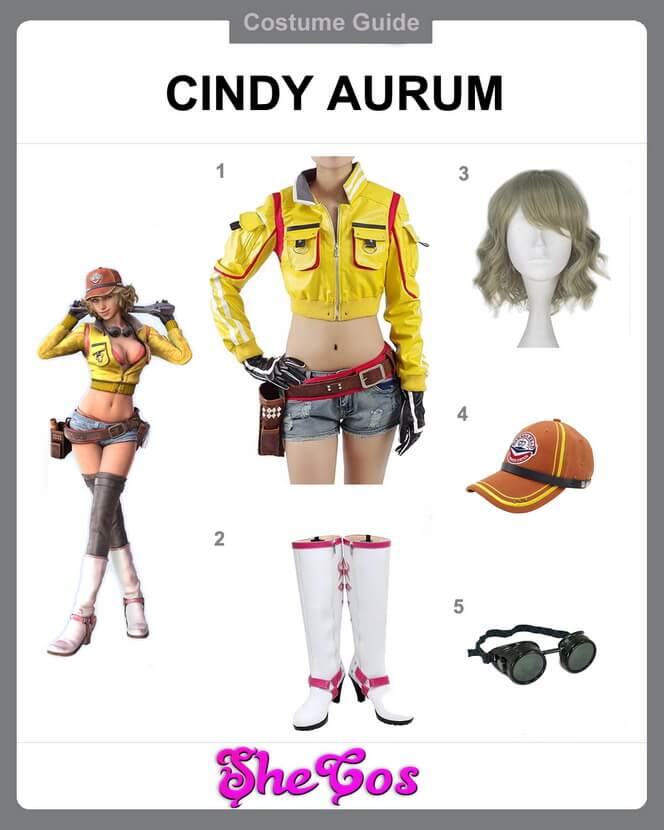 Parts you may need
1. Full Cindy Aurum Costume                  Check Price
2. Cindy Aurum Boots                                Check Price
3. FFXV Cindy Hat                                      Check Price
4. Red Cap with Hammerhead Logo       Check Price
5. Black Googles                                          Check Price
The Best Cindy Aurum of Final Fantasy XV Cosplay Ideas
As a non-playable character in Final Fantasy XV, Cindy wears only one outfit throughout her appearance in the game. But that outfit became a trademark for the role, as fans would instantly recognize her due to the outfit that she is wearing. This guide will feature Cindy's trademark outfit.
It consists of a yellow bikini top with a yellow crop jacket that has pockets on the breast area and a red on the shoulders on top of it. The jacket also bore the Hammerhead and Full-Service station logo on the back. The cosplay set also comes with a pair of black racing gloves and a pair of shin-length white boots with pink designs. A short curled blonde wig is also included to represent Cindy Aurum's hairstyle. You could also et the black goggles and a red cap that has yellow outlines and the Hammerhead and Full-Service logo from the cosplay list.
About Cindy Aurum Costume
Cindy Aurum is one of the famous characters in the Final Fantasy XV video game. It is despite the character not part of the playable characters of the game. One of the main reasons for Cindy's popularity is her upbeat personality and attractive looks. The role is enthusiastic and always eager to do mechanic work. She is passionate and fascinated about cars and the technology from Crown City.
Her upbeat and enthusiastic personality amazes fans since her childhood was rough. Her parents died at a young age at the hands of daemons and it was her grandfather who raised her. Cindy Aurum is also one of the attractive characters in the game, and this is evident in the many suitors she has. But she has so much passion for her work that she doesn't have any time to date. Her attractive and beautiful appearance also makes her a good cosplay option for ladies looking to dress up as characters from Final Fantasy XV. If you look at the Cindy Aurum cosplay photos, you can see that she looks great on anyone and she is a good cosplay option if you're attending comic conventions or doing photoshoots.
The FFXV Cindy Aurum Cosplay Makeup