Saitama is the main protagonist of the hit anime and manga series One-Punch Man. It's a superhero series that focuses on the life of Saitama, an overpowered superhero who usually finishes off enemies with just one punch. He is currently considered as the most powerful being in the series, in both the manga and anime. His power in this series is so overwhelming that fans can't help wonder how he would compare to characters in other anime series like Dragon Ball Z.
But what makes this series so hot is not just because of Saitama's overwhelming strength, but also because of the existential crisis he is facing. Since he is now too powerful, he doesn't find any thrill or fulfillment whenever he vanquishes monsters. Even the supposedly powerful monsters didn't provide any challenge. It makes Saitama exciting and entertaining to a lot of people. That is also why he is a popular choice to dress up as. This article is a Saitama cosplay guide.
One-Punch Man Saitama Cosplay Guide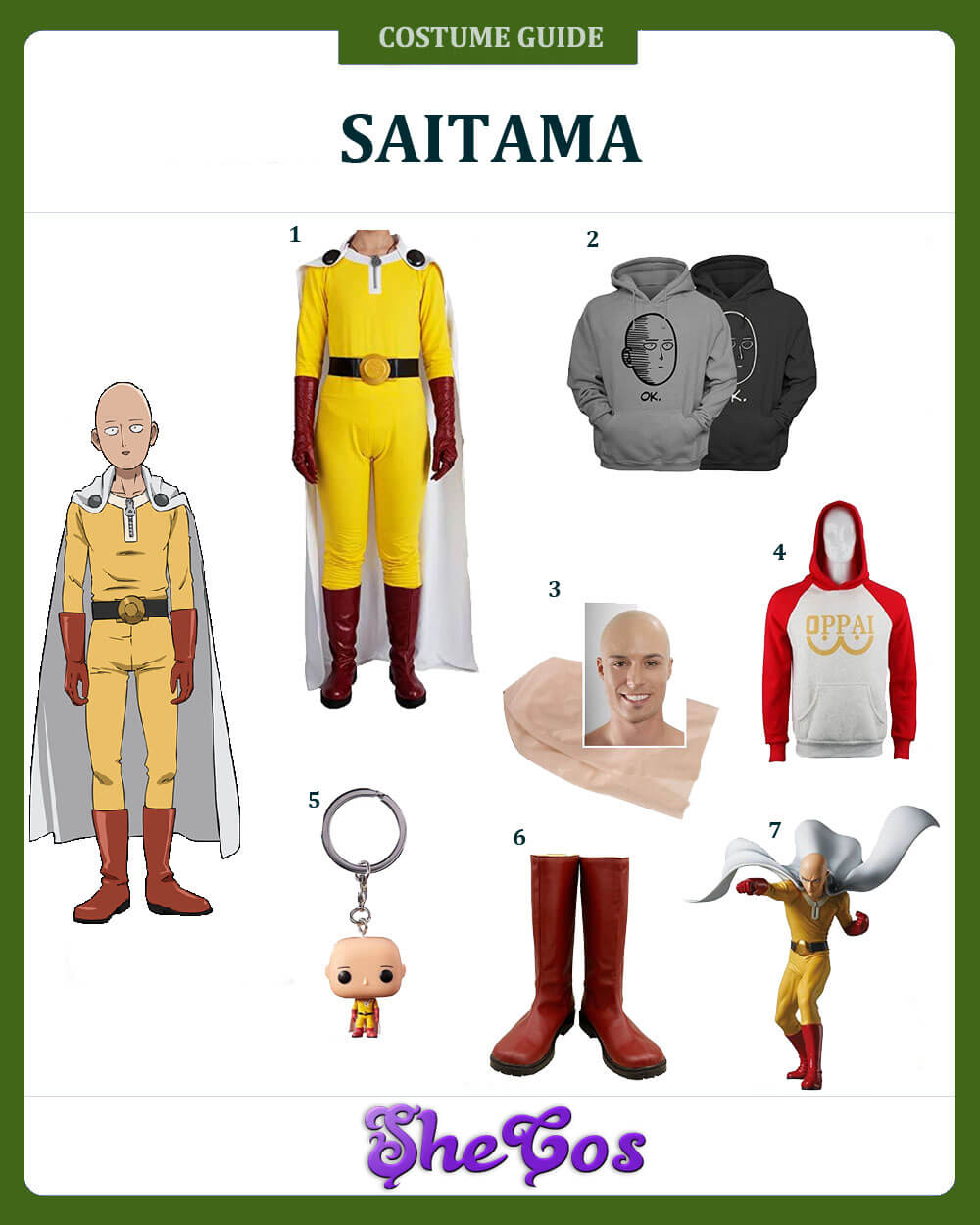 1. Full Saitama Costume                              Check Price
2. Saitama Hoodie Sweater                         Check Price
3. Bald Cap                                                     Check Price
4. Oppai Hoodie Sweater                            Check Price
5. Saitama Keychain                                     Check Price
6. Red Saitama Boots                                   Check Price
7. Saitama Figure                                          Check Price
The Best Saitama of One-Punch Man Cosplay Ideas
Saitama is the main character in the favorite anime and manga series One-Punch Man. It usually only takes one punch for him to defeat a monster, even the powerful ones. It makes Saitama go through his hero duties with little to no effort at all, which also makes him a popular and interesting character for cosplay.
This Saitama cosplay guide will feature his full costume, which consists of a yellow one-piece jumpsuit that has a zipper and collar. It also has a black belt with a yellow buckle, a pair of arm-length red gloves, and shin-length red boots. The set also comes with a white cape and a bald cap to complete the hero costume. The cosplay set will also have the red and white hoodie sweater with Oppai design at the center that Saitama wears a lot and a hoodie sweater with Saitama's face. Included in the set is a Saitama keychain and figure.
About Saitama of One-Punch Man Costume
Saitama is a powerful superhero who is finding life as a hero to be boring and unfulfilling since he easily defeats monsters and enemies. He is not your typical superhero. Saitama is indifferent, doesn't take his hero job seriously and just coasts through everything without much effort. He's also not the smartest character and doesn't possess any other special skills or abilities other than his unparalleled strength. He yearns to meet an opponent that will provide him with the challenge, which is the central plot of the series.
That's what makes the character and series popular since people are also waiting for the day Saitama finally gets that challenge that he is looking for. Fans are always excited when a new strong enemy is introduced only to be disappointed after Saitama defeats it without any effort. If you look at the Saitama cosplay photos, you can see that the character is not only accessible to men but also women. There are also a lot of ladies that opt to dress up like the powerful but uninterested and indifferent hero.
One-Punch Man Cosplay Makeup Tutorial