Persona 5 is a role-playing video game and the sixth installment in the chronological order of the Persona game series. One of the main characters for this video game is Futaba Sakura, a bespectacled young girl that is also a member of a vigilante group known as the Phantom Thieves of Hearts.
She is a prodigy programmer who met the vigilante group when they were dealing with a group of hackers. Her programming and hacking prowess help the Phantom Thieves then she joined them shortly. Futaba is different from her groupmates as she is mostly shut in and rarely attends a school or goes out of the house due to her unfortunate past.
It didn't stop people from voting her as the best girl in Persona. It also makes her a popular choice for ladies looking to dress up as a character from the series. This article will be a Futaba Sakura cosplay guide.
Persona 5 Futaba Sakura Cosplay Guide
1. Full Futaba Outfit                                     Product Page
2. Long Futaba Wig                                       Product Page
3. Futaba Headphones                                 Check Price
4. Black Circular Glasses                              Check Price
5. Knee-length Black Boots                         Check Price
6. Futaba Phantom Thieves Costume       Check Price
The Best Futaba Sakura of Persona 5 Cosplay Ideas
Futaba Sakura is one of the main characters in Persona 5. She is a genius programmer who possesses the Persona Necronomicon, a UFO shaped like being with a metallic Gargoyle on its top. As one of the leading roles of the game, she is one of the first options that ladies would look at when cosplaying Persona 5 characters.
This Futaba Sakura cosplay guide will feature the winter outfit, as well as the Phantom Thieves costume. Her winter consists of a white off-shoulder top with red splatter design on the center and a black tank top underneath. The set also comes with a dark green jacket with faux fur hood, a pair of black knee-length boots, and black shorts. The list also includes a long orange wig, black circular glasses, and headphones. The Phantom Thieves costume consists of a skintight bodysuit with green strips and black boots with green soles. It also comes with big black goggles with orange lenses.
About Futaba Sakura Costume
Futaba Sakura is different from her peers in Phantom Thieves because of her shut-in personality. The personality was due to the death of her mother when she was young, which she was made to believe was her fault. It caused her disconnect from the outside world communicating only through the internet and her adoptive father, Sojiro Sakura. Her shut-in personality started to change after meeting the protagonist of the game and the other members of the Phantom Thieves.
Despite being a shut-in, audiences voted her as the best girl in Persona 5. That also makes her the primary choice of females when it comes to cosplaying Persona 5 characters. If you take a look at the Futaba Sakura cosplay photos, it will already give you an idea of why people love her, despite her personality. Futaba Sakura is a combination of beauty and brains, making her attractive to a lot of people.
Cosplayer: Luxlocosplay, Quantum_cobalt, Naiichiru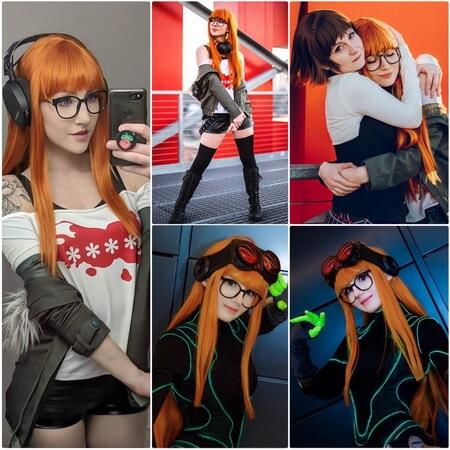 Futaba Sakura Cosplay Makeup Tutorial | Persona 5