Amethyst is one of the main characters in Steven Universe, an animated TV series about a young boy who lives with Crystal Gems. Amethyst, one of the Crystal Gems, lives with Steven Universe. She is a half-human half-gem. Crystal Gems are magical alien gemstones that project humanoid bodies to function like a normal person. Amethyst and the other crystal gems use their powers to protect the Earth.
Amethyst's gemstone is found on her chest, and she can summon a whip from there. Unlike the two other Crystal Gems, Pearl and Garnet, Amethyst is relatively young as she never fought during the Gem war. That's why she has more of a rebellious and carefree attitude than the other two and always tells Steven to have fun. A lot of people are fond of this character because of her carefree attitude. She is one of the best characters in Steven Universe. It also makes her a good cosplay option. This article is an Amethyst cosplay guide.
Steven Universe Amethyst Cosplay Guide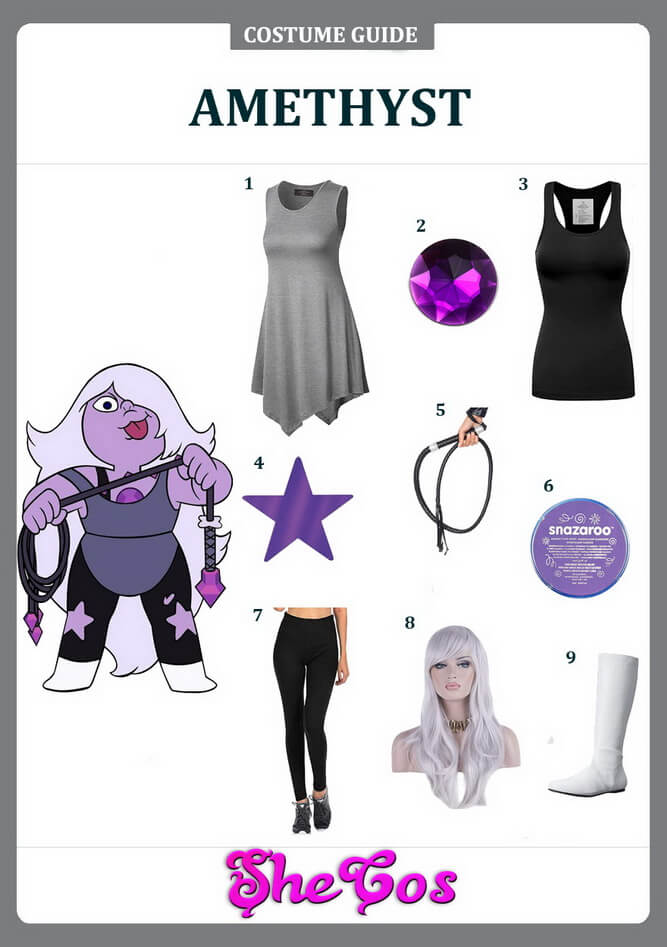 1. Grey Tank Top Dress                                Check Price
2. Purple Amethyst Cosplay Gem              Check Price
3. Black Crop Tank Top                                Check Price
4. Purple Star Cutouts                                  Check Price
5. Amethyst Cosplay Whip                          Check Price
6. Purple Face Paint                                     Check Price
7. Steven Universe Amethyst Leggings    Check Price
8. Amethyst Wig                                           Check Price
9. White Shin-length Boots                        Check Price
The Best Amethyst of Steven Universe Cosplay Ideas
Amethyst is one of the main characters in the Steven Universe animated series. She is one of the best role of the series due to her carefree and rebellious attitude, which makes people look at her as a cool big sister to Steven. It makes her a popular cosplay option as well for people who are looking to dress up as Steven Universe characters.
This Amethyst cosplay guide will feature her usual outfit. It consists of a grey tank top dress with a black crop tank top underneath it and black leggings. The leggings also have purple star cutouts on each knee. The set will also come with a pair of shin-length white boots, purple face paint for the color of Amethyst's skin, and a long white wig for her hairstyle. To complete her look, are a purple amethyst gem and a handle whip.
About Amethyst of Steven Universe Costume
Amethyst is a crystal gem, which is a magical gemstone alien. She was not initially part of the Crystal Gems as she joined the group after the Gem war. Rose Quartz, Steven Universe's mother, took her in after she was abandoned and isolated. She was created to be part of many Amethyst soldiers, but she was created weaker and smaller than the others so was just left. She was also the only one on the Crystal Gems that was created on the Kindergarten Gem site on Earth.
Despite being smaller in stature than the other Crystal Gems and still trying to find herself, Amethyst makes up for this with attitude and spunk. It makes her a fan favorite, especially when she does a fusion with the other Crystal Gems. If you look at the Amethyst cosplay photos, you can see that cosplaying this character will bring out that spunk and attitude in you.
Steven Universe: Amethyst Cosplay Makeup Tutorial