Stevonnie is a fusion character between Steven Universe, the main character of the animated series, and Connie Maheswaran, who is the best friend of the main character. Their fusion was accidental, as Steven and Connie were dancing while they were alone since Connie is shy about it. Steve, though, tripped and when Connie caught him, the fusion happened.
Since Stevonnie is a fusion of two characters, this character possesses both the characteristics and personality of Steven and Connie. The appearance is also a combination of the two, with Stevonnie having an average built because of the combination of Connie's slim figure and Steven's chubby features. Stevonnie doesn't seem to possess any extraordinary power, but both men and women consider the character very attractive. It also makes her a good cosplay option for people looking to dress up as Steven Universe characters.
Steven Universe Stevonnie Cosplay Guide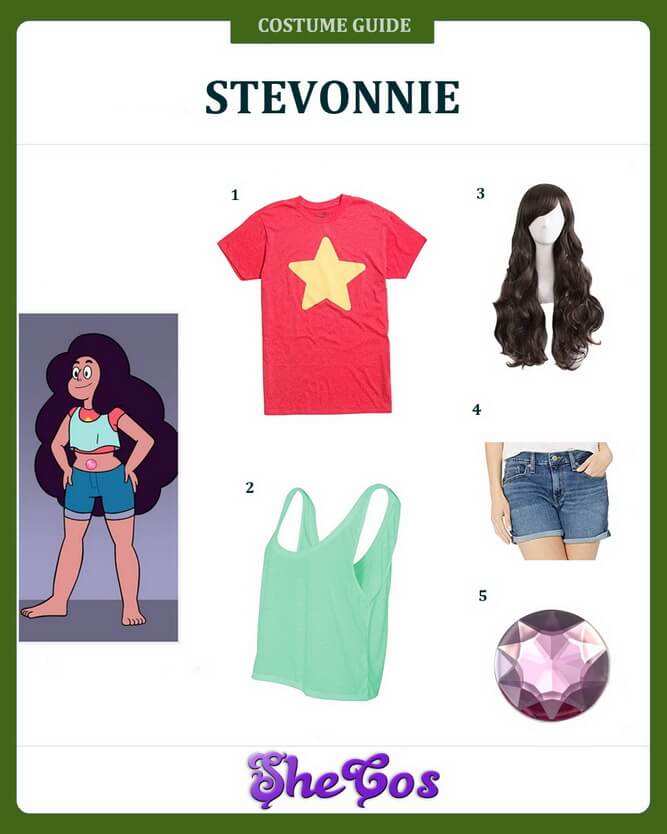 Parts you may need
1. Stevonnie T-shirt with Yellow Star       Check Price
2. Light Green-Blue Tank Top                    Check Price
3. Stevonnie Wig                                           Check Price
4. Jean Shorts                                                 Check Price
5. Crystal Gem Prop                                      Check Price
The Best Stevonnie of Steven Universe Cosplay Ideas
Stevonnie is one of the characters in the Steven Universe animated series. She is a fusion of the main character Steven Universe and his best friend Connie Maheswaran. Stevonnie is 25% gem and 75% human. She is a beautiful and attractive character in the series. It also makes her a popular cosplay option. Stevonnie has a lot of different outfits, but her most well-known outfit is what this guide will feature.
Stevonnie costume consists of a red t-shirt with a big yellow start in the middle and a light green-blue tank top on top of it. The ensemble also consists of jean shorts and a long black curly wig to represent the hairstyle of the character. The cosplay set includes a crystal gem prop, which represents the Steven Universe's gem to attach on the belly button.
About Steven Universe Stevonnie Costume
Stevonnie is not a regular character in the Steven Universe series. She wasn't even planned since Steven Universe never really intended to fuse with Connie Maheswaran. The two were talking about how Steven still needs practice with the fusion dance with the other Crystal Gems and how Connie is jealous he can even dance. Steven asked her to dance with him since there are only two of them and no one will see.
The two were comfortably dancing together until Steven tripped and their fusion happened. The combination of the two is perfect as Stevonnie is a pretty character. Both men and women are attracted and mesmerized by her appearance whenever she walks by. Her lovely and attractive appearance makes her a good option for ladies looking to dress up as Steven Universe characters. Looking at the cosplay photos, you can see that a lot of ladies look good in their variation of Stevonnie. It's also a good idea to cosplay Amethyst with your friend for Halloween.
Steven Universe: Stevonnie Cosplay Makeup Tutorial