Creeper is one of the main characters of the horror movie series Jeepers Creepers. He is the main antagonist of the movie and a mysterious ancient demon who seeks human organs to replace his old or damaged ones. He scares his victims whenever he hunts then uses the scent that fear provides to know what he needs to feed. Creeper hunts every 23 years and he only has 23 days to hunt and feed. The rest of the time, the demon hibernates.
Though he is an ancient and mysterious demon, Creeper dresses like a regular human, so he doesn't stand out. The character even drives in a truck where he usually places his victims. This article is a Creeper costume guide.
Jeepers Creepers - Creeper from Costume Tutorial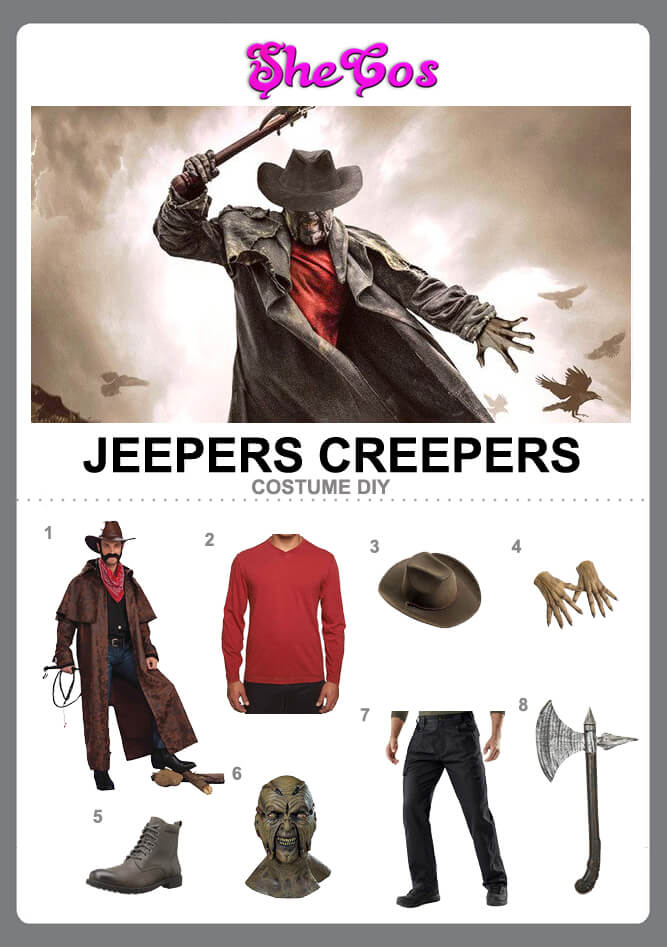 Parts you may need
1. Jeepers Creepers Coat                             Check Price
2. Jeepers Creepers Shirt                            Check Price
3. Jeepers Creepers Hat                               Check Price
4. Demon Hands                                            Check Price
5. Grey Boots                                                  Check Price
6. Creeper Mask                                             Check Price
7. Black Pants                                                 Check Price
8. Axe Prop                                                     Check Price
The Jeepers Creepers Cosplay Ideas
Cosplaying as the Creeper is not that hard to do since the demon disguises itself as a human. It wears human clothes so he won't stand out when he hunts during the night. This guide will feature the usual clothes that the Creeper wear whenever he goes on a hunt.
It consists of a red long-sleeved shirt with black pants and a brown cowboy hat to hide his face whenever he goes on a hunt. The character also wears a long brown trench coat to make his demonic figure less evident in the dark. The outfit is completed with a pair of grey boots. The cosplay set also comes with a couple of demon hand gloves to represent the Creepers demonic hands and a mask of the character. The collection will also come with an ax prop that the character uses to kill his victims.
About The Creeper Costume
The Creeper is a demon that only knows two things, to hibernate and to eat people's body parts. The devil usually hunts at night and stores his victims in a church hideout, but there are times where he also hunts during the day. The way the Creeper does his hunting makes him more of a serial killer than an actual demon. But this is all seems part of his plan to put suspicion on him since people will likely look for a human being and not a demon when they investigate the killings. He even dresses and acts like a human to avoid suspicions.
But his plans were foiled when two people saw him tossing his victim down a pipe in broad daylight. As a demonic serial killer, the Creeper is a great cosplay idea for people attending Halloween parties or going to comic conventions. If you look at the Jeepers Creepers cosplay photos, you can see how creepy looking at this character is, making it a great costume if your goal is to scare people.
The Jeepers Creepers Cosplay Makeup Tutorial