Lois Joanne Lane is one of the characters of the DC Extended Universe. She is one of the main characters in the Superman franchise and is also the love interest of the Kryptonian superhero. Lois is also one of the best reporters of the Daily Planet newspaper at the city of Metropolis. She has already won the Pulitzer Prize for her stories, which mainly focuses on Superman.
Though Superman always saves Lois Lane from danger, the character has proven time and again that she is not just some damsel in distress that always needs saving. This article is a Lois Lane costume guide.
The DC Extended Universe Lois Lane Cosplay Tutorial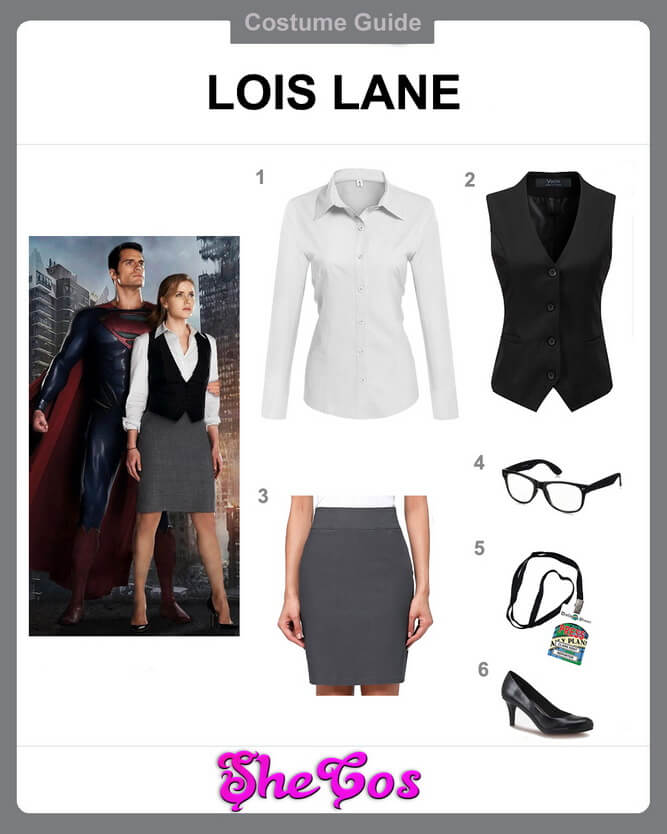 1. Lois Lane Shirt                                         Check Price
2. Black Vest                                                  Check Price
3. Lois Lane Skirt                                          Check Price
4. Lois Lane Glasses                                     Check Price
5. Lois Lane ID Badge                                  Check Price
6. Black Heeled Shoes                                  Check Price
The Best DC Lois Lane Cosplay Ideas
Dressing up as Lois Lane is a challenge since the character wears a variety of different outfits throughout her appearance in DC movies, comics, or animated series. Even in the DC Extended Universe, Lois Lane wore different outfits throughout her appearance. But this also means that cosplaying the character will provide plenty of different appearance and outfit options. This guide will feature one of the outfits that the character has worn during her appearance in the movie Man of Steel.
It consists of a white long-sleeved buttoned polo and black vest on top of it. The cosplay set will also come with a grey skirt and black eyeglasses. Her appearance is completed with a pair of black heeled shoes and a Daily Planet ID Badge prop. In this look, Lois Lane sports a long orange hair. In other versions, mainly in the comics and animation series and movies, the character has long black hair.
About Lois Lane Costume
Lois Lane is not just your pretty regular reporter, as she is also feisty, resourceful, and is more than willing to do the necessary hard work to get her story. But she is mostly known for her stories about Superman. Despite having a relationship with the superhero, Lois' stories are not only about interviews with the Kryptonian. The character is also always at the forefront of Superman's battles, usually riding a helicopter to see the fight as close as possible.
That's why Lois Lane is one of the famous female characters in DC, despite not having superpowers. She has proven time and again that she is capable of doing great things through her abilities and skills as a reporter. That is also why the character is an excellent option to dress up as if you're looking for DC characters to cosplay. Not only is Lois Lane smart and resourceful, but she is also beautiful. If you look at the cosplay photos, you can see that this feisty reporter from Daily Planet is a great cosplay idea for attending costume parties or comic conventions.