David, or more commonly known with his codename Solid Snake, is one of the main characters of the Metal Gear video game franchise. He has a lot of different nicknames and his current one right now is Old Snake since he is already an older man in the latest series of Metal Gear. Snake was a former mercenary, spy, and special operations soldier who is very good at what he does.
Characters in the game call him "the Man Who Makes the Impossible Possible", which made him a legend among the military. His exploits and abilities also made him one of the favorite characters of gamers. This article is a Solid Snake cosplay guide.
Metal Gear - Solid Snake Cosplay Guide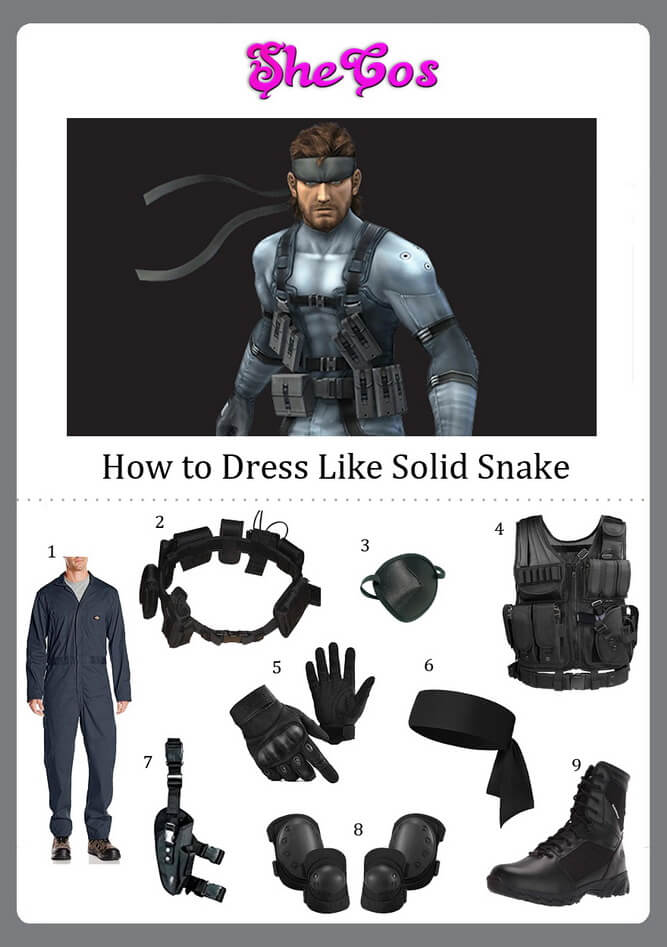 1. Solid Snake Jumpsuit                             Check Price
2. Black Utility Belt                                     Check Price
3. Solid Snake Eyepatch                             Check Price
4. Solid Snake Vest                                      Check Price
5. Black Gloves                                              Check Price
6. Solid Snake Headband                           Check Price
7. Black Leg Holster                                     Check Price
8. Black Knee and Elbow Pads                  Check Price
9. Black Combat Boots                                Check Price
The Best Solid Snake of the Metal Gear Cosplay Ideas
There are a lot of different options when it comes to dressing up as Solid Snake. His appearance tends to change depending on the Metal Gear series you are playing. This guide will feature Solid Snake's appearance in Metal Gear Solid 2.
It consists of a dark blue full-body jumpsuit with a black utility belt and black tactical vest. The cosplay set will also come with a pair of black gloves, a pair of black knee pads, and a pair of black elbow pads. The collection will also have a pair of black combat boots and a black holster. To complete Solid Snake's outfit, a black headband is included, which he is always seen wearing. A black eyepatch is also included to provide an option to dress up as Snake's other versions.
About Solid Snake Costume
When Metal Gear first launched, people were raving about it because of its good gameplay and storyline. Once the graphics of the game improved, more people started playing it and became big fans of the main character, Solid Snake. What's good about him is that he possesses excellent skills, abilities, and tactical genius.  It allows the character to complete missions that are considered impossible.
But what's right about this is that Snake is always up against villains who are also equal or even superior to him. It makes for a challenging but fun game for players to try and overcome. This also grew the appreciation that people have for the character since he always persevered and found a way to complete the mission despite the odds stacked against him. That is also why he is one of the favorite video game characters that people dress up as. If you look at the Solid Snake cosplay photos, you can see that he is a good cosplay option for comic cons, costume parties, or photoshoots.
Solid Snake Cosplay Makeup Tutorial