Nusret Gokce, or more famously known as Salt Bae, is a Turkish chef and butcher who owns a chain of restaurants. He holds the Nusr-Et restaurant, which is a chain of steak houses located in various countries. Gokce wasn't always this famous since there's nothing special with the food that he is offering. He became famous worldwide when a video appeared on social media on January 2017.
The video showed the chef suavely cutting meat and sprinkling salt in an unusual but amusing way. It garnered millions of views worldwide and earned him the nickname Salt Bae because of his pleasant looks and actions. This article is a Salt Bae costume guide.
The Salt Bae Costume Tutorial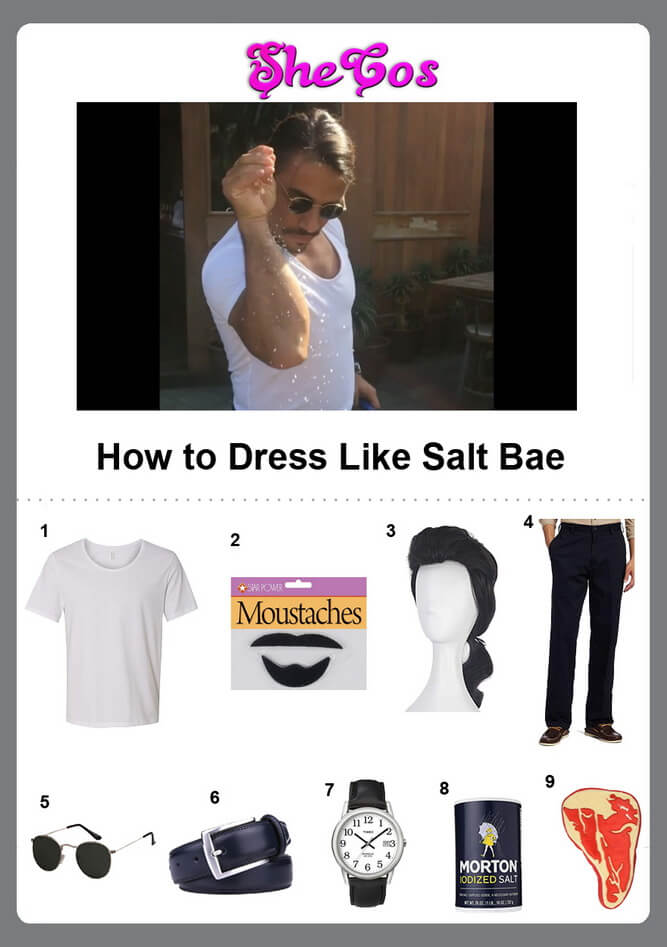 1. Salt Bae T-Shirt                                         Check Price
2. Mustache Set                                             Check Price
3. Salt Bae Wig                                              Check Price
4. Black Pants                                                Check Price
5. Salt Bae Sunglasses                                  Check Price
6. Black Leather Belt                                    Check Price
7. Black Leather Belt                                    Check Price
8. Black Leather Belt                                    Check Price
9. Black Leather Belt                                    Check Price
The Best Salt Bae Cosplay Ideas
One of the things that stood out with Gokce, aside from how he cuts meat and puts salt, is his good looks. The word suave perfectly fits Gokce's appearance, which is why he is also a good cosplay option for guys. There's nothing special or unusual with the clothes that he wears since they're plain. His uniqueness is found on his overall look. This cosplay guide will feature Salt Bae's usual appearance.
It consists of a plain white t-shirt with black pants and a black leather belt. It also comes with a watch that has a black leather strap. Salt Bae's appearance is completed with a mustache set, a long black wig in the chef's iconic hairstyle, and sunglasses that he always wears. The cosplay set will also come with props to complete Salt Bae's appearance. The props are a can of salt and fake steak.
About Salt Bae Costume
It's not unusual to dress up like a chef for a costume party or comic conventions since there are a lot of famous anime characters who are a chef. There are also a lot of famous chefs all over the world who are known for cooking good food and presenting them well. Salt Bae, on the other hand, is not your usual chef. He is not an anime character, nor he is a famous chef with a well-known restaurant that serves good food.
Nusret Gokce was just a regular chef who opened a steakhouse in Istanbul and Dubai. His fame was due to a video of him stylishly cutting meat and suavely sprinkling salt on it. Combine that with his good looks, and people were all over him, making him a big internet sensation and increasing the popularity of his restaurant chains. Salt Bae became a household name that there were a lot of people wanting to dress up like him and emulate his looks and suave. If you look at the cosplay photos, you can see that dressing up like Salt Bae is a good option for costume parties or even comic cons.
Salt Bae Cosplay Makeup Tutorial