Dustin Henderson is one of the main characters of the supernatural drama horror Stranger Things. He is best friends with the other main characters, Will Byers, Mike Wheeler, Lucas Sinclair, and Eleven. In the first season, Dustin played more of a support role in the first season, acting as the protector of the group's unity and togetherness. He usually tries to solve conflict within their group and make everyone focus on the critical things.
But when the Stranger Things series started with its second season, Dustin played a more prominent role. He raised the D'Artagnan, which is a juvenile Demogorgon, and assisted in saving everyone in Hawkins. The combination of Dustin's nerdy personality and rational approach about everything makes him one of the favorite characters in the series. It's also the reason why he is one of the ideal options when it comes to cosplaying Stranger Things characters. This article is a Dustin Henderson Cosplay guide.
Stranger Things | Dustin Henderson Costume Tutorial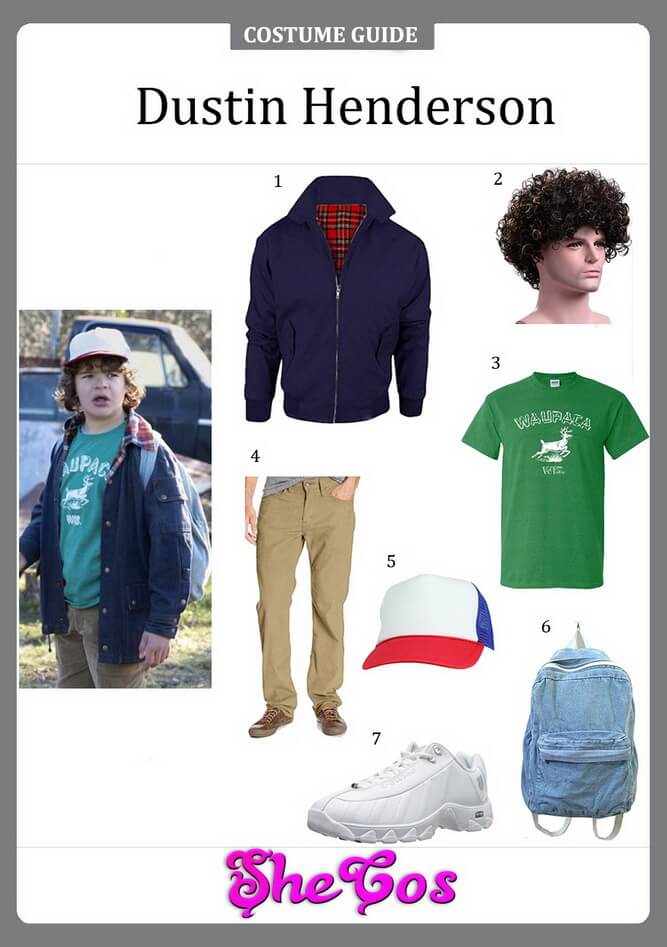 Parts you may need
1. Dustin Stranger Things Jacket              Check Price
2. Dustin Stranger Things Wig                  Check Price
3. Stranger Things Dustin T-Shirt            Check Price
4. Khaki Pants                                               Check Price
5. Dustin Stranger Things Hat                   Check Price
6. Denim Backpack                                       Check Price
7. White Rubber Shoes                                 Check Price
The Best Dustin Henderson of Stranger Things Cosplay Guide
When it comes to cosplaying Dustin Henderson, there are a lot of options to choose from. That's because the character has worn different outfits throughout the series. However, you will notice that there is something familiar about Dustin's outfits. He always wears a combination of t-shirt, a jacket, and a cap. The cap remains consistent, but he usually wears a different colored jacket and t-shirt.
This cosplay guide will feature Dustin Henderson's usual combination of outfits. It consists of a green t-shirt with the WAUPACA design in the middle and a blue jacket on top of it. The costume will also come with khaki pants, a pair of white rubber shoes, and a short brown curly wig for the character's hairstyle. The cosplay set is completed with a cap that has a red, white, and blue design, and a denim backpack that Dustin always carries on his back.
About Dustin Henderson Costume
Dustin Henderson is a fan-favorite. It is due to his unique combination of nerdiness, practical approach in the face of the unknown, and his willingness to protect his group's unity. He is the glue that holds their group together, ensuring that they always stay the course and sticking together no matter what happens.
This unique combination of personalities and traits make Dustin Henderson one of the favorite options when it comes to dressing up as Stranger Things characters. The beauty of this character is that his appearance is not only reserved for children or men, but even women can dress up as Dustin Henderson. If you take a look at the cosplay photos, you can see that a lot of people, men, women, and child, dress up as this character. They dress up as Dustin during costume parties, photo shoots, or comic conventions.
Stranger Things: Dustin Henderson Makeup Tutorial